By Abhishek Waghmare
With 18 soldiers dying in a pre-dawn terrorist attack in North Kashmir's Uri area on 18 September, 2016, the army's combat death toll in Jammu and Kashmir (J&K) is 64 this year (until 18 September), the highest since 2010, when 69 soldiers died, according to the South Asia Terrorism Portal (SATP).
In contrast, civilian casualties along the line of control (LoC)—the de facto border between India and Pakistan in J&K—in 2016 were the lowest in three decades, SATP data reveal. About 800 civilians died every year, on average, between 1990 and 2007.
Over the last three decades, the 20-year period between 1990 and 2010 was the most violent, while the period after 2011 relatively more peaceful, according to the SATP data.
The year 2012, when 16 civilians and 17 soldiers died, was the most peaceful. After that, the death toll rose.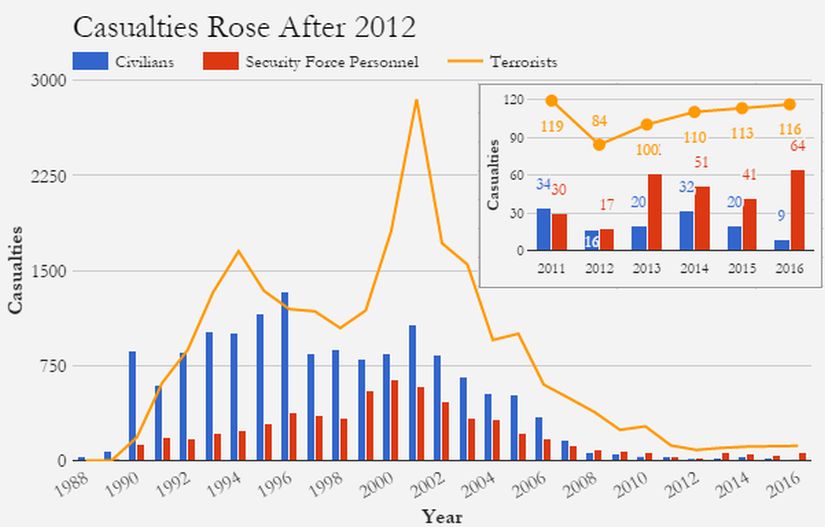 Source: South Asia Terrorism Portal *Note: Up to 18 September, 2016
A series of infiltration attempts along the LoC were stopped this year, which has seen a "marked increase" over the previous three years, according to an army statement.
As many as 31 terrorists were killed along the line of control this year in the course of 17 infiltration attempts stopped by the army, the statement said.
Ceasefire violations along the LoC and the international border—which runs south of the LoC beyond J&K—peaked in 2014 and 2015, IndiaSpend reported in August 2015 and April 2016.
Indians—while content with India's foreign policy with regard to US, Russia and China—are unhappy with Prime Minister Narendra Modi's policy on Pakistan, according to a 2016 research released on 19 September, 2016, by Pew Global Research, a USA-based global research organisation.

With regard to security and road infrastructure along the international border in Jammu & Kashmir, 97 percent of a floodlit fence and 63 percent of planned roads have been completed, according to this August 2016 Rajya Sabha reply.
Indiaspend.org is a data-driven, public-interest journalism non-profit
Updated Date: Sep 21, 2016 12:21 PM