India vs Pakistan: Strained ties, inefficient bureaucracy, but Indian forces are still ahead
As tension heats up between India and Pakistan, let's take a look at India's military might as compared with Pakistan
On Thursday, Director-General of Military Operations (DGMO) Lt Gen Ranbir Singh told the media that the Indian Army conducted surgical strikes on the LoC causing significant casualties and raising tensions between the neighbours. As war between the two countries seems inevitable, we take a look at how India's military compares with Pakistan.
According to a report published in Los Angeles Times, over the last decade, India is world's no 1 "importer of military hardware and has built a growing defense relationship with the United States." But that may not be enough as the report points out that an inefficient bureaucracy, strained civil-military relations and hardware problems remains a challenge.
According to reports, India also has an upper hand over Pakistan when it comes to reserve forces. But an opinion piece in The Indian Express warns of the country's past failures when it comes to replenishing resources when needed the most. Case for example is 1971, where India took nine months for the armed forces to build up WWR before operations could commence, it said.
There's still time for the French Rafale aircraft to be a part of the Indian Air Force (almost 36 months), and while India leads Pakistan in terms of numbers, all is not well within IAF. As a Hindustan Times report points out,  "IAF fighter fleet has shrunk to 33 squadrons compared to a desirable 45 to respond to a joint threat from China and Pakistan". What this means, is we stand no chance if China decides to join Pakistan, if war escalates between the the nations.
Earlier this month, Indian Navy added Mormugao, a guided missile destroyer in its fleet adding more fire to its naval power, raising its total fleet size to 295. According to this The Indian Express report, Mormugao is equipped with surface-to-surface missiles, surface-to-air missiles, and anti-submarine rocket launchers, and it can carry two  anti-submarine warfare helicopters.
India has more than double tanks as compared to Pakistan. The number as of now stands at 6,464 for India and 2,924 for Pakistan. However, Pakistan may have an edge over India when it comes to the total number of nuclear warheads in its arsenal. India is estimated to have around 90-110 nuclear warheads whereas Pakistan may have 100-120 nuclear warheads.
Here is an infographic which compares India's military might with that of Pakistan's.
Lifestyle
Esther Bejarano had earlier said that music helped keep her alive in the notorious German Nazi death camp in occupied Poland and during the years after the Holocaust.
Sports
After the 19-year-old's spot-kick was saved by Gianluigi Donnarumma to seal Italy's triumph at Wembley on Sunday, the Arsenal star was targeted by trolls online along with teammates Marcus Rashford and Jadon Sancho, who also missed penalties.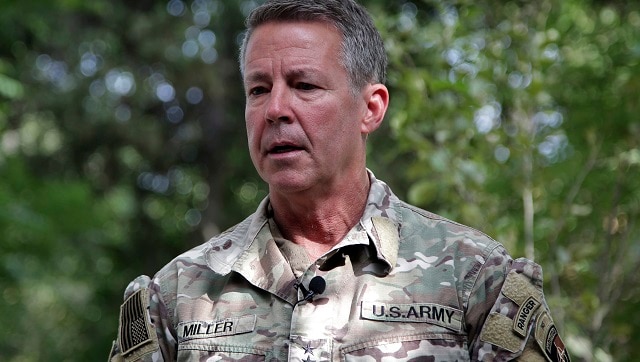 World
General Scott Miller has served as America's top commander in Afghanistan since 2018. He handed over command of what has become known as America's 'forever war' to Marine General Frank McKenzie