India Meteorological Department issues 5-day alert about heavy rain, storms; but states' preparation lacking
The MET department warned people that heavy rainfall, thundershowers, gusty winds and hail would be seen over the next five days in several parts of the country, and may not only endanger people but also impact agricultural produce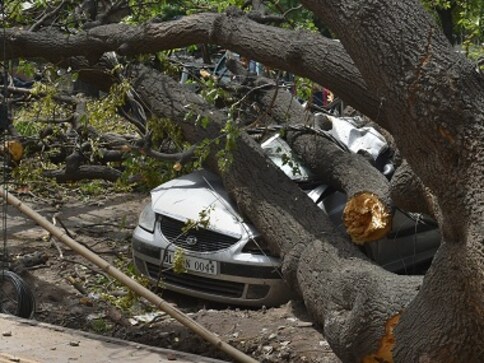 Jammu: The Indian Meteorological (MET) department has sounded another five-day alert, a week after heavy rains and thunderstorms claimed hundreds of lives in many parts of the country.
The MET department warned people that heavy rainfall, thundershowers, gusty winds and hail would be seen over the next five days in several parts of the country, and may not only endanger people but also impact agricultural produce.
On Thursday, sudden rain accompanied by gales hit the twin cities of Hyderabad and Secunderabad, uprooting over 70 trees and six electric poles. Two people were killed in Hyderabad, The News Minute reported.
A powerful dust-storm along with rain and squall hit Delhi-NCR and Haryana on Wednesday morning. High velocity winds early in the morning uprooted several trees and electricity poles. Media reports said one person died in Gokalpuri area of Delhi when a wall of his house collapsed on him. Nearly 13 people were injured during the storm.
On 13 May, more than 80 people died and 136 were left injured when thunderstorms and lightening struck Uttar Pradesh, Andhra Pradesh, West Bengal, Delhi and Uttarakhand. Of the 136 injured, 123 were from Uttar Pradesh, while 11 were from Delhi and two from Uttarakhand. High velocity winds uprooted trees, causing traffic snarls and also damaged electricity wires in these states.
In another similar thunderstorm on 2 and 3 May in Uttar Pradesh and other states, more than 130 people died and 400 were injured. As per reports, more than 180 houses were damaged.
When the weather department issued an alert for Panchkuka in Haryana on 7 and 8 May, all schools in the district were closed on orders from Education Minister Ram Bilas Sharma. Both private and government schools were closed for two days.
No preparation by states
Weather experts said the alert has been issued owing to fresh western disturbances that may bring dust storms, hail and heavy rain in different parts of the country over the next five days. However, while the MET department has issued the warning, no preparations have been made by the states to tackle the situation.
"Thunderstorms accompanied by gusty winds, are very likely at isolated places over Uttarakhand, western Uttar Pradesh, Madhya Pradesh, Chhattisgarh, Bihar, Jharkhand, Gangetic West Bengal, Odisha, Assam, Meghalaya, Nagaland, Manipur, Mizoram, Tripura, Marathawada, coastal Andhra Pradesh, Rayalaseema, Karnataka, Tamil Nadu, Kerala and Lakshadweep," it said.
Punjab, Haryana, Chandigarh and Delhi have also been warned. "Gale winds at speeds reaching 65-75 kmph and gusts at 85 kmph, are very likely around the centre of the cyclone, covering the Gulf of Aden and adjoining areas of the South West and west-central Arabian Sea," the warning added. Fishermen have also been warned not to venture to these areas.
Rising temperatures causing dust storms
JP Gupta, Uttar Pradesh MET director, said the present weather conditions are due to western disturbances. "Western disturbances and a low pressure system bring along moisture into the country that makes conditions extreme at this point of time," he said.
Surinder Pal Singh, director of the meteorology department in Chandigarh, said light rain with thunderstorms and gusty winds are likely in Punjab and Haryana in the next 72 hours. "Squall is very likely at isolated places over Punjab, Haryana and Chandigarh," said Singh.
It has been reported that the dust storm in Rajasthan was caused due to the rising average temperature each year. High temperatures, along with moisture in air, is the perfect recipe for a dust storm. The increase in temperature in other parts of the country has also become a major cause of dust storms.
Sandeep Kumar, a meteorologist based out of Bihar, said the weather development which led to widespread thunderstorms and squalls in Bihar had moved away. "However, there is the possibility of thunderstorms, coupled with isolated showers, in the next 24 hours in the state," says Kumar.
World renowned Kashmir apples hit
On 8 May, Shimla and adjoining areas were hit by a heavy hailstorm that enveloped the historic ridge in a white sheet. The MET department had already sounded an alert regarding the hailstorm.
The All India Weather Warning Bulletin, issued by the MET department, also predicts three days of thunderstorms and squall in Jammu and Kashmir and Himachal Pradesh, from 17 to 19 May.
FA Bhat, a MET department official in the Kashmir division, said the apples in Kashmir are in their growing stage, and could be damaged due to the weather. Mir Mohammad Amin, president of the Fruit Growers' Association in Kashmir, said hail could be disastrous for the renowned Kashmiri apples. "Nearly two weeks ago, hail in some parts of the valley had damaged the fruit," he said.
The author is a Ludhiana-based freelance writer and a member of 101Reporters.com, a pan-India network of grassroots reporters.