India-China strategic dialogue: Jaishankar must prioritise talks on the bilateral and avoid the P-word
On Wednesday, Foreign Secretary S Jaishankar met China's top diplomat State Councillor Yang Jiechi to kick off the first-ever strategic dialogue between the two countries
On Wednesday, Foreign Secretary S Jaishankar met China's top diplomat State Councillor Yang Jiechi to kick off the first-ever strategic dialogue between the two countries in the nearly-67 years since the countries established diplomatic relations. And while Jaishankar's visit may not be quite as historic as Jawaharlal Nehru's pathbreaking visit in 1954, Rajiv Gandhi's 1988 visit (that set in motion an improvement of bilateral relations after the India-China War of 1962) or even Prime Minister Narendra Modi's optics-heavy visit of 2015, it is very nearly as significant.
Very loosely, a strategic dialogue goes beyond the usual bilateral meetings where both sides exchange the divergent views they hold on a variety of issues and then issue a joint statement that includes how parties "expressed concerns about something". What a strategic dialogue, in theory at least, endeavours to do is to progress from merely expressing concerns to attempting to find common ground — along with differences — and discussing ways and means of expanding on common grounds.
The strategic dialogue is the latest among over 30 dialogue mechanisms to have emerged over the years between the two countries in areas as diverse as politics, economics, regional and international affairs, and culture. All of which is indicative of a bilateral relationship that is deepening and broadening, albeit gradually. There are still plenty of issues on which stonewalling is the norm and discussions haven't moved forward in years — there's no denying that fact, however, that these prickly issues are being discussed at all is encouraging. With the addition of the strategic dialogue to the whole host of dialogue mechanisms already in play, we can genuinely hope for most substantive and indeed substantial discourse about important issues.
Now that's quite enough meandering; let's address the key question: What should Jaishankar prioritise in his discussions with Yang?
It is the contention of this article that Jaishankar's top priority must be to discuss matters of bilateral concern — and not get trapped in quagmire of talking Pakistan — with the state councillor. These include the longstanding issue of the undemarcated India-China border, India's concerns about China's damming of the Tsangpo-Brahmaputra and the Indian Ocean Region — more specifically, Beijing and New Delhi's concerns about each other's presence in the IOR.
Among these, moving talks forward on the border issue is of the highest priority. India and China have held 19 rounds (the latest of which was in April 2016 between NSA Ajit Doval and Yang) of Special Representative Talks on the border and there has yet to be an exchange of maps. To be able to actually discuss their border, both sides need to know where the other stands. And without the exchange of maps, this is going to be impossible. When you look at the problems that have been caused over the years by an unsettled border — not limited to incursions and face-offs, but also the negative effect (including in the form of public perceptions) these activities have on other aspects of the bilateral, it is an issue that is in need of urgent redressal.
Second, the Tsangpo-Brahmaputra issue is one of concern because aside from affecting the quantity of water flowing into India — a middle-riparian country, it also affects the water supply to Bangladesh, a lower-riparian country into which the river eventually flows. With water security emerging as a major concern, particularly in times of drought, this is also an issue that needs to be discussed with a middle ground found.
Third, both countries must seek to understand each other's concerns about their presence in the IOR. It is only after both countries establish clearly what the problems are that a solution can be sought.
At the time of writing, news is filtering in that Jaishankar has raised the issue of Jamaat-ud-Dawah leader Hafiz Saeed — or more specifically, China's 'technical hold' on Saeed being categorised as a terrorist in the UN. Terrorism, particularly the sort emanating from Pakistan, is an important issue and the foreign secretary was always going to bring it up. However, there are two things to note:
1) Discussions about Saeed must focus on trying to understand what China's 'technical hold' actually means and to get a better grasp of the sort of evidence Beijing seeks in order to lift its hold.
2) The conversation must not veer too far from the 'technical hold', because over the recent years Pakistan has emerged as a very effective roadblock for India-China dialogue. Bringing too much of Pakistan into the conversation turns it from a bilateral talk to one of a regional nature, which as history shows, will derail all other discussions.
By sticking to the context of India-China relations, what Jaishankar can do is make progress on the bilateral front, as well as prevent Pakistan from playing spoiler in absentia.
Whether it all plays out this way, however, remains to be seen.
India
The 'annadata' narrative is slowly peeling off. Indians can now clearly see that beneath the costume of farmers exist many hardened criminals and anti-national elements
World
Economically, strategically and even politically, China finds itself in a fix today. If it doesn't mend its way, it would soon find its superpower dream going kaput.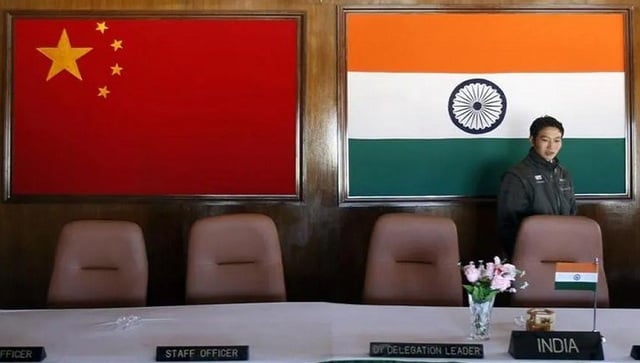 India
India has been insisting that the resolution of outstanding issues in all friction points including in Depsang is essential for an overall improvement in ties between the two countries