India can thank Uncle Sam for Julia Gillard's uranium backflip
Australian Prime Minister Julia Gillard's dramatic decision to open the door to uranium exports to India came after talks with the Obama administration.
New York: Australian Prime Minister Julia Gillard's dramatic decision to open the door to uranium exports to India came after talks with the Obama administration, which viewed the ban as a "fly in the ointment" to greater engagement between Washington, New Delhi and Australia in the Indian Ocean region.
As tensions rise on the seas throughout East Asia and the Indian Ocean, Washington is pushing for a stronger three-way security and economic relationship with India and Australia.
"The Americans have been promoting the idea that creating stronger ties among liberal democracies with similar security concerns is a good approach. It is time to consider an India-Australia-US trilateral security architecture," an American diplomat in Washington, who did not want to be named, told Firstpost.
"Australia's ban on uranium sales to India is a fly in the ointment. Fortunately, the Australians who are one of America's five treaty allies in the region realise it is deleterious," the diplomat added.
The first clue came when Secretary of State Hillary Clinton announced this month that the US-Australian alliance had been transformed from an "Asia-Pacific alliance to an Indo-Pacific alliance."
Gillard announced on Tuesday that she will ask the Australian Labour Party to dump its ban on uranium sales to India, at its national conference next month. The ban was imposed by former prime minister Kevin Rudd in 2008 as India wasn't a signatory to the Nuclear Non-proliferation Treaty.
Gillard has denied her decision to seek to overturn the ban is in order to fall in line with the US. She bristled when questioned on the timing of the announcement which coincided with Obama's state visit to Australia. Gillard said the decision was hers alone.
"There's nothing to be read into it, coming as it does the day before President Obama's visit, other than it suited me as the day to make the announcement," said Gillard. "So it's my decision, my announcement and it was made because of my logistics."
She did, however, point to the US-India civil nuclear agreement of 2008, which lifted the "de facto international ban" on the sale of uranium to India. "Given that change in diplomatic circumstances around the world, for us to refuse to budge is all pain and no gain. And I believe our national platform should recognise that reality," said Gillard.
The emerging security scenario in the Indo-Pacific region is another reality. The US, India and Australia all face challenges from terrorism and security threats such as drug trafficking and piracy. Cooperation between Somalia's Al Qaeda-linked al Shabaab militants and pirate gangs is growing as they become more desperate.
India, Australia and the US also have their own anxieties about China, which was reflected in the setting up of a new grouping on the sidelines of the ASEAN Regional Forum meeting in Manila: the Quadrilateral Initiative in May 2007, involving Japan, Australia, India and the US. Although the Quadrilateral Initiative fizzled out as none of the countries wanted to antagonise China, similar cooperation now appears likely between the US, Australia and India.
"Australian and US officials have been involved in intense strategic discussions about India and the Indian Ocean for several months," reported "The Australian."
Rudd, now Foreign Minister, has been in India this week for a meeting on Indian Ocean co-operation. And Defence Minister Stephen Smith will visit India early next month in an effort to enhance bilateral defence co-operation.
"The US has reconfigured its military commands so that the US Pacific Command embraces responsibility not only for the Pacific but for India and the Indian Ocean. This is in line with sustained argument from Australian officials and ministers over many months urging the Americans to consider the Pacific and Indian oceans as a single unified theatre of operations," added the Australian newspaper.
"In response, the Americans have urged deeper engagement with India for Australia but this required the end of the ban on uranium exports," it added.
The Australian media said discussions had taken place in the AUSMIN ministerial meetings and the joint working party formed by the US and Australia to feed into the US Global Force Posture Review, due to report soon. "This is expected to encompass both the greater US presence in northern Australia, to be announced in Darwin tomorrow, and a higher US priority for the Indian Ocean," reported "The Australian."
While Beijing has learned to live with American forces on its eastern periphery, the possibility of an intimate US-India military relationship, as well as India's position astride China's key maritime shipping lanes, has generated fears of encirclement. India likewise feels encircled by China's "string of pearls" strategy — a series of Chinese-built, ostensibly commercial port facilities in the Bay of Bengal, Indian Ocean and Arabian Sea. Beijing's military ties to Pakistan and references to Arunachal Pradesh, as "Southern Tibet" have done little to reassure New Delhi of Chinese intentions.
Australia is one of nine countries in a new Trans-Pacific Partnership the US is promoting as a model for trade, which China has criticised as protectionist.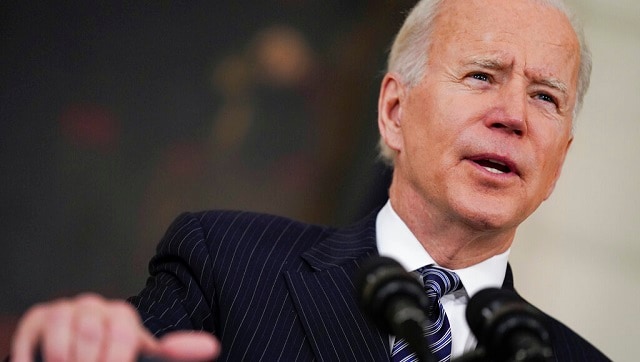 World
Biden's six measures to combat the epidemic included a proposed rule to 'stop proliferation of ghost guns', as firearms built from home kits are known
India
In a statement, the US Navy's 7th Fleet said, 'This operation upheld the rights, freedoms, and lawful uses of the sea recognised in international law by challenging India's excessive maritime claims'
India
Husain Haqqani. former Pakistan ambassador to the US, said India will worry about Taliban-controlled territory being a 'safe haven' for terrorists again