For terrorists like Kasab is the death penalty justified?
There can be arguments against death penalty, but terrorism is not one of those cases where lifers should be an option for judges.
The hanging of Ajmal Kasab, the sole surviving Pakistani terrorist involved in the 26/11 Mumbai attacks, provides us with an opportunity to take a second look at the idea of what constitutes a "rarest of rare" case and hence deserving of the death penalty.
The other day, the Supreme Court observed that phrase "rarest of rare" had no clear meaning, since actual interpretations were being left to individual judges. "In the sentencing process, both the crime and criminal are equally important. We have, unfortunately, not taken the sentencing process as seriously as it should be, with the result that in capital offences, it has become judge-centric sentencing rather than principled sentencing," The Times of India reported, quoting Justice B Lokur.
The Kasab case is a starting point for a discussion on "rarest of rare". It should give even people who advocate the total abolition of the death penalty cause for pause. Their arguments are clear and certainly somewhat valid: they say the death penalty is barbaric, something that human beings should not inflict on other human beings. Plus, there is always the possibility that errors in judgment may send the wrong man to the gallows.
But let's start the argument from the other end: which criminal can be considered so dangerous that non-implementation of a death sentence can be a greater threat to society than his being kept alive in jail? I would argue that all cases involving political assassinations, terrorism, or pre-planned mass murder of any kind are deserving of the death sentence. Keeping such people alive poses greater dangers to society and outweighs the moral compunctions involved in hanging them.
The case for keeping a terrorist alive after conviction is based on flawed human reasoning. While it is always possible for a terrorist to repent and change his ways, what we have actually seen in the real world is that terrorists are highly motivated and believe in a cause that they think is worth killing for — and dying for, if necessary.
This is what makes a terrorist kept alive in prison a greater danger than one sent to the gallows.
Consider how costly the 1999 Indian Airlines hijack has proven for us. To end the hijack and secure the release of passengers, we released three terrorists – Maulana Masood Azhar, who later went on to create the anti-India Jaish-e-Mohammed, Ahmed Omar Saeed Sheikh (who kidnapped and killed western journalist Daniel Pearl), and Mushtaq Ahmed Zargar, who was said to be training jehadi elements in Pakistan-Occupied Kashmir.
The point to note is this: While the NDA government surely screwed up big-time in the way it handled the issue, the fact is the hijack was organised precisely to get these terrorists released. The mistake was not just in the handling of the hijack, but in keeping such venomous people around at all.
Keeping terrorists alive is not an act of humanity, but an invitation to further acts of inhumanity by their friends and partners. There is thus a strong case for ensuring quick convictions and awarding them the death penalty.
Now, consider the cases of Naxals — they may not kill for religious reasons, but for ideology. Catching Naxal criminals and not convicting them for their murderous acts is a bigger threat to society than sending them to the hangman.
Every time we keep convicts on death row incarcerated for long periods, it is an invitation to further crime and kidnapping and murder.
In Orissa, Chief Minister Naveen Patnaik released several Naxals earlier this year following the kidnapping of two Italians by them. He paid the price for delaying justice.
In April-May this year, Naxals made several demands on Chhattisgarh after kidnapping Sukma collector Alex Paul Menon. They even killed two of his security guards while kidnapping Paul. Though the state government managed to retrieve the situation by monitoring his kidnappers' conversations by wireless, which suggested that they were on weak ground, the fact is holding lots of ideologically-motivated undertrials and convicts in captivity is like begging for more kidnaps and murder.
Consider the case of Maqbool Bhat, a Kashmiri separatist who was arrested for murder and convicted in the late 1960s. He received the death penalty, but thanks to the usual delays and political pussyfooting, he escaped from prison and went to Pakistan. Luckily for us, he sneaked back and was recaptured by our security forces in the mid-1970s. But his death sentence was — like that of Afzal Guru, Balwant Singh Rajoana and Rajiv Gandhi's killers, Santhan, Murugan and Perarivalan — indefinitely postponed for political reasons.
And India again paid the price. In February 1984, Kashmiri partisans in the United Kingdom kidnapped an Indian diplomat, Ravindra Mhatre, and killed him when the government refused to release Bhat in exchange. To her credit, Indira Gandhi, who was Prime Minister at that time, immediately scrapped Bhat's mercy petition and got him executed.
The point is this: keeping Bhat alive indefinitely on death row encouraged his compatriots to kidnap and murder another Indian citizen to get him released. Executing him quickly would have saved us the life of diplomat Mhatre.
The question to ask those who want to abolish the death penalty even in such cases is this: is it not likely that keeping alive an Afzal Guru (for his role in the 2001 Parliament attack), Rajaona (for the assassination of Punjab CM Beant Singh, and Santhan, Murugan and Perarivalan (for abetting the assassination of Rajiv Gandhi) will give those who believe in their respective causes a reason to threaten, hijack, kidnap and kill more Indian citizens in an effort to rescue them?
For those who believe in killing for their cause and have no qualms about dying themselves, the death penalty is the right punishment. More importantly, keeping them alive can pose a larger threat to other innocents than hanging them.
One can argue about the merits of the death penalty in other cases — like rape or multiple murders — but not in cases involving terror and ideologically-driven killers.
The death penalty is the right one for people who kill others in the name of religion, race, class or ideology. If we don't give them that, we are asking for more deaths.
The abolish-death-penalty wallahs may ask: what if they repent? Aren't they entitled to mercy? In Ajmal Kasab's case, he is supposed to have shown repentance, but The Indian Express reported that when he was hanged, he was heard muttering:  Allah-kasam, mujhe maaf kar do, aisi galti dubara nahi hogi. (By Allah, forgive me, I shall not make this mistake again.)
We can assume this to be repentance at the nth hour, but what if the galti he was referring to was the mistake of getting caught rather than his misdeeds?
It's more likely that Kasab was so sure he would be kept alive like Afzal Guru that he saw no need for repentance at all — as all police interrogators have testified — till death was absolutely certain. Either way, it was death that brought repentance — if at all.
Terrorism is a "rarest of rare" case where the death penalty should be mandatory. Else politicians will play political football with the lives of our people.
Find latest and upcoming tech gadgets online on Tech2 Gadgets. Get technology news, gadgets reviews & ratings. Popular gadgets including laptop, tablet and mobile specifications, features, prices, comparison.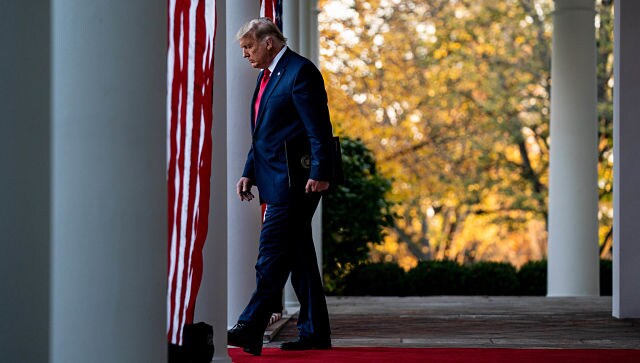 World
Many observers of Trump family history have reflected on the influence of the patriarch, developer Fred Trump, who had his own version of the binary taxonomy of humanity: The strong and the weak
India
For the best part of the century, Kashmir's politics has been shaped by opportunistic compromises, half-measures—and, when these failed, ruthless coercion
World
Given the dynamics at play, India is reduced to a mute spectator as are the other neighbouring countries like Iran, Tajikistan and Uzbekistan who have their own sovereign, sectarian, ethnic and strategic interests at stake, with the evolving narrative