'I am a minister, I get free petrol': Day after joke on fuel prices, Ramdas Athawale says didn't mean to insult anyone
A day after poking fun on rising fuel prices in India saying he gets it for free, Union Minister Ramdas Athawale clarified that he was not trying to insult anyone, just responding to a question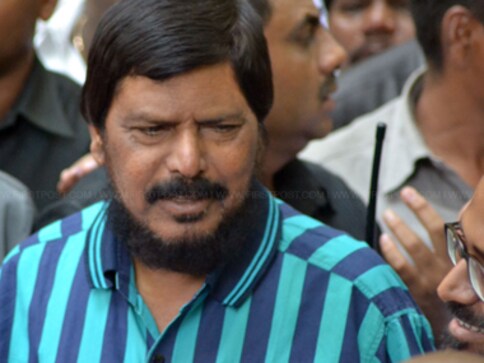 A day after poking fun at rising fuel prices in India, Union minister Ramdas Athawale clarified that he was not trying to insult anyone.
Speaking to ANI, Athawale, who heads Republican Party, an ally of the ruling BJP, said, "Journalists had asked me prices of petrol and diesel are rising, if I have any problem with it. I had said I've no problem, I'm a minister, we are provided government vehicles. But people do face problems and prices should be brought down. I didn't say this to insult anyone."
Athawale, while addressing a press conference, candidly stated Saturday that the increase in petrol and diesel prices did not bother him, thanks to the allowances he draws as a minister.
"I am not suffering from rising fuel prices as I am a minister. I get it for free," he had said, referring to the allowances he gets.
"I may suffer if I lose my ministerial post," he continued, drawing laughter at a press conference in Jaipur.
He was asked if he was personally affected by the rising prices.
Though the minister acknowledged that others are affected more, saying, "It is understandable that people are suffering from rising fuel prices and it is the duty of the government to reduce them," his statement didn't go well with the public.
The Union Minister of Social Justice and Empowerment faced criticism from the Opposition leaders as well as from the public on social media.
National Conference leader Omar Abdullah reminded Athawale on Twitter that unlike what the minister may believe, his petrol is actually paid for by the people.
"Actually minister sahib your fuel is not free, it's being paid for by the taxes of hard working people. Not only are they paying for your 'free fuel', they have to pay for their own as well. But then you don't pay taxes either!" Abdullah said.
Congress also criticised Athawale, calling his statement a sign of arrogance of the Modi government. "Arrogance and making insensitive statements have become the hallmark of ministers in this government under Prime Minister Narendra Modi. The insensitive comment comes on a day when Mumbai, capital of the minister's home state of Maharashtra, saw petrol hit a record ₹89 per litre," the Congress said on Saturday.
On Sunday, fuel prices continued to rise as petrol prices touched Rs 90 mark in Mumbai, and was near Rs 82 per litre in Delhi.
With inputs from PTI
India
There will be no cakes and havans but there will be cheetahs. The PM will have a busy day, but his supporters are celebrating. A Delhi restaurant is serving a 56-inch thali and the Tamil Nadu unit of the BJP is giving gold rings to babies born on 17 September
India
A total of 18 states are under the BJP rule since Narendra Modi took over the mantle of prime minister and going by the election trend, the saffron wave is set to continue
India
Amarinder will also merge his newly formed Punjab Lok Congress with the BJP