How Swaraj Abhiyan's 'padyatra' aims at making a drought-free, suicide-free India
Swaraj Abhiyan, an NGO working for the farmers' cause has now taken up a Padyatra (foot march) in the drought prone areas of Marathwada and Bundelkhand to spread awareness amongst farmers and villagers on water conservation
Swaraj Abhiyan, an NGO working for the farmers' cause has now taken up a Padyatra (foot march) in the drought prone areas of Marathwada and Bundelkhand to spread awareness amongst farmers and villagers on water conservation, government's rules and statutes, and finally about the Supreme Court's recent judgment and direction to the government on drought.
Named as Jal Hal Padyatra (water plough foot march), the initiative kick started on 21 May, when Swaraj Abhiyan – a splinter group of the Aam Aadmi Party (AAP) — initiated a march led by its co-founder Yogendra Yadav from village Somvati of Latur district in Maharashtra and travelled 20 kms covering many villages on its way.
"Drought is not brought on by nature, but is man-made or policy-made due to the wrongful policies of the government. Despite hundreds of crores of rupees being spent, no results have been yielded so far. Drought hits Indian states almost every second or third year, but, Swaraj Abhiyan has expressed that under no circumstances, the situation of drought should be turned into a famine. We want to achieve a suicide free India," said Yadav.
Background of the Padyatra
On 2 October, 2015, Swaraj Abhiyan started a march called 'Samvedna Yatra' from Yadgir district in Karnataka and covered seven states to assess the situation.
"No one was talking about the drought though the signs of the disaster were imminent in Marathwada region. In September 2015 Swaraj Abhiyan stated the danger of drought but the government paid no heed to it. Then we took out a march on Gandhi Jayanti and covered seven drought prone states. Yogendra ji brought the issue of drought before the state governments, to which some like Uttar Pradesh responded, while the rest ignored. But, ultimately it was found that nothing could be implemented by the government at ground level. The central and state governments' apathy towards the issue was clear," said Anupam, national working committee member, Swaraj Abhiyan.
Swaraj Abhiyan had got a survey done and the result was alarming. Bundelkhand region was found to be the worst-hit area amongst other drought prone regions.
As a next step, the organization filed a petition at the Supreme Court. In its judgment on 11 May, the apex court in its scathing verdict alleged that parts of 12 states — Uttar Pradesh, Karnataka, Madhya Pradesh, Andhra Pradesh, Telangana, Maharashtra, Gujarat, Odisha, Jharkhand, Bihar, Haryana and Chhattisgarh were hit by drought and the authorities were not providing adequate relief. The court found that the total population in the districts affected by drought is about 33 crore.
The SC said that while the Centre have been "washing its hands of a national disaster", both Centre and the states showed "lack of will" in combating drought and saving lives of people.
The apex court in its 53-page verdict asked the government to establish a National Disaster Response Force with specialist cadre in six months; set up a Disaster Mitigation Fund within three months; frame National Plan on risk assessment, risk management and crisis management in respect of a disaster; and update 60-year-old Drought Management Manual keeping in mind "humanitarian factors" like migrations, suicides, extreme distress, the plight of women and children.
The Padyatra
The main objectives of the march from 21 May to 31 May was to address the growing rural-urban disconnect; farmer-youth disconnect and simultaneously create awareness amongst people by organizing meetings with village panchayats and farmers and telling them about their rights.
"Following this historical judgment of the SC, we're now creating awareness about the verdict and about the farmers' rights. Drought is not just about shortage of water, but it ultimately leads to food crisis. Today, there is a great divide between Bharat and India," added Anupam.
Rajendra Singh of Jal Biradari – known as "water-man", who joined the march on Saturday interacted with the villagers while explaining the methods of promoting water conservation, water management and traditional rainwater harvesting. The march will end at Shiradhon in Marathwada region on 25 May and the next Padyatra will take place in the Bundelkhand belt in Madhya Pradesh and Uttar Pradesh.
"The government can't be made accountable for everything, even the Prime Minister can't fight drought of the whole country if he wants, therefore all citizens should own up and help in fighting the drought," added Yadav.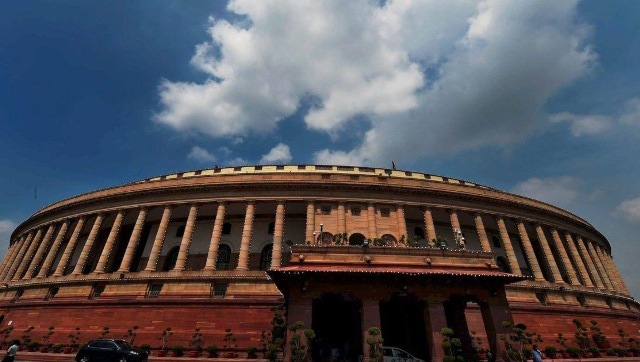 Politics
Monsoon Session of Parliament LATEST News Updates: The prime minister, while introducing ministers in the Rajya Sabha, said, Watch LIVE News, Latest Updates, Live blog, Highlights and Live coverage online at firstpost.com
Politics
Sidhu's statement came a day after AAP MP Bhagwant Mann questioned him about the 'funds' allegedly accepted by the Congress from private power companies in the state