Home Minsiter Rajnath Singh to visit US in September for security dialogue
Enhancing anti-terror cooperation, sharing intelligence inputs and offering easy travel to each other's citizens would be high on HM Rajnath Singh's agenda during US visit in September.
New Delhi: Enhancing anti-terror cooperation, sharing intelligence inputs and offering easy travel to each other's citizens would be high on the agenda during the visit of Home Minister Rajnath Singh to the US next month.
Singh will lead the Indian delegation at the Indo-US Homeland Security Dialogue to be held in Washington in September-end with the US team to be headed by Secretary of Homeland Security Jeh Charles Johnson.
The new dates have been fixed after the bilateral dialogue was postponed last month as Parliament was in session and the Home Minister was busy with the proceedings, official sources said.
Further cementing anti-terror cooperation, real-time sharing of intelligence inputs, cyber security and critical infrastructure protection, countering illicit finance, global supply chain security, megacity policing and science and technology are some of the other key issues to be discussed at the strategic meeting.
This senior-level exchange between India and the US will reinforce the strategic homeland security partnership and enhance operational cooperation in investigations, capacity building, and countering threats, sources said.
Upcoming law enforcement engagement proposals include sharing lessons learned and best practices in police training and responding to mass casualty exercises, improving both nations' capabilities to respond to terrorist incidents and natural disasters.
Besides, there will be discussions on two key recently- signed agreements -- Global Entry, a US Customs and Border Protection programme that permits speedy clearance for pre-approved, low-risk travellers upon arrival in America; and the Homeland Security Presidential Directive-6 (HSPD-6), which allows access to information on terrorists.
The US has been pressing for India's inclusion in the Global Entry so that high dignitaries like former presidents, former prime ministers, former Union ministers, film stars, top industrialists and frequent flyers could visit America without any hassle.
There will be extensive discussion on the Global Entry during the dialogue, the sources said.
Initially, the names of around 2,000 prominent Indians could figure in the coveted list, which would be expanded gradually after proper background checks of each individual.
Incidents like brief detention of Bollywood star Shah Rukh Khan recently at the Los Angeles airport would be avoided when the Global Entry will be implemented.
Find latest and upcoming tech gadgets online on Tech2 Gadgets. Get technology news, gadgets reviews & ratings. Popular gadgets including laptop, tablet and mobile specifications, features, prices, comparison.
India
Even if the industry bites the bullet and agrees to go full throttle on defence manufacturing, the lack of transparency from the government corridor will hardly instil confidence in the private sector.
Sports
The full list of NBA Playoff matchups won't be known until at least Saturday, when the West play-in series begins with Portland, Memphis, Phoenix and San Antonio bidding for those two spots.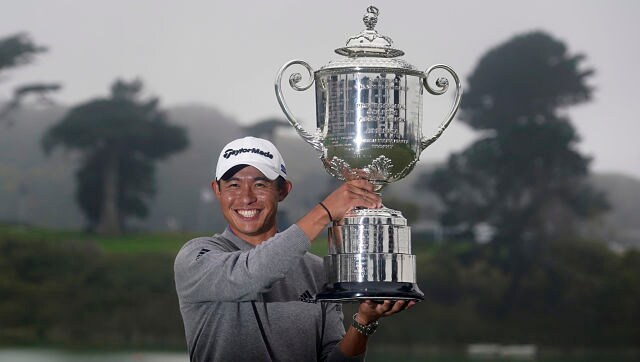 Sports
Morikawa had four birdies, including two in his first four holes as he got off to a hot start. But it was his eagle at 16 that separated him from the tight pack at the top of the leaderboard.