Highlights of ISRO's PSLV-C46 mission today: After a perfect liftoff, PSLV successfully releases RISAT-2B in orbit
LIVE NEWS and UPDATES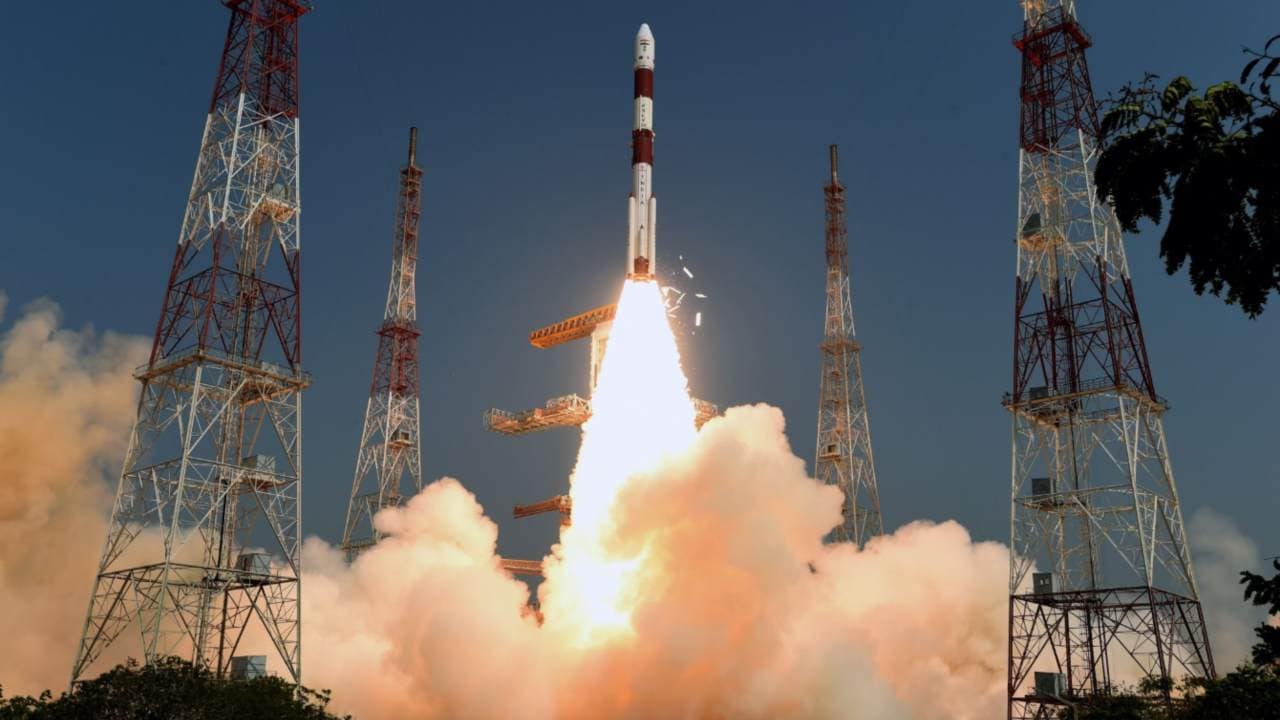 06:02 (IST)

For now, that's all and adieu from us, folks!

05:56 (IST)

Chandrayaan-2 is coming

K Sivan says that next launch will be that of Chandrayaan-2, ISRO's second mission to the moon between July 9 and 16th. Also coming up is the launch of another remote sensing CartoSAT.

05:53 (IST)

K Sivan addresses a happy crowd

I'm happy to announce that the PSLV has placed the RISAT-2B satellite in the perfect altitude and inclination, as planned. With this launch, the PSLV has launched a total of 53 tonnes of mass to space over the years, K Sivan says to members of ISRO and press.

05:48 (IST)

There goes the RISAT!

05:45 (IST)

RISAT-2B separates perfectly!

The PSLV's fourth stage engines has been shut off, and the orbital conditions have been reached for the satellite to seperate. RISAT-2B has been release into its orbit as planned, to applause from the mission team.

05:44 (IST)

Fourth stage fired up!

The PSLV has shed its third stage and fired up its fourth and final engine – the PS4. The fourth stage burn will accelerate the rocket to place the RISAT-2B satellite in a circular orbit at its intended 557 kilometer-altitude. The PSLV is moving at faster speeds that 8 kilometres per second right now!

05:39 (IST)

Third stage of the PSLV fired up

After the second stage powers the rocket and burns out, the third stage has taken over and also burned out. The rocket is now in its coasting phase, and will stay as such for a few minutes.

05:36 (IST)

ISRO pops the hood!

PSLV's payload fairing has separated as planned, opening up the conical nosecone and leaving RISAT-2B exposed to the atmosphere.

05:34 (IST)

The PSLV is off!

The rocket is riding carrying tens of thousands of kilograms of thrust powered by its solid-fueled first stage. This first stage has now been shed after use, and the second stage is performing beautifully!

05:32 (IST)

Look at her go!

05:30 (IST)

While we wait, here's a look at statistics of today's launch

48th PSLV mission

14th launch of the PSLV in the CA configuration

3rd ISRO launch of 2019

3rd PSLV launch of 2019

36th PSLV launch from Sriharikota's First Launch Pad

05:26 (IST)

We're now 5 minutes from liftoff! :)

05:26 (IST)

Weather looking great for liftoff!

All weather conditions have been reported favorable for launch. The most important factors mission control looks at are wind speeds (both ground and upper altitudes) and lightning.

05:24 (IST)

RISAT-2B will take over from RISAT-1

RISAT-2B, short for "Radar Imaging Satellite-2B", is the second in a series of satellites used to observe weather conditions on Earth using radar imagery.
Once operational, the satellite will be capable of monitoring weather day and night, in all weather conditions. We sure could use more of that considering monsoon is on its way.

05:16 (IST)

Live stream of the launch

In the meanwhile, here's where you can catch the satellite launch live on DD National's Youtube Channel.

05:14 (IST)

PSLV awaits green-light liftoff

The PSLV-Core alone rocket is now all fuelled, and awaiting green-light from ISRO's mission director in the form of an OK to start the automated launch sequence (ALS) to liftoff.

05:09 (IST)

Hello all!

We're all set to follow the launch of India's newest earth observation satellite on ISRO's PSLV-C46 rocket this morning.
Highlights of ISRO's PSLV-C46/RISAT-2B launch: Indian Space Research Organisation (ISRO) will be launching the 48th mission of the PSLV series — PSLV-C46 on 22 May 2019.
The PSLV-Core Alone (PSLV-CA) rocket – the lightest launch vehicle in ISRO's rocket roster for now – carried a radar (all-weather) earth observation satellite called RISAT-2B to orbit.
RISAT-2B will be placed in an orbit 555 kilometers from Earth, and is built to last five good years in orbit. The PSLV-CA rocket will liftoff from the First Launch Pad (FLP) of the Satish Dhawan Space Centre (SDSC) SHAR in Sriharikota. Tentatively, the launch has been scheduled for 05.27 am, weather permitting.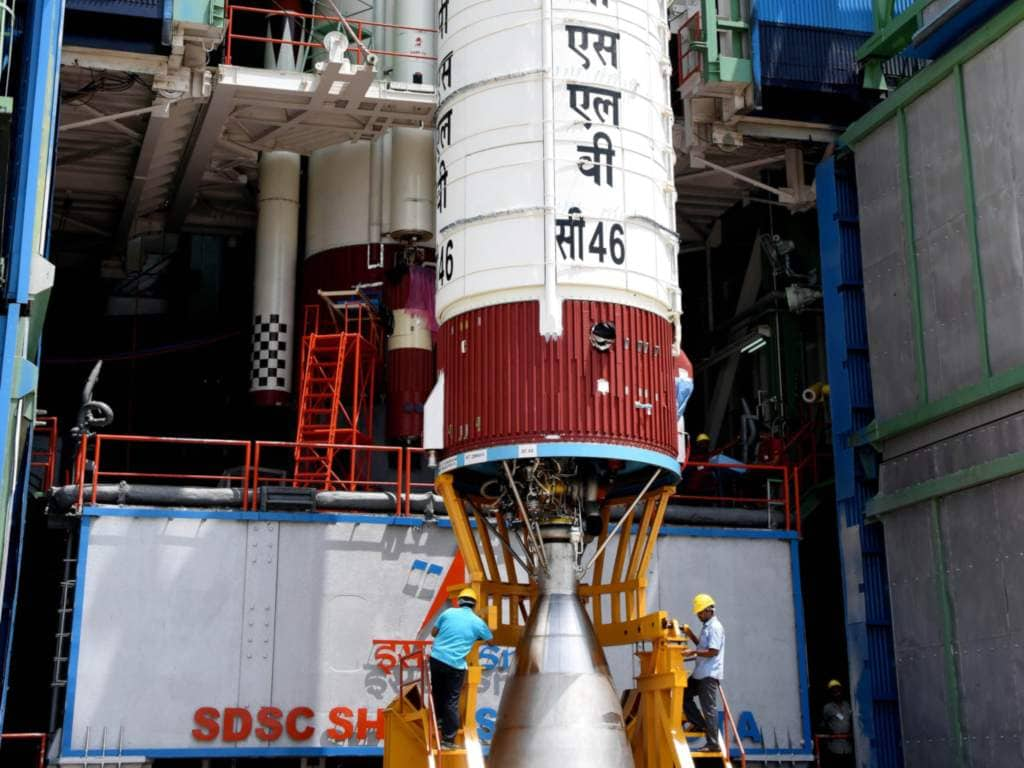 Here are some stories elaborating on the mission:
All you need to know about the PSLV-C46/RISAT-2B launch
When and where to watch the PSLV-C46/RISAT-2B launch live 
ISRO to launch five military satellites in 2019 to boost strategic assets in space
Chandrayaan 2, Aditya L1, Gaganyaan and more: ISRO's interplanetary mission in the near future
Your guide to the latest cricket World Cup stories, analysis, reports, opinions, live updates and scores on https://www.firstpost.com/firstcricket/series/icc-cricket-world-cup-2019.html. Follow us on Twitter and Instagram or like our Facebook page for updates throughout the ongoing event in England and Wales.
Updated Date: May 22, 2019 08:33:17 IST