Highlights of ISRO's PSLV-C46 mission today: After a perfect liftoff, PSLV successfully releases RISAT-2B in orbit
Once operational, the RISAT-2B satellite will be capable of monitoring weather day & night, in any weather.
Auto refresh feeds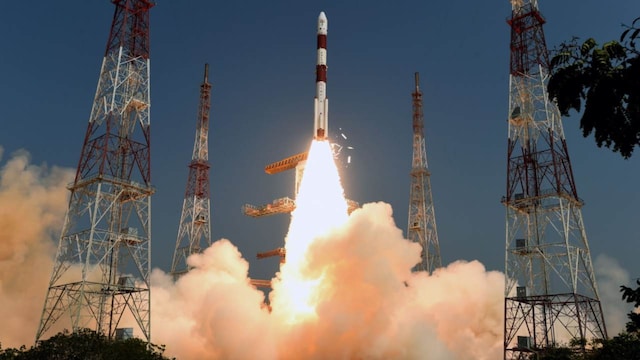 LIVE NEWS and UPDATES
Highlights of ISRO's PSLV-C46/RISAT-2B launch: Indian Space Research Organisation (ISRO) will be launching the 48th mission of the PSLV series — PSLV-C46 on 22 May 2019.
The PSLV-Core Alone (PSLV-CA) rocket – the lightest launch vehicle in ISRO's rocket roster for now – carried a radar (all-weather) earth observation satellite called RISAT-2B to orbit.
RISAT-2B will be placed in an orbit 555 kilometers from Earth, and is built to last five good years in orbit. The PSLV-CA rocket will liftoff from the First Launch Pad (FLP) of the Satish Dhawan Space Centre (SDSC) SHAR in Sriharikota. Tentatively, the launch has been scheduled for 05.27 am, weather permitting.
Here are some stories elaborating on the mission:
All you need to know about the PSLV-C46/RISAT-2B launch
When and where to watch the PSLV-C46/RISAT-2B launch live 
ISRO to launch five military satellites in 2019 to boost strategic assets in space
Chandrayaan 2, Aditya L1, Gaganyaan and more: ISRO's interplanetary mission in the near future
Opinion
This will benefit India by reducing its foreign exchange usage. It will also boost the Government's 'Make in India' efforts. The Indian agrochemical industry is poised to make domestic products that can be exported to contribute to the country's export economy
Opinion
By extending Centre's 50-year low-cost capital support by another year, states can clean up their balance sheet for future financing
India
Among other big ticket announcements for agriculture and allied sectors, Nirmala Sitharaman -- in her budget speech -- said the Centre will launch a new sub-scheme of Pradhan Mantri Matsya Sampada Yojana with an investment of Rs 6,000 crore to improve value chain efficiencies and fisheries market