Heavy thunderstorm hits Simhastha Mahakumbh in Ujjain
Six persons were killed and around 40 injured on Thursday evening when heavy rain accompanied by lightning and squall wreaked havoc at the site of the ongoing Simhatha Kumbh Mela in New Delhi, flattening and uprooting pilgrims' tents.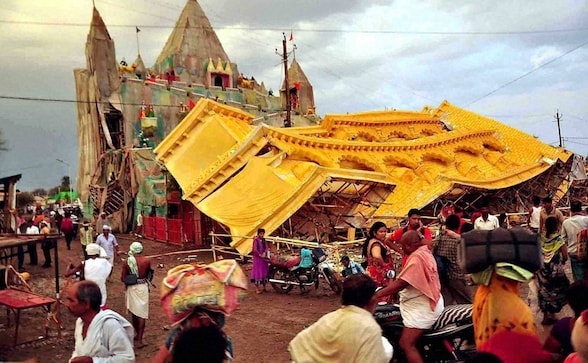 Explainers
Four-and-a-half-year-old Sasha, a captive-bred cheetah who was relocated from Namibia to Madhya Pradesh's Kuno National Park in September last year, passed away on Monday, said forest officials. The feline was reportedly suffering from a kidney disease before her translocation
Opinion
The upcoming week is all set to start with active weather conditions over north, east, and central India as severe thunderstorms are expected in Punjab, Haryana, Delhi NCR, Uttar Pradesh, Jharkhand, Bihar, Chhattisgarh, Madhya Pradesh, Odisha, and West Bengal on Monday
Photos
The hosts of the evening Mukesh Ambani and Nita Ambani ensured the world remembers how grand the launch of the centre was. Talking about the centre, Nita Ambani said in a statement, "Bringing this Cultural Centre to life has been a sacred journey."