Hanging Yakub Memon will be travesty of justice: Pakistan's ISI may have the last laugh
It is characteristic of a weak state to pretend strength by pouncing on players weaker than itself in the cause of 'justice'. The proposed death sentence on Yakub Memon is a testimony to the failure of the justice system to deliver true justice
It would be a national tragedy of epic proportions and a significant miscarriage of justice if Yakub Memon hangs for his role in the 1993 Mumbai blasts. Only one final decision by the Maharashtra Governor, on Memon's mercy petition, and a third appeal in the Supreme Court now stand between him and the hangman.
Facts now emerging (or re-emerging) in the public domain show how badly the legal system has failed in Memon's case. A letter written by B Raman, a former intelligence involved in Memon's return and now published posthumously by Rediff.com, and a 2007 report by journalist Maseeh Rahman about how the Memons led by Yakub returned to India after the bombings, make it amply clear that most of the Memon family may have participated only passively in enabling the bombings.
There is good reason to believe that after the initial anger over the Mumbai communal riots of 1992 evaporated, most of them did not want to stay prisoners of Pakistan's ISI, which helped mastermind the blasts. The Memons who deserve to be hanged are Tiger and Ayub (still in Pakistan as ISI protectees). They were at the core of the conspiracy to bomb several public places in 1993, which left 257 people dead. It is their hands that dripped with blood; Yakub was possibly the gullible brother who got splashed in red when the thundering caravan of public anger passed by him. This is not to say he was blameless, but he certainly was not the man who deserved the maximum punishment for the sufferings of those who died in the 1993 blasts.
Both Raman and Maseeh Rahman are clear (read their full stories here and here) that the Memons who returned in three batches to India in 1994 came back largely voluntarily (barring Yakub, who may have been caught through luck or a negotiated surrender). The families' return was aided by the Indian CBI. Prima facie this establishes the fact that even if anger and fear may have prompted the Memons to aid (or passively support) the bombings which later led them all to flee to Pakistan, they had hoped that Indian law would treat them with fairness.
Raman and Rahman's writings suggest that Yakub provided crucial evidence to link his brothers' evil deeds with Pakistan, but, surprisingly, neither he nor his family got the benefit of becoming approvers in the case which could have led to lighter sentences for their roles in the blasts.
This is yet another classic case where a weak state has chosen to show strength against the weak by indirectly winking at injustice. Strong states do not let public emotions and political posturing get in the way of delivering real justice. In the Indian case, the political need to satiate public anger against the Memons made the "weak" Narasimha Rao government ignore the real reasons why the Memons came back and decided to treat Yakub and some other Memons as key villains deserving no leniency. (Even if they came back only to save their property, the fact is they came back to face Indian law.)
This is known is psychology as displaced aggression. If you can't hit back at the person who wronged you, you hit out at those who are easily available.
Hear what Raman had to say about Yakub: "The cooperation of Yakub with the investigating agencies after he was picked up informally in Kathmandu and his role in persuading some other members of the family to come out of Pakistan and surrender constitute, in my view, a strong mitigating circumstance to be taken into consideration while considering whether the death penalty should be implemented."
Maseeh Rahman wrote that Tiger Memon's father actually "thrashed" him when he heard his son has used the services of Pakistan to plant the bombs in Mumbai.
The law has let the Memons who returned down. Weak-kneed politicians and the legal system have used a voluntary surrender to pretend they had caught dreaded terrorists to show they mean business.
There are three tragedies inherent in the Yakub story.
First, there is the inability of the political and legal system to deliver real justice and focusing instead on what is easy to do. Yakub was an easy target and he is being shown no mercy just to prove that the state means business when it comes to dealing with terrorism. Actually, it proves the opposite. It testifies to the impotence of the state which cannot bring the real culprits, Dawood Ibrahim and Tiger Memon, to justice and is instead happy to send someone else to the gallows. The only message being sent is that the next time one should not trust the Indian legal system to help those who surrender voluntarily and seek to nail the real criminals.
Second, if Memon is hanged despite the facts that are now re-emerging, it will prove yet again that political support is the key to getting convicts an easier sentence. We know that political support in Punjab and Tamil Nadu helped both Balwant Singh Rajaona (convicted for the assassination of Punjab CM Beant Singh) and the three convicts facing death sentences for the Rajiv Gandhi assassination. If Yakub Memon is hanged for lesser offences that what Rajaona and Rajiv's assassins have been convicted for, it would make this assessment obvious.
Third, the final tragedy would be to establish religion as the central issue in tackling terrorism. Politicians are happy to mouth the truism that terror has no religion, but that is not how they behave. It would be a real tragedy if the only politician batting for Yakub Memon is a Muslim politician like Asaduddin Owaisi of MIM. All the so-called "secular" parties are staying mum for reasons of political cowardice.
The BJP and Narendra Modi's government, which have no reason to guard their Right flanks against charges of appeasement of Muslims, should use this as an opportunity to show they are not blind to issues of justice involving the minority community.
Without in any way reducing the culpability of various members of the Memon family for aiding or abetting the Mumbai blasts, the hanging of Yakub Memon, if it finally comes to that, would be a triple disaster for the country. Giving the victims of the blasts a sense of closure does not mean denying a fair deal to the Memons who came back to face Indian law.
Hanging Yakub would also mean Tiger Memon was right in advising him not to return. Maseeh Rahman's report quotes Tiger Memon of warning Yakub: "Tum Gandhiwadi ban ke ja rahe ho, lekin wahan atankwadi qarar kiye jaoge" (You are going as a Gandhian, but over there you will be labelled a terrorist).
If Yakub hangs, it would prove Tiger Memon right. Pakistan's ISI will have the last laugh. It could not prevent Yakub's surrender. Now India is doing its job of killing off someone who didn't kowtow to the ISI. Is that what secular India wants?
World
A video shared by Israeli PM Benjamin Netanyahu's spokesperson purportedly of Palestinian militants firing rockets at Israelis from civilian areas in Gaza Strip was taken down by Twitter, as it was a 2018 clip from Syria or Libya
science
Tianwen-1 will use a laser range finder to work out where it is relative to Martian terrain and microwave sensor to determine its speed more accurately.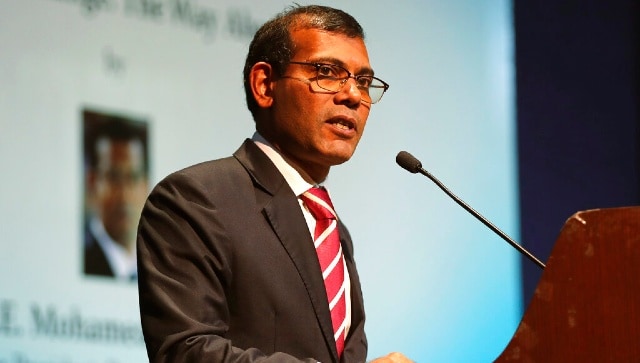 World
Investigators still do not know which extremist group was behind the attack, which left Nasheed, 53, in critical condition in an intensive care unit after life-saving surgeries to his head, chest, abdomen and limbs, the official added