Gurugram man 'bullied' by gym trainer to weightlift 200 kg; video goes viral
The clip has also led people joking that this is the only motivation they need. They also claim that this is the way people usually get injured at the gym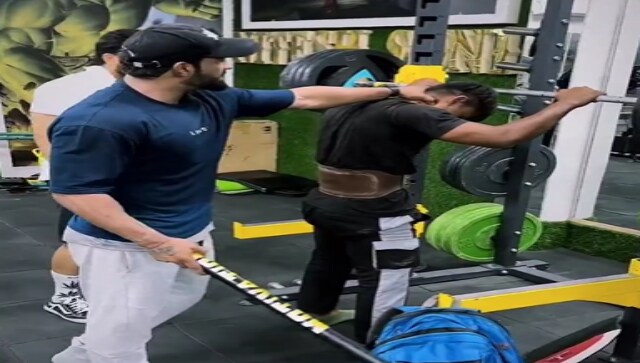 Many people find peace in building their biceps, sweating profusely, and slamming an iron rod into the floor. The burst of energy that comes from lifting heavy weights is a very effective way to relieve stress. Regular exercise can also increase endorphins, which leads to a positive attitude and outlook. But a forced workout doesn't help much. In one such episode, a gym trainer uses violent means to make a man lift weights. The clip from a gym in Gurugram shows the trainer 'bullying' and hitting people into lifting weights has become viral.
In the video, the trainer can be seen holding a stick in his hand to scare people. Twitter user 'Gabbar' shared the video and people are in shock seeing the clip. He wrote in the caption, "And you wonder how come Gurgaon dudes are doing push-ups on top of a running car."
In an effort to motivate the individual, the gym trainer shouts, "Down, chest up, down, chest up." Below this, Pawan Durani, the user who first posted the video on the microblogging site, shared another video in which the same trainer warns people against drinking alcohol. In the video, he yells and screams about no alcohol consumption in his gym. "Main swag vahi faad dunga," he exclaimed.
Take a look at this:
A Twitter user wrote, "Aisa motivation phek ke marunga pura khandan fit hojaega (I will throw such a motivation that the whole lineage will become fit)."
Another person wrote, "Body kharab kar rahe h ye log Jo ronnie coleman ke sath huaa wahi hoga extreme karoge to Human body ki bhi limitations h (These people are destroying bodies. If one takes it to the extreme, he will meet Ronnie Coleman's fate. The human body also has its limitations.)" Notably, Ronnie Coleman was a weightlifter who died of diuretics.
This type of motivation has also led to people joking that this was the only motivation they needed. They also claimed that this was how people usually got injured at the gym.
In a separate incident that happened recently, a man was caught on video doing push-ups while drinking beer from a bottle on top of a car a few weeks ago. His actions led to police intervention.
Recent deaths during workouts
As reported by The Citizen, the recent deaths of actors Siddhaanth Vir Surryavanshi, Raju Srivastava, Puneet Rajkumar, Abir Goswami, and Siddharth Shukla have raised alarm among gym goers. In the wake of several sudden heart-related demises while working out, fitness enthusiasts have been scrambling for answers.
Read all the Latest News, Trending News, Cricket News, Bollywood News,
India News and Entertainment News here. Follow us on Facebook, Twitter and Instagram.
also read
India
Despite the risk of the animals being injured or causing accidents on the road, the man was witnessed throwing the goats on the road, purportedly to steal them
India
The once-gross liquid is treated to a near-solid state before being put down in sheets. The raw paper is dried and manually transported to another machine, where it is given a considerably cleaner appearance by trimming the rough edges. The finished product is then kept in preparation for delivery
India
One user commented, "That hug is filled with so much love, bless them." Another person wrote, "Such a beautiful moment." Many found the clip to be extremely wholesome.