Gurnam Singh did not get proper treatment, alleges the dead BSF soldier's family
When the body of slain BSF soldier Gurnam Singh was brought to his native village of Bhalesar in RS Pura sector on Sunday afternoon, villagers showered rose petals on the coffin and raised slogans against Pakistan.
When the body of slain Border Security Forces (BSF) soldier Gurnam Singh was brought to his native village of Bhalesar in RS Pura sector on Sunday afternoon, villagers showered rose petals on the coffin and raised slogans against Pakistan.
Since his childhood, Singh was fascinated with men in uniform and his dream of wearing the khaki had come true four years back.
"He lived and died for his motherland," Dalbir Singh, a resident of Bhalesar village and classmate of Singh, told Firstpost.
Singh was the first soldier from Jammu and Kashmir to die since the Indian Army carried out surgical strikes on terrorist launch pads across the Line of Control in Pakistan-occupied Kashmir.
On Friday night, he was injured when Pakistani snipers targetted his post in Bobiya area in Kathua district on the International Border. He had been instrumental in foiling a major infiltration bid along the International Border a day earlier, when Pakistani rangers, according to the BSF sources, were trying to give fire cover to a group of militants trying to enter the Indian territory.
"Pakistanis were trying to push terrorists into our territory and our jawan Gurnam Singh fought hard and pushed them back and killed one militant. The next day, there was firing from the Pakistani side and he received a bullet injury in his head after which he was shifted to the Government Medical College Hospital (GMCH), but we lost him," Arun Kumar, (Additional DG BSF), said in Jammu.
Singh succumbed to his injures in the Jammu GMCH in the wee hours of Sunday. His family, however, alleged that he was not given proper treatment, despite being critically injured.
Gurnam Singh's brother, Manjeet said that despite his head injury, the authorities did not shift the soldier for treatment to a neurological facility outside the state.
Rajinder Thappa, chief medical officer of the GMC Jammu said that Singh's parents wanted him to be shifted to Aiims in New Delhi. "Bullet had hit Gurnam Singh in the head and he was being treated in the Intensive Care Unit. Senior doctors had kept him under observation. His parents wanted him to be shifted to Aiims for better treatment. We were about to do that yesterday, but unfortunately he passed away."
The family members insisted that a super specialty hospital should be built exclusively for the injured soldiers so that whenever incidents like these happen they can get the best treatment.
Gurjeet Kaur, sister of the soldier, urged Prime Minister Narendra Modi to build a hospital for the BSF soldiers. "We feel proud that our brother achieved martyrdom but I appeal to the PM to open a super specialty hospital in RS Pura so that injured soldiers get good treatment. Gurnam would have gone back and fought against Pakistan had he received proper treatment," she said.
"They referred my injured son to a hospital in Bakshi Nagar. If BSF had their own hospital with doctors, my son could have been saved. I appeal to the prime minister to have a good hospital for our jawans," Kulbeer Singh, Gurnam's father, said.
RS Pura sector and Kathua district along the International Border have witnessed continuous ceasefire violations after India carried out surgical strikes across the LoC.
On Sunday, Pakistan rangers once again violated the ceasefire along the International Border at RS Pura sector as they targetted Indian posts.
"A few rounds were fired from the Pakistani side this evening which hit the mound near the border," a BSF spokesman said.
On Friday night, Pakistan rangers had targetted the border hamlets and border outposts (BoP) with mortar shells and had opened fire from automatic weapons along the International Border in RS Pura sector.
Seven Pakistani rangers and an alleged militant were killed and three others injured in the retaliatory firing by the BSF troops along the International Border in Hiranagar sector on Friday, the BSF said.
India
The total number of employees dismissed from government services in Jammu and Kashmir in the past six months has gone up to 27 now
India
This episode illustrates once again India's failure to understand the dynamics of British politics and society despite comical pretensions of its diplomats and supposed India-based experts to the contrary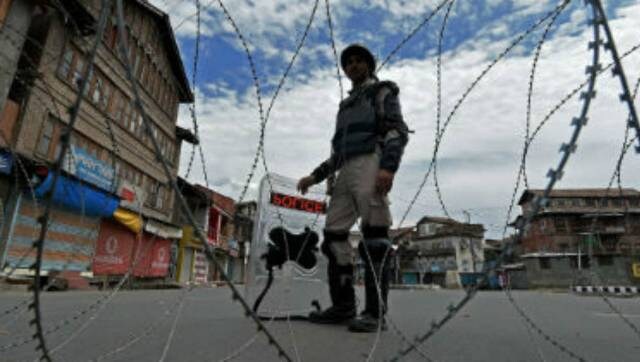 India
This comes just a day after two non-native vendors were shot dead by terrorists on Saturday in Srinagar