Gurmeet Ram Rahim convicted of rape: As normalcy returns to Rohtak, 50,000 people stranded in Sirsa's Dera ashram
The situation in Rohtak district, Ram Rahim Singh is lodged in a jail after his conviction by CBI court in a rape case, is returning to normalcy on Sunday.
Rohtak district, where Dera Sacha Sauda head Gurmeet Ram Rahim Singh is lodged in jail after his conviction by a special CBI court in a rape case, is returning to normal on Sunday.
"As many as 10 companies of paramilitary forces have been deployed in the district. 18 columns of the army have been requisitioned, and these would soon reach the district and carry out flag march," Rohtak deputy commissioner Atul Kumar said on Saturday.
Being Sunday, the shops in the city are closed. Roads wear a deserted look.
Police have set up barricades on Rohtak-Delhi national highway bypass near Sunaria village. Civilians have been told to stay at home.
Parveen Kumar, a resident of Sunaria village, where Gurmeet Ram Rahim Singh is jailed, said that his village has only one or two families who follow Dera Sacha Sauda (DSS).
Kumar says that this is the reason why the question of lawlessness in Rohtak does not arise. He added that people in Rohtak would support the administration in the hour of crisis.
Police have set up barricades on roads leading to Rohtak. Only government and emergency services vehicles are being allowed to enter the city.
At Sunaria village jail, all routine meeting of inmates with their relatives have been suspended for three days by the administration. Daily phone calls have also been suspended for same duration.
Meanwhile, an estimated 50,000 people are still stuck inside the DSS ashram in Sirsa.
As the transportation services are suspended, many have not left the ashram and are taking shelter inside.
A few are walking on foot, with a hope of getting some transport services to reach home.
Panchkula, which was worst hit by violence, is also limping back to normalcy.
According to officials at the government hospital in Panchkula, of the 28 dead, 15 bodies have been claimed by their family members while the rest still remain unidentified.
With inputs from 101 reporters
India
After the revival of the southwest Monsoon, on Sunday, several parts of the country have been experiencing heavy rains while some witnessed thunderstorms and lighting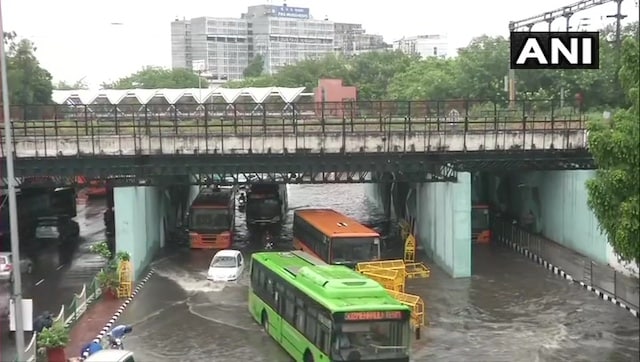 India
Several funny memes were based on the fact that the rains have arrived in Delhi after a long delay, with many memes based on Bollywood movies
India
The DJB has been supplying 945 MGD of water to city residents this summer against the demand of 1,150 MGD