Gujarat: What Surat can teach other Indian cities about public health management
Surat Municipal Corporation a pioneer in public health management in the country.
By Swagata Yadavar
Surat: Whether scorching heat or wet and rainy, Mamta Patel, a primary health worker with the Surat Municipal Corporation, visits 250 houses in the low-income locality of Pandesara in Surat, the southern Gujarat city known for its diamond industry. At each house, she asks, "Does anyone from your home have fever?"
If the answer is yes, she takes a blood sample using the 'fever kit', and sends it to be tested for malaria. If the test is positive, Patel gives the patient a full course of pills for malaria. If it is something else, she refers the patient to a doctor. Apart from asking people about fever, Patel also looks at possible mosquito breeding sites in the house.
Patel is part of Surat's vector borne disease surveillance, the first of its kind, real-time mosquito surveillance programme in the country that aims to track and prevent a disease before it spreads. This, along with many other innovative solutions, makes the Surat Municipal Corporation a pioneer in public health management in the country.
With its real-time mosquito surveillance programme, a first of its kind Urban Health and Climate Resilience Centre that devises strategies to counter climate change, and a real-time urban service monitoring system that monitors and tracks complaints related to health, water and solid waste–the city has been innovative in its response to public health issues.
Surat, once infamous for its filth and the plague outbreak in 1994, has transformed to become a leader in sanitation and public health.
Such a transformation in urban areas could be one reason the incumbent Bharatiya Janata Party has won more seats in mostly urban areas of Gujarat as compared to rural areas, as voting patterns from 2015 and polling data show, as the Hindu reported in December, 2017.
As parts of Gujarat vote in the second phase of the state elections on December 14, 2017, IndiaSpend visited Surat, 288 km from the state capital of Gandhinagar, to understand this transformation and the lessons it holds for India's growing cities and towns.
In 1994, the plague jolted city officials to action
After the decline of Mumbai's textile industry in the 1980s, Surat grew as the most important textile hub in western India and later as a major diamond cutting and polishing centre.
With the growth in industries, it attracted immigrants from across the country; the population of the city doubled from 0.77 million in 1981 to 1.4 million in 1991. Less than 35 percent of the city had access to piped water and its drainage system covered only 33 percent of residents.
As much as 40 percent of the population lived in slums that often experienced waterlogging. The city–dubbed as a city of "floating sewage water"–was fertile ground for water- and vector-borne diseases including malaria, gastroenteritis, cholera, dengue and hepatitis, according to this report by the All India Institute for Local Self Government about Surat's transformation.
Things took a turn for the worse when the plague, an infectious disease that affects the lymphatic system, broke out in Surat's outskirts and created world-wide panic, tremendous economic loss in the city, and resulted in 60 percent of the city's population fleeing. There were 693 suspected cases and 56 deaths from plague that year.
It was then that city officials, under the leadership of the then civic chief, Suryadevara Ramchandra Rao, undertook a massive clean-up of the city and its administration. The city was divided into six zones and each zonal head had administrative and financial powers equivalent to that of a municipal commissioner; further, it was divided into 52 sanitary districts, each with its own sanitary inspector. A system of monitoring was established through 'daily activity reports', fines were levied for littering, and conditions in slums were improved.
From being one of the filthiest cities in 1995, it became the second cleanest city in 1997.
With a population of 4.8 million in 2011, Surat is the second most populated city in the state and the eighth most populated in the country. Still, it is the fourth cleanest city in the country, according to annual cleanliness survey, Swachh Sarvekshan 2017. It is also one of the 20 cities selected under Smart Cities Mission.
How Surat takes care of migrants
It was 9.30 am at Pandesara Urban Health Centre and medical officer Sarita Rajgera was stressed. The day we visited the centre, she was the only doctor in the outpatient department (OPD). "We see 100-150 patients in the outpatient department. Most of them have seasonal illnesses, the numbers are highest during the rainy season," she said.
The Pandesara Urban Health Centre–a clean, well-lit building, with most of its staff present the day IndiaSpend visited–is one of 44 urban health centres in the city. Each centre is equipped with a pathology laboratory and a pharmacy, and staffed with two medical officers and specialists each who consult weekly. The Pandesara Urban Centre is one of seven centres with a maternity unit for normal deliveries, and an inpatient facility.
"Surat is called as mini-India," said Hiren Patel, a counsellor at the centre's Sexually Transmitted Diseases (STD) and Human Immunodeficiency Virus (HIV) centre, who showed IndiaSpend the facilities, referring to the multitude of migrants from across the country who make up 58 percent of the city.
Chaya Jadhav from Dhule, Maharashtra, sat in the OPD with her mother, a Surat resident. "I had delivered in this centre [during my last pregnancy]," she said. She came back for her second pregnancy because she was satisfied by the hospital's services.
Laxmikant Jadhav, 37, originally from Varanasi, Uttar Pradesh, said he preferred the government centre for treatment over a private doctor.
In its immunisation centre, surrounded by posters of Mission Indradhanush, the national universal immunisation programme, a team of twenty auxiliary nurse and midwives (ANMs) sat with their registers. "Today is the day we do the documentation of our field work," said Pooja Patel, 23 who has been an ANM since last year. She said they used the state government's MAMTA app on their phones to register pregnancies and note antenatal and postnatal check ups. There are 22 ANMs, 55 anganwadi workers and 32 Accredited Social Health Activists workers attached to the Pandesara Urban Health Centre who look after a population of 28,301.
Each ANM looks after 200 pregnant women a year, she said. Because many of the women are migrants who go back to their hometown during their pregnancy, it can be difficult to keep track. "They also move houses frequently. But we use their mobile phones to track them."
The approach of the Surat Municipal Corporation is to monitor, and prevent diseases from spreading, said Patel, the counsellor at the centre's STD and HIV centre. Each evening before 4 pm, each and every case of fever or disease the urban health centre diagnosed is recorded. A deputy medical officer, responsible of one of six zones in the city, monitors diseases every day.
Health workers, like Mamta Patel whom we met earlier, form the backbone of Surat's impressive monitoring and recording system, which reduced malaria positive cases in Surat from between 20,000 to 54,000 cases during 1988-1994, a high transmission phase to between 6000 to 12,000 malaria cases during 2003 to 2016, a low transmission phase.
Source: Annual Report 2016, Vector Borne Disease Control Department, Surat Municipal Corporation
Patel is one of 600 primary health workers in the Vector Borne Disease department, who work under the assistant insecticide officer, and monitor mosquito breeding sites, record fever cases and manage mosquito fogging. This is Patel's first job, and she said she liked working in health. She joined in 2015 at Rs 5,000 per month, and after three years of service, she would become part of the permanent staff and earn Rs 10,000 per month.
Preparing to tackle the effects of climate change
"Be it plague, HIV, malaria or filariasis, Surat has always been in the centre of the storm," said Vikas Desai, technical director of the Urban Health and Climate Resilience Centre (UHCRC), and former director of reproductive and child health for the Gujarat government. Being on the coast and on the banks of the river Tapi makes the city vulnerable to flooding and mosquito-borne diseases, while the growing migrant population puts pressure on sanitation issues, Desai, who is also a professor of community medicine, explained.
Through the UHCRC, Surat is now preparing for problems that climate change could cause.
The main task of the centre, set up in 2013 by the Asian Cities Climate Change Resilience Network, was to study how climate change impacts health, and research ways to improve urban health services, particularly for the most vulnerable and poor. The project is supported by Rockefeller Foundation through the Surat City Climate Trust, in which the Surat Municipal Corporation is the main stakeholder.
The centre helped create the 'Urban Service Monitoring System', a web and mobile-based monitoring tool used for the the daily surveillance of diseases such as tuberculosis, malaria and dengue for the municipal corporation. "The great part is that we also have 400 private practitioners who are part of the system and who feed in the information daily," said Desai, and this system helps reach even patients not coming to government centres for treatment.
(Yadavar is a principal correspondent with IndiaSpend.)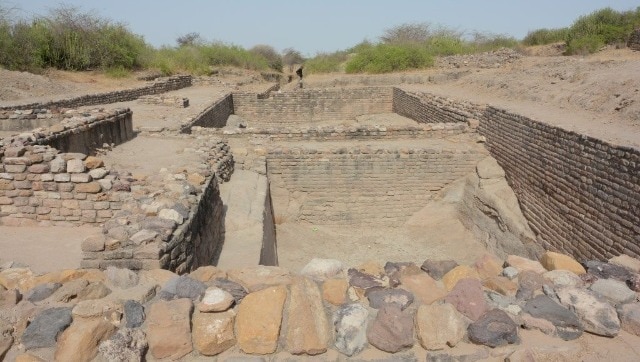 India
Dholavira is one of the two largest Harappan sites in India and the fifth-largest in the subcontinent
India
Meanwhile, if candidates are unhappy with their marks, they will get a second chance to appear for the examination. However, the special exam dates have not yet been announced. Also, the registrations for the same will commence at the official website shortly
India
The reaction tweet of Modi has been liked over 62,000 times, with thousands of people commenting on it