Gujarat HC asks petitioner to send PIL copy to Centre in land row case linked to Anandiben Patel's daughter
The Gujarat High Court on Wednesday asked the NGO RTI Activists Sangathan to send to the Centre a copy of its petition.
Ahmedabad: The Gujarat High Court on Wednesday asked the NGO RTI Activists Sangathan to send to the Centre a copy of its petition, which seeks a probe by a judicial panel into the allotment of land to an alleged business partner of former chief minister Anandiben Patel's daughter Anar Patel.
A division bench of Chief Justice R Subhash Reddy and Justice VM Pancholi posted the matter for hearing on 7 February.
Earlier, the high court had directed the petitioner to make the Union government a respondent in the PIL.
The high court is hearing the PIL, which seeks an investigation by a judicial committee into the allocation of government land at Patla village in Amreli district to Wildwood Resorts & Realties Pvt Ltd, owned by alleged business partners of Anar Patel at a "concessional rate" of Rs 15 per square metre.
The petitioner had challenged the allocation of the land, which is located next to the lion sanctuary in Gir, saying that the actual valuation of the land was Rs 180 per square metre, and norms were violated, as no public auction was conducted and concession in pricing of the land also violated the norms.
The petitioner had said that the state government should have sought permission of the concerned ministry of the central government before allotting the land as any allotment of land more than 2.5 acres needs the Centre's sanction.
The state government had rejected any wrongdoing in the process of allotment of land, and had submitted before the court that the decision taken by it is bona-fide and in tune with its policies for promoting tourism in the state.
It had submitted before the court that a three-tier system for determination of the real market value of the land was followed in the present case before the cabinet considered and finalised the same owing to the fact that the valuation of the land in question was more than Rs 1 crore.
The land in question was allotted to WRR following an MoU signed between the tourism department and WRR on January 12,2009 for setting up of a wildlife resort with the proposed investment of Rs 80 crore, the government said.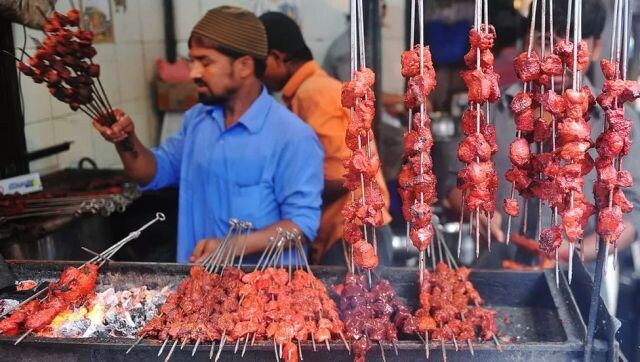 India
Three Jain groups and a businessman have sought a ban on ads of non-vegetarian food, calling it an infringement of their right to privacy. From the Navratri meat ban in Delhi to Gujarat prohibiting the sale of such food items on the streets, there's been a lot of 'beef' over the issue
Entertainment
The complainant, Jitendra Madhubhai Solanki, had filed a private complaint against Shah Rukh Khan before the judicial magistrate, first class, Vadodara, alleging that his presence at the Vadodara Railway Station led to the stampede.