Grand Ram temple will meet the aspirations of devotees: Uttar Pradesh deputy CM Keshav Prasad Maurya
UP deputy chief minister Keshav Prasad Maurya also said that Ayodhya has never been a political issue but a matter of faith.
Lucknow: Exuding confidence that a grand Ram temple will be constructed in Ayodhya, Uttar Pradesh deputy chief minister Keshav Prasad Maurya on Tuesday said it will fulfil the aspirations of devotees of Lord Rama.
Maurya also said that Ayodhya has never been a political issue but a matter of faith.
"Every Ram bhakt (devotee of Lord Rama) wants to see that Lord Rama does not languish in "taat" (makeshift tent), but resides in "thaat" (grandeur)," he said.
"...Lord Rama is still in the same shape, as he was before the disputed structure fell...Everyday he is worshipped as per traditions and rituals. But, he is being worshipped under a taat (tent). Every Rama bhakt (for whom Lord Rama is a symbol of faith and devotion) wants that Lord Rama should not live under a taat. Rather he should live in thaat," he said.
Hence a grand Ram temple must be built there, Maurya told PTI in an interview.
His remarks come days after RSS chief Mohan Bhagwat made a strong pitch for building the Ram Temple at the disputed site at Ayodhya, saying only the mandir would come up there and not any other structure.
Maurya said, "Daily court hearing in the Ram Janmabhoomi-Babri Masjid dispute case will begin on December 5. And, I am confident that after the hearing, the judgement will come soon. In place of tirpal (tent), a grand Ram temple will be built using stones on which carvings have been made by the Ram Janmabhoomi Nyas, where devotees will get an opportunity to offer prayers".
Maurya asserted that a once a grand Ram temple is built, it will be a "true tribute" to VHP stalwart Ashok Singhal, Mahant Sri Ramchandra Das Paramhans (former head of the Ram Janmabhoomi Nyas in Ayodhya) and karsewaks who sacrificed their lives.
"...But, since the matter is in court, as a government, we can say that till the time the court delivers its judgment or there is an agreement among the parties (in the case), construction of Ram temple cannot commence. However, the day Supreme Court gives the judgment or an agreement is reached among the parties, the construction work for the Ram temple will start without any delay," he said.
On the initiative by Art of Living founder Sri Sri Ravi Shankar to find a solution to the Ayodhya dispute, Maurya said, "...If there is any initiative by anyone, then from the government there is no opposition to it. Whether he is a party in the case or whether he could bring an agreement among parties...Those who have started the initiative must be having a roadmap."
"But at the level of the government, we are waiting for agreement among the parties or a judgement of the Supreme Court. And we believe that it will be a favourable one."
Attacking Samajwadi Party patron Mulayam Singh Yadav, the UP deputy chief minister said, "He is trying to reopen the wounds of Ram bhakts and rake up old memories. No Ram bhakt can ever forget the firing on karsewaks done during the regime of Mulayam Singh Yadav."
His reference was to the SP patriarch's remarks in which he justified his order to open fire on kar sevaks marching towards Ayodhya in 1990, saying if even more people were required to be killed for the country's unity and integrity, the security forces would have done it.
Maurya observed that Ayodhya is the birthplace of Lord Rama and a "symbol of faith" for crores of Hindus.
"Our religious scriptures prove that Ayodhya is the birthplace of Lord Rama and not a symbol of faith for Muslims. When the Mughal invaders came here, they in order to insult Hindus, destroyed many temples," he said.
On comments made by Mulayam Singh Yadav and his son Akhilesh Yadav comparing Lord Rama with Lord Krishna, Maurya said, "They have definitely made some temporary gains by dividing society. Hence, now they are eyeing some gains by dividing Gods. However, they can divide society, but not Gods. And, now they have proved they were unsuccessful even in dividing society, as their true colours are now known."
"For us, Ayodhya has never been a political issue and it will never so in future. It is a matter of faith. And it is the SP, BSP and Congress to link politics with matter of faith," he said.
Taking a dig at Akhilesh Yadav, Maurya said, "My direct question to him is why is he not going to campaign for his party in the urban local bodies polls...There is not even an iota of interest among public vis-a-vis Akhilesh."
"In the presen times, he has assumed the role of 'bayaanbeer' (one who only makes statement), as he has no issues against the Centre or state government," he said.
India
Water from rivers, streams and oceans from these 115 countries was received by Singh at his residence. The water was procured by NGO Delhi Study Circle, which is led by BJP leader and former Delhi MLA Vijay Jolly
India
MP Sanjay Singh had declared that AAP would contest all 403 seats in Uttar Pradesh to expose BJP's 'fake nationalism' and showcase his party's 'real nationalism'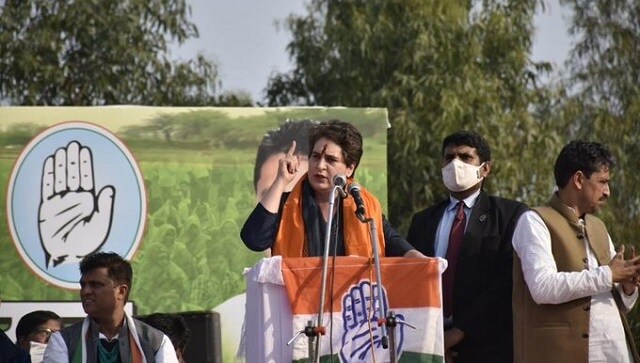 Politics
Her attack on Adityanath came as on this day, last year, the horrific Hathras incident took place in which a young Dalit woman was raped by four men.