Ahead of the upcoming Lok Sabha election in 2019, Google has approached the Election Commission to track funding of political ads during the polls. An exercise which was recently launched and concluded during the US midterm elections, Google hopes to replicate the system in India and plans to establish tools to check spread of fake news, pertaining to elections.
The search engine major, in a recent meeting, has assured the Election Commission that it will develop a mechanism to ensure pre-certification of such advertisements as well as collect and share details of the expenditure incurred on them, The Hindu reported.
Google India's Director of Trust and Safety Sunita Mohanty told The Indian Express, "We are planning something. What we did with the recent US elections is that we built a very tight control on who is spending on election advertisement and how are we controlling information on elections. We launched a transparency report on the kind of political advertisements that were being run. We also did a product control on spread of misinformation and fake news around elections."
In a meeting held around September, representatives from Google met with the Commission and told them that the search engine giant will keep track of political advertisements and ensure that they are pre-certified by the EC's Media Certification and Monitoring Committees. "This would entail Google asking prospective clients, whenever an order is placed, whether they have been pre-certified," The Hindu reported.
When the US midterms were underway, Google published a transparency report pertaining to political advertisements and laid down guidelines for such advertisements. "As per the norms, advertisers must be verified by Google in order to run advertisements of political importance in the US on Google Ad Services," The Indian Express reported.
The 'transparency report' page of Google says, "Advertisers must be verified by Google in order to run ads of political importance in the United States on Google Ad Services. This report includes ads related to elections or issues that feature a federal candidate or officeholder. This report shows how much those verified advertisers are spending to run ads on Google Ads Services in the United States. Our goal is to provide information that helps everyone better understand how ads of political importance work online."
There has been considerable debate around keeping a track on expenditure by political parties, especially during election season, considering political funding has always been at the nodal centre of unaccounted and illicit cash transfer. Despite the sustained talk, there is no credible body which compiles or tracks the actual costs incurred during election campaigning.
The Google report on US midterms included information about advertisements related to elections or issues that featured a federal candidate or office-holder. The Indian Express report said that it also showed how much those verified advertisers were spending to run advertisements on Google Ads Services in the US.
The data on the Transparency Report page shows how much is spent on buying ads of political importance and a list of states (which appears in a drop down) shows how much advertisers have spent in each congressional district.
The transparency report has broken down the data received into different section — one section specifies expenditure by each state. Another section has a list of the top advertisers across the US. This data showed advertisers who have spent more than $500 on ads of political importance in the current US federal election cycle from 31 May, 2018 onwards. These advertisers are listed from highest to lowest amount spent.'
For example, Senate Leadership Fund spent $5,230,700 across Google Ads Services since 31 May, 2018. Congressional Leadership Fund, which occupies the second spot on top spending advertisers, spent $3,860,200 across Google Ads Services.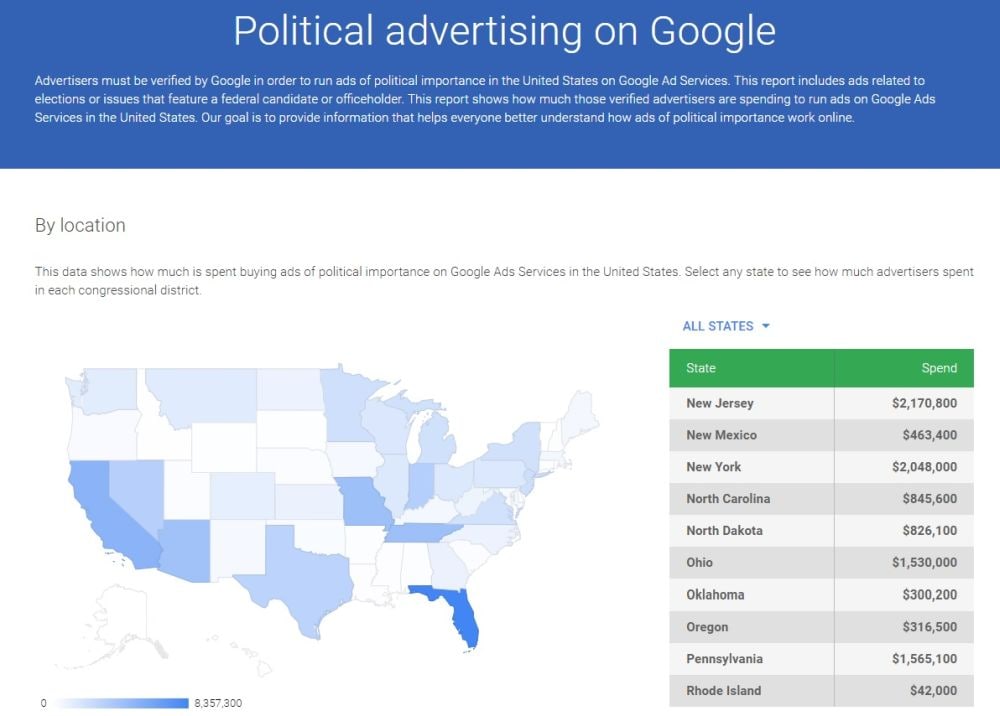 However, replicating what Google did during US midterms in India is not tricky, but will take a lot more than a Google initiative to get the required results. Given that India's current political finance system is completely broken and the laws which are required to bring transparency and accountability will need some doing, Google's initiatives are ambitious. How the plan unfolds when they meet the challenges required for a project this scale is left to be seen.
For starters, the US does not have to deal with multiple (a number which runs in thousands) political parties fighting the elections. The US, unlike India, does not have the concept of a "coalition" where tracking just two national parties will not be enough.
Explaining the process, Mohanty said that the advertisements which appear on Google are based on identification of relevant keywords entered by a user. Google guidelines also require that all political advertisements include a disclosure identifying who paid for a particular advertisement.
In July 2018, a survey into the nature of campaign finance across all levels of elected office, from the gram panchayat to the Lok Sabha in three states of Bihar, Jharkhand and Uttar Pradesh could not find accurate estimates of campaign spending. The data collected provide insights into the role of political parties in funding elections, candidates' sources of campaign support, and the specific, and troubling, importance of illicit funds.
The survey, as reported by Hindustan Times, noted that most respondents reported spending less on campaigns than the official limits, despite regular grumbling by politicians about the exceedingly strict campaign finance limits imposed by the Election Commission — which basically means that it gets increasingly difficult to track the election funding of Indian politicians given the sheer volume and opacity of the system.
Firstpost is now on WhatsApp. For the latest analysis, commentary and news updates, sign up for our WhatsApp services. Just go to Firstpost.com/Whatsapp and hit the Subscribe button.
Updated Date: Nov 14, 2018 15:39:21 IST