New Delhi: A study conducted by the Goa government to assess the various environmental nods required for mining in the state has found serious flaws with the entire process and recommended remedial measures.
The three important stages, Environmental Impact Assessment, compliance with Environment Clearance and Environmental Management Plans, leading to granting of mining clearance were found to be "highly deficient".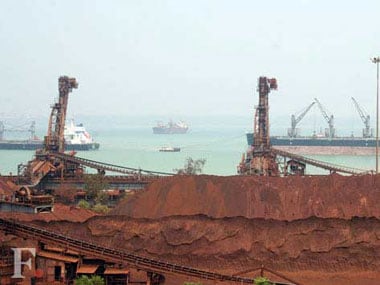 "The EIAs, ECs and EMPs were found to be highly deficient in information pertaining to major environmental parameters such as land use pattern, water resources, biodiversity, demographic profile, dependency of people on agriculture, air quality and impact of air pollution on people's health," it said.
The Goa government had assigned to Centre for Environment Education a two-year research project to assess the quality of EIA submitted, compliance with EC conditions and the adequacy of EMP with respect to 105 mines in operation in the state.
ECs, it noted in its report released on Tuesday, sanctioned as many as 182 mining leases with their total production amounting to an annual removal of 70 million tonnes of ore. It meant the removal of some 200 million tonnes of earth.
Issues like loss of agricultural productivity due to deposition of dust on the leaves, depletion of ground water and water supply, destruction of springs and other water sources and siltation of agricultural land and orchards have been ignored.
Breaking of estuarine Khazan land bunds due to over barge traffic movement in rivers, oil pollution of water and soil, and excess iron and manganese content in water and soil were also not given attention by various authorities, it said.
"It is necessary to consider the cumulative environmental impacts of such a huge turnover of soil in an ecologically sensitive area like the Western Ghats...There is no proper recognition of its impact on the water regime of the area under mining which includes a substantial fraction of the water catchment areas of the state," it said.
The report said there are obviously serious deficiencies in the EIA, EC, EMP process and it is imperative that we take appropriate steps to remedy these.
The whole process is aimed at fulfilling the social objectives of promoting environmentally and socially sustainable development, it said, recommending that it should examine any development intervention in the broader context of other on-going development interventions and processes.
"It should stimulate a proper scrutiny of various possible alternatives for meeting a particular development objective, such as mining of iron ore or construction of a highway or generation of thermal power," it said.
It should lead to the selection of the most desirable alternative, one that maximises the net gain from the development intervention, maximises the balance of economic, environmental, social benefits minus the economic, environmental and social costs, it recommended.
PTI
Your guide to the latest cricket World Cup stories, analysis, reports, opinions, live updates and scores on https://www.firstpost.com/firstcricket/series/icc-cricket-world-cup-2019.html. Follow us on Twitter and Instagram or like our Facebook page for updates throughout the ongoing event in England and Wales.
Updated Date: Oct 16, 2013 12:01:19 IST