'Go to Pakistan': Pravin Togadia joins list of leaders telling someone or the other to go to neighbouring country
VHP leader Pravin Togadia is the latest one to embark on the 'mission' to send those considered anti-nationals to Pakistan.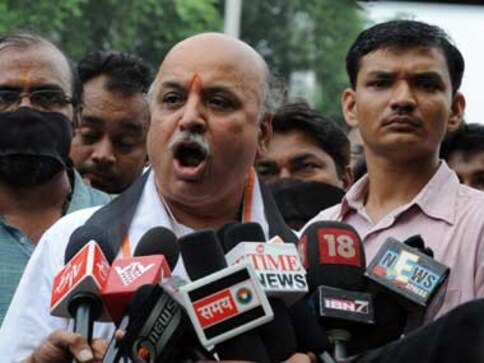 It seems that forcing one's ideology and personal choices onto others under the garb of nationalism is the flavour of the day and no one does this better than politicians. Many such radical leaders have no qualms about undertaking actions, which they say, are in the 'best interests of the nation' and are quick to brand anyone eating, critiquing, wearing, reading, writing anything not considered 'appropriate' by them as 'anti-national'. And 'anti-nationals', as per them, have a preferred destination: Pakistan.
VHP leader Pravin Togadia is the latest one to embark on this 'mission' when he said that 'those talking about an independent Kashmir should go to Pakistan. His jibe came a day after former Jammu and Kashmir chief minister Farooq Abdullah said Pakistan occupied Kashmir (PoK) belongs to Islamabad.
"Kashmir is an integral part of India. People talking about independent Kashmir should go to Pakistan or else our security forces are ready with AK47s at the border to deal with them," the VHP's working international president said on Sunday.
And this isn't the first time Togadia has played poster-boy for 'Team Intolerance' either. He also said the Censor Board should take a firm stand over Bollywood movie Padmavati, and stop its release. "Padmavati was a great queen, why should people protest against the movie based on her life? It's the responsibility of the Censor Board. It should take a stand and not allow the movie to be released," he said.
While the controversial Togadia hardly defines the rule, he isn't the exception either. Here are some other leaders who have displayed their eagerness to grant one-way tickets to India's neighbour.
Aamir Khan row
Speaking up against the growing intolerance in the country is one sure shot way to be subjected to that very intolerance. This is perhaps something Bollywood actor Aamir Khan had to learn the hard way after he found himself at the centre of the raging controversy. He was attacked by several right-wing outfits for stoking "fear" and was told to "go to Pakistan" if he felt insecure in the country.
According to The Hindu, at an event in New Delhi in November 2015, the actor had invited controversy by saying that 'he was alarmed at the rise in intolerance over the past six to eight months and that his wife and filmmaker, Kiran Rao, had wondered if they should relocate to another country.'
Fa'wad do you need artistes from Pakistan?
In September last year, the Maharashtra Navnirman Sena (MNS) film wing — the Chitrapat Sena — had issued a 48-hour deadline to all Pakistani artistes to leave the country.
The MNS Chitrapat Sena's president Amey Khopkar had issued a statement saying: "We gave a 48 hour deadline to Pakistani actors and artists to leave India or MNS will push them out."
The MSN's diktat came at a time when ties between India and Pakistan were particularly tense, after the attack by infiltrators in Uri, Kashmir, that left 18 Indian military personnel dead.
This wasn't the first such attack either. In January last year, the Raj Thackeray-headed political organisation had threatened to disrupt a proposed concert by ghazal maestro Ghulam Ali, if it was held in Mumbai. The MNS' political rival, the Shiv Sena, had also joined in the protest.
Criticise Modi, go to Pakistan
Bihar's BJP leader Giriraj Singh had stirred up a controversy in 2014 by saying that those opposing the party's prime ministerial candidate Narendra Modi would have to go to Pakistan after the Lok Sabha elections.
"Those opposing Narendra Modi are looking at Pakistan, and such people will have place in Pakistan and not in India," Singh had said.
I maintain"many Pakistani pro are constantly opposing namo.this nation belongs to Indian at heart else Pakistan always welcome anti India "

— Giriraj Singh (@girirajsinghbjp) April 19, 2014

Dying without beef? Go to Pakistan
Minister of State for Parliamentary Affairs Mukhtar Abbas Naqvi in 2015 had justified a ban on cow slaughter and asked all those who want to eat beef to go to Pakistan, IANS reported.
"It is not about loss or profit... it is an issue of faith and belief. It is a sensitive issue for the Hindus," Naqvi had said. "Those who are dying without eating beef, can go to Pakistan or Arab countries or any other part of world where it is available."
"Even Muslims are against it..." he had contended.
No place for 'Kamal' in India
BJP leader AN Radhakrishnan in January this year had alleged that noted Malayalam film director Kamal had links with terrorist groups and that he should leave the country if he cannot respect the nation.
"It will be better for the filmmaker who has doubts whether one should stand up when the National Anthem is being sung to leave the country if he cannot respect the interest of the nation", he told a press conference here. "The filmmaker is associated with terrorist organisations," he had alleged, according to DNA.
Kamal had been under attack from Sangh Parivar outfits (his name lending ironic overtones to the situation) for his alleged remarks connected with playing of national anthem in cinemas during the screening of films at the IFFK in December last and also for allowing a film to be screened at the Film festival that allegedly defamed Hindu community.
RSS not far behind
In June 2015, the RSS had sought strict punishment for those raising pro-Pakistan slogans and waving flags of that country and suggested that all such people who "betray" the nation should be sent to Pakistan, PTI reported.
"There should be a law acting against those raising pro- Pakistan slogans with provisions for punishment. Such a person should be sent with his family and belongings to Pakistan," RSS leader Indresh Kumar told reporters on the sidelines of a function in New Delhi.
He was asked for his reaction to increasing incidents of waving of Pakistan flags and shouting of slogans at rallies by separatists in the Kashmir Valley.
Not just artists, other leaders often targetted as well
Accusing Rahul Gandhi of supporting the "anti-national" students in JNU and stooping to new lows to gain political mileage, Punjab BJP in February last year had said that he should be "sent to Pakistan", as per PTI.
"What Rahul Gandhi has done is anti-national. The country does not need such leaders. He should be sent to Pakistan," senior BJP leader Manoranjan Kalia had said.
BJP workers led by Punjab party president Kamal Sharma burnt an effigy of Rahul calling him "anti-national". "Since Congress is losing their nation-wide support base, Rahul Gandhi has started supporting anti-nationals. How far will he droop to gain political mileage?" Kamal Sharma said, adding that the country will not tolerate such a leader.
Similarly, in November 2015, Bharatiya Janata Party lawmaker Ashwani Kumar Choubey had said that Bihar chief minister Nitish Kumar and RJD chief Lalu Prasad should "go to Pakistan",
"Lalu and Nitish Kumar should go to Pakistan after Bihar Assembly polls outcome on 8 November,"Choubey had said in Patna, according to PTI.
His comments followed a controversial statement by his party colleague Giriraj Singh who said: "Nitish Kumar and Lalu Prasad want to make Bihar a Pakistan."
Earlier, BJP president Amit Shah had said that if his party lost the Bihar Assembly elections, firecrackers will be burst in Pakistan.
"If by mistake BJP loses in Bihar, fire crackers will be burst in Pakistan," Mr Shah had said.
World
Few could have imagined that Oz, the celebrity doctor and star of numerous appearances on Oprah Winfrey's TV show, could potentially make history as being the first Muslim elected to the US Senate
World
Irish unity did not play a big role in this year's Northern Ireland election campaign, which was dominated by more immediate worries, especially a cost-of-living crisis driven by the soaring costs of food and fuel
World
The protocol approved for use in the United States includes two medications. The first one, mifepristone, blocks a hormone called progesterone that is necessary for a pregnancy to continue. The second, misoprostol, brings on uterine contractions