Senior journalist Gauri Lankesh, who was shot dead by unidentified men on Tuesday night, had predicted that dire days lie ahead and her interviews show that she was evidently concerned about "Modi bhakts" wanting to shut her up. While most are mourning the death of the vocal critic of Hindutva politics, some are saying that because of her sympathy for Naxals, she had it coming.
In an interview with The Wire, Lankesh had expressed concerns over how a defamation case against her was being used by the IT cell of the BJP to threaten other journalists. "The fact that people who contradict the ruling ideology are being targeted and made an example of is especially worrying," she had said.
Prahlad Joshi, BJP MP from Dharwad, gets Gouri Lankesh convicted in a defamation case. https://t.co/6DQTYDY1rO Hope other journos take note.

— Amit Malviya (@malviyamit) November 29, 2016
Following on her fears, some prominent leaders and journalists tried to connect the links and question who her killers might be.
Lankesh had also said that critics brand her as a 'Hindu hater' and told Newslaundry that "we are living in such times that Modi Bhakts and the Hindutva brigade welcome the killings (as in the case of Dr MM Kalburgi) and celebrate the deaths (as in the case of Dr UR Ananthamurthy) of those who oppose their ideology."
She further said that such people are keen to shut her up as well. She has been the subject of hate from the Hindutva brigade and Modi bhakts previously when she was named in a defamation case. Most of the tweets, she had said, were targeted against liberal/Left journalists/journalism. A very similar scenario seems to be developing after her death. She and the people questioning the killers are being trolled.
So, Commy Gauri Lankesh has been murdered mercilessly. Your deeds always come back to haunt you, they say. Amen.#Bengaluru#GauriLankesh

— Jagrati Shukla (@JagratiShukla29) September 5, 2017
Some of the handles followed by Prime Minister Narendra Modi also spewed hate and later deleted their tweets after facing a backlash. Nikhil Dadhich, who is honoured to be followed by Modi, was rebuked by Yogendra Yadav for his hate tweet. He later deleted the tweet and defended himself by saying that it wasn't meant for Lankesh.
Another gem from a great author of Surat "Honoured to be followed by PM" https://t.co/vkIH1AgaPQ

— Yogendra Yadav (@_YogendraYadav) September 5, 2017
Yadav's claims are not wrongly formed. Modi indeed follows Dadhich.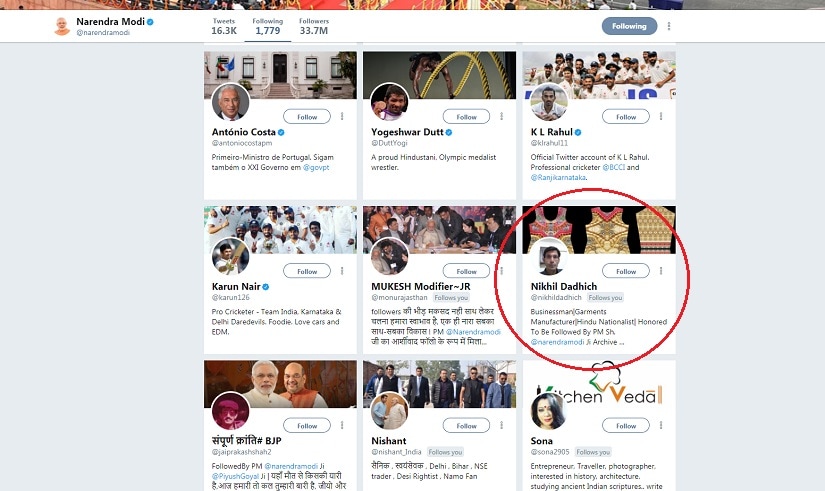 गौरी लंकेश जी की हत्या पर मोदी भक्त का घटिया tweet देखिये,देश के PM इसको follow करते हैं, TV वालों जागो कल ये तुम्हारे साथ भी हो सकता है pic.twitter.com/5ZgiRJrncC — Sanjay Singh AAP (@SanjayAzadSln) September 6, 2017
Another Hindu fanatic, who is followed by Modi and Union minister Vijay Goel, tweeted about the nuances of Lankesh's defamation cases. Vishweshwar Bhat, editor-in-chief of Vishwavani Daily, called her a Naxal symphatiser.
Naxal sympathiser and Senior journalist Gauri Lankesh shot dead at her residence in Bengaluru's Rajarajeshwari Nagar. — Vishweshwar Bhat (@VishweshwarBhat) September 5, 2017
1 For those who don't know #GauriLankesh A brief introduction- Leftist, naxal sympathizer, anti establishment, Anti Hindus. — Rita (@RitaG74) September 5, 2017
Another Twitter handle, followed by Modi, demanded an investigation into Lankesh's connection with Kanhaiya Kumar. 
God had different plan for group of "Bharat tere tukde honge", .....Anti Nationals always remain close to terrorist, need investigation. pic.twitter.com/RYZ7gp0Nk1 — Oxomiya Jiyori🇮🇳 (@SouleFacts) September 6, 2017
Note: Firstpost erroneously added a tweet (by Raksha Kumar) to this article. The intent of her tweet mentioned in this copy was misinterpreted by the newsdesk. Firstpost acknowledges her assertion that the post was made in all good intention. The incorrect tweet has been removed from the piece and we apologise for the error.
Your guide to the latest cricket World Cup stories, analysis, reports, opinions, live updates and scores on https://www.firstpost.com/firstcricket/series/icc-cricket-world-cup-2019.html. Follow us on Twitter and Instagram or like our Facebook page for updates throughout the ongoing event in England and Wales.
Updated Date: Sep 07, 2017 11:35:14 IST