From Sangeet Som to Azam Khan, hating the Taj Mahal has been a national obsession across political divide
Taj Mahal's metamorphosis into a punching bag is complete. BJP leaders seem to have participated in a competition to determine who can make the most disparaging comments about the 16th century mausoleum.
The Taj Mahal's metamorphosis into a punching bag is complete. BJP leaders seem to have participated in a competition to determine who can make the most disparaging comments about the 16th century mausoleum.
The latest to join the game is Subramanian Swamy, who said Shah Jahan "stole" the Taj Mahal from the king of Jaipur. "There is evidence on record that Shah Jahan forced the Raja-Maharajas of Jaipur to sell the land on which Taj Mahal is standing, and he gave them a compensation of forty villages, which is nothing compared to the property's value," Swamy was quoted as saying by The Times of India.
But Swamy's alternate reading of history seems to pale in comparison to what his illustrious predecessors had said about the Taj Mahal. BJP MP Vijay Katiyar, for instance, refused to even call it the Taj Mahal. "It is Tejo Mahal. Taj Mahal used to be a temple of Shankar. Shah Jahan then buried his wife there. Hindu kings had built the Tejo Mahal. It was so famous that Shah Jahan later captured it," Katiyar said.
Meanwhile, Sangeet Som, BJP MLA from Sardhana in Uttar Pradesh's Meerut district, was opposed to the Taj Mahal, not on historic grounds but on ideological beliefs. He couldn't support any monument which was constructed by a man who imprisoned his own father. "What history are we talking about? The creator of Taj Mahal (Shah Jahan) imprisoned his father. He wanted to wipe out Hindus. If these people are part of our history, then it is very sad and we will change this history," he said.
Som's comments had come after the Uttar Pradesh government omitted the Taj Mahal from its tourism booklet. Yes, the Taj Mahal, India's most famous tourism driver, which gets about seven million tourists a year. A minister said it could be replaced by the Guru Gorakhnath peeth instead. The minister in charge of religious affairs and culture, Laxmi Narayan Chaudhary, said that keeping out the Taj Mahal was necessary because the current government in Uttar Pradesh is "rashtravadi (nationalist)" and runs on "dharm niti (religious policy)."
"Taj Mahal is not the symbol of any religion and (it is) nobody's. It does not represent any religion... On the other hand, Gorakhnath peeth represents people's faith," Chaudhary further added.
Sound logic that. A definite front-runner for the big prize.
Or maybe it will be Anil Vij who takes it home. The BJP minister, no stranger to controversial statements, was strangely quiet on the Taj Mahal issue. Until today, that is. He finally broke his silence with a cryptic tweet on Friday morning.
#ताजमहल एक खूबसूरत कब्रिस्तान है ।

— ANIL VIJ (@anilvijminister) October 20, 2017
That's all. No context, no perspective and no reference. We don't even know if he meant it as a backhanded compliment or as an insult.
Things reached a point where Uttar Pradesh chief minister Yogi Adityanath had to step in and defend the Taj Mahal, saying it was built by the sweat and toil of Indian labourers. But it was strange to have Adityanath adopt such a stance. Not too long ago — just four months ago, in fact — Adityanath had said the Taj Mahal didn't reflect "Indian culture".
"Foreign dignitaries visiting the country used to be gifted replicas of the Taj Mahal and other minarets which did not reflect Indian culture... This is the first time this has happened that when India's Prime Minister Narendra Modi goes abroad, or any foreign president visits India, he is gifted the Shrimad Bhagavad Gita or the Ramayan," Adityanath said.
Laxmi Kant Bajpai, one-time BJP state unit chief for Uttar Pradesh has also taken his fair share of potshots at the Taj Mahal, claiming that Mughal emperor Shah Jahan "purchased a part of Tejo Mahalaya temple's land from Raja Jai Singh", and then going further to add that he had documents to prove it still exists.
And it's not all BJP or fringe groups aligned with the saffron ideology who have criticised the Taj Mahal; even Samajwadi Party leader Azam Khan has a few things to say about what he believes should happen to the monument. "Taj Mahal is a mausoleum and each mausoleum is 'Wakf' and comes under the Sunni Central Wakf Board. Taj Mahal is a mausoleum of two Muslims Shah Jahan and Mumtaz Mahal. Who they are is not a matter of debate," he had said back in 2014.
"We want that it should be given to the Sunni Central Waqf Board so that they can create their own system, appoint a Nizam and create opportunities of education from the money generated from it for Muslims," he said, adding that the Taj Mahal can create at least two universities and fund their functioning.
And it wasn't even the first time Azam Khan had lashed out at the Taj Mahal; he once wished a mob would raze the 16th century monument, and even said he would lead a mob if they were to do so. "Had people decided to demolish the Taj Mahal instead of the Babri mosque, I would have led them," Azam Khan said.
And that wasn't all. He also had a problem with the manner in which Shah Jahan spent money "from the public coffers" to build the monument. "Shah Jahan had no right to spend crores from the public coffers on his sweetheart," he said, comparing the 17th century building to the statues built by former Uttar Pradesh chief minister and Bahujan Samaj Party (BSP) leader Mayawati.
Azam Khan, in case you had forgotten, had used the state police to trace his missing buffaloes once. We'll just leave that here without comment.
But if nothing else, at least, hatred for the Taj Mahal has united the Samajwadi Party and BJP. That is achievement enough.
With so many comments and so many conspiracy theories about how exactly the Taj Mahal came into being, it's almost impossible to know the actual version of things. But if the Archaeological Survey of India's (ASI) version is to be believed — and it should be, for it is the definitive word on historical monuments in the country — the Taj Mahal is most definitely a tomb and not a temple.
"Historically and even according to records as available there is an ancient monument named as Taj Mahal alone at the bank of river Yamuna at Agra duly declared by the government to be of national importance having gained the worldwide recognition as the seventh wonder of the world. As per available records right from the British period since 1904, the monument was declared a protected monument by notification on 22 December, 1920," the ASI stated in its affidavit, as reported by The Times of India.
With inputs from agencies
India
The photo showed a man holding a black umbrella while a dog sat close to him. The image showed a Starbucks cafe behind the man as he waited for the rain to subside.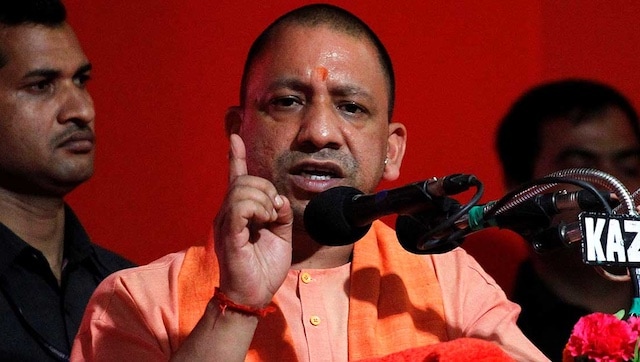 Politics
"Terms like 'unity in diversity' are used for our country. The country belongs to all. No remarks should be made that harm the country," said JDU president Lalan Singh
India
Prime Minister Narendra Modi tweeted that Giri had played a huge role in bringing together "many streams of the Sant Samaj"