From reservation to liberal politics: Thought leaders bring burning issues under the scanner
Is India truly liberal? Has reservation policy really helped those for whom it was meant? Is there any space for liberal politics? Is religious and cultural freedom in India too little? Many such questions came up during brainstorming sessions at a day-long seminar on 'Liberalism in India: Past, Present and Future' in Delhi on Friday.
New Delhi: Is India truly liberal? Has reservation policy really helped those for whom it was meant? Is there any space for liberal politics? Is religious and cultural freedom in India too little?
Many such questions came up during brainstorming sessions at a day-long seminar on 'Liberalism in India: Past, Present and Future' in Delhi on Friday.
Organised by the Centre for Civil Society as a mark of tribute to SV Raju (1933-2015), former editor of Freedom First magazine, who was also the executive secretary of the Swatantra Party, which at one time was the second largest party in the Parliament — one that challenged the Nehruvian consensus prevalent at the time.
Rethinking reservations
Though RSS chief Mohan Bhagwat's comment that "reservations system needs to be reviewed" had created a political storm during Bihar election, the key speaker on 'Towards a liberal India: Rethinking reservation', Surjit Bhalla said, "Mohan Bhagwat's comment was surprisingly sensible. It was the media, Lalu Prasad and politicians of his ilk played it up and criticized it. In fact, what Bhagwat wanted to say whether reservations really helping those for whom it was meant?"
"Today, the question is whether reservation system really benefits as the Constitution claims and what happened to Hindu, Muslim, Christian and Sikh OBCs?" questioned Bhalla, chairman and managing director, Oxus Investments, a Delhi-based economic research firm. Presenting NSSO data to justify his point, Bhalla said Muslims drastically lacked behind their counterpart Hindus on the index of education attainment in 2011, because the former were deprived of the benefits of reservation system.
Taking the discussion further, Geeta Gouri, former member, Competition Commission of India, added, "When a state benefits a particular group (say caste), it lays the basis of corruption. Corruption is always due to cartels. We've the policies so designed that benefits don't trickle down and reach the beneficiary. State's support and policy intervention is must to ensure that benefits do reach the target beneficiaries. Helping one small group won't help the objective of welfare schemes. Like, the subsidies are for the politicians and not for the people who actually need it."
She also emphasised strict monitoring of what "so-called civil society NGOs (are) doing and where the money goes".
Religious and cultural freedom
Focussing on some of the recent controversies like religious conversions (Ghar wapsi), bans on books, Dadri lynching case, consuming beef, etc, the discussion on 'Religious and cultural freedom in India: Both too little and too much' questioned the ambit of the freedom of religion.
R Jagannathan, senior journalist and former editor-in-chief, Firstpost said that on one hand the basic individual freedoms are at stake, and on the other the religious freedoms are being interpreted by governments to mean that nothing should ever be done to offend any group or community. "Kowtowing to religious groups has resulted in a severe curtailment of fundamental rights, including rights of free speech and expression in which the derivative freedom of religion is rooted."
"On the other hand, there is too much freedom – license, in fact—given in the name of religious freedom. Loud music and processions disrupt everyday life—religious events, azaans delivered on loud speakers, religious congregations spilling out into streets and encroachments on civic rights," he pointed out.
Referring to recent Bihar election, Jagannathan added, "Electoral success coming to multi-religious parties by appeasing small groups. In Bihar, the Yadavs and the OBCs were the most benefited lot, whereas Muslims were the least. But, this time both the most benefitted and the least joined hands. Castes are used only to gain political mileage, and now-a-days due to this debate on majority-minority groups, everyone wants to be a minority. Now due to capturing of religious and cultural space by groups and cabals, the individual freedom is getting curbed."
Sadanand Dhume, resident fellow, American Enterprise Institute questioned, "Why even in 70 years' of Independence, could a uniform civil code not be implemented?"
Liberalism for whom?
Another key speaker Barun Mitra, founder-director, Liberty Institute, observed that liberalism has a strong intellectual root, with well thought out perspectives on economic, political and social spheres on the basis of individual rights and liberty. "Unfortunately, it has not been easy to translate these principles into effective political campaigns—to attract the wider population."
Answering to why liberals didn't succeed in making it at political platform, he said, "Do you think the ordinary people can understand liberal principles and economic freedom? In fact, the liberals failed to understand the mass, the common man, because, we the liberals think we're ideals and we've the solution. There is a 'dumb them down' approach towards the common man."
Citing Gandhi's Salt Satyagraha to reaching out to the millions, Mitra added, "If politics is anything, it's mass marketing of ideas. As Mr Raju spent entire life in building liberal political idea, can we do it? For this we need empathy, credibility to win over reservation battle and ability to identify ourselves with the people at the receiving end."
Discussant Gurcharan Das, former CEO, Procter and Gamble India and author, remarked, "A liberal talks about creation of investment climate, building of infrastructure, etc, whereas, a mainstream politician announces populist measures like promising free electricity, which makes immediate impact amongst the voters. Modi came to power with a landslide victory not due to Hindutva votes, but because average person from Tier-II and III town could connect to his appeal."
Is decentralisation, a chimera?
"Everyone wants decentralisation, but not everybody likes it to happen" - was the opening statement of JP Narayan, former bureaucrat and founder of Lok Satta Party. Carrying the discussion forward, he said, "Horizontal and vertical decentralisation protects liberty, as opposed to a centralised, totalitarian system, with a single locus of power. Local decision making gives citizens greater control over their lives and allows effective participation in democracy and governance. And, yet our Constitution and state structure have created a highly centralised, largely ineffective governance process. The failure of our nation-builders to reconcile the dramatically opposing views of Gandhiji and Ambedkar has proved very costly."
Subir Gokarn, former deputy governor, Reserve Bank of India added, "Putting more money in local government without building proper capacity is problematic. Funds need to be rightly utilised."
Why liberal parties fail?
According to Jaithirth Rao, founder & former CEO, MphasiS, "The idea of freebies and doling out goodies by political parties always end up being more popular in comparison to liberal position that supports a minimalist non-interventionist state and agency for individuals. In India, where poverty and deprivation exist in large-scale, politics of freebies succeed. And, all parties in India are identity-based like the CPI (M) in West Bengal is a Bengali party."
Rao added with a pessimistic note, "There seems no scope for a liberal party… not possible as of now."
Arguing on how can we get at least a half-liberal party or a coalition with liberal content in it, senior journalist, Swaminathan Aiyar said, "Most important is to have a good supply of public goods; effective supply of good education, health and law & order at a local level and equality of opportunity, which is horribly discriminating in India, and equality of opportunity."
Congress MP Shashi Tharoor said that Congress was a party with broad coalition of parties with different views and liberal socials. "Congress can accommodate different views," added Tharoor.
Business
MPC decided to maintain the status quo, that is keeping benchmark repurchase (repo) rate at 4%. Consequently, the reverse repo rate will also continue to earn 3.35% interest for banks
science
Often, "protection" amounts to nothing more than lines on maps in government offices while fishing continues unabated in the water.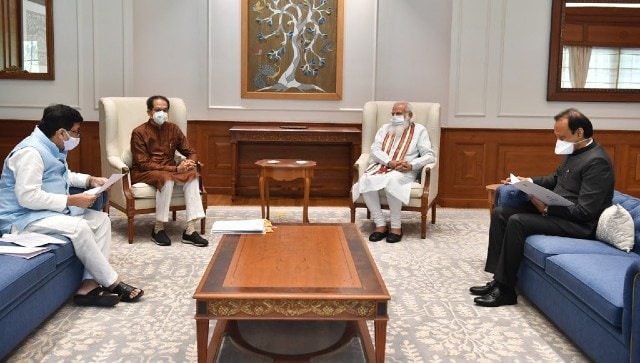 India
Maharashtra deputy chief minister and senior NCP leader Ajit Pawar and senior Congress leader Ashok Chavan also accompanied Thackeray during the meeting with the prime minister