From PM Modi to Prince William: Politicians, celebrities express condolences over Kollam fire mishap
Following the Kollam fire tragedy, politicians and celebrities from across the spectrum expressed grief over the mishap.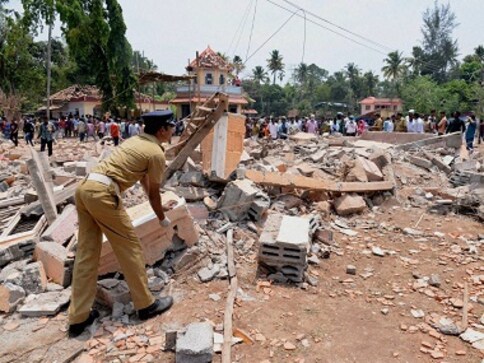 Police has registered a case against six persons, including members of temple managing committee and associates of firework contractors, on attempt to murder and other charges in connection with the Putttingal Devi temple fire tragedy, even as the death toll rose to 112.
Five persons have also been held for questioning but the police did not the reveal the identity of those booked and
detained.
The accused were charged under Section 307 (attempt to murder) and 308 (attempt to commit culpable homicide) of IPC and Section four of the Explosives Substances Act, police said.
At least 383 injured persons are undergoing treatment at various hospitals in Kollam and the state capital.
The devastating fire had engulfed the 100-year-old Puttingal Devi Temple complex near here during an unauthorised display of fireworks early Sunday morning.
The mishap occurred as sparks of the fireworks fell on the storeroom 'Kambapura' and the fire crackers kept there exploded with a deafening noise. The blaze spread quickly trapping devotees within the complex.
Following the tragedy, politicians and celebrities from across the spectrum expressed grief over the mishap.
Here is what they said:
Narendra Modi (Prime Minister): Fire at temple in Kollam is heart-rending and shocking beyond words. My thoughts are with families of the deceased and prayers with the injured. Spoke to CM Oommen Chandy about the fire. Arranging for immediate shifting of those critically injured via helicopter.
Sonia Gandhi (Congress President): The Congress Party, as indeed the entire nation, stands with people of Kerala today. I am certain... the Government of Kerala is ensuring all possible relief measures in terms of medical treatment, emergency protocols and compensation.
Rahul Gandhi (Congress Vice-President): As far as the state government, Chandyji and others are concerned, we will do whatever is possible. If there is something that is required to be raised in the Parliament at the Central level, we will do that. We have, sort of, taken care of the people who are injured and hurt. I came here to see with my own eyes what had happened. I visited some of the patients...It is a time of tragedy and a very sad time for the state and for the country. We are with the people of Kerala.
Arun Jaitley (Union Finance Minister): It is an unfortunate incident. I on behalf of myself and my party express our sympathy over the loss of lives and burn injuries sustained by other victims.
J Jayalalithaa (Tamil Nadu Chief Minister): I convey my heartfelt condolences to the families of the deceased. The Government of Tamil Nadu stands ready to assist the Government of Kerala in the relief efforts in this hour of need.
Pranab Mukherjee (President): I am shocked and distressed to learn about the incident at Kollam's Puttingal temple this morning, as a result of which a large number of persons have lost their lives and others are injured. I understand relief operations are currently underway. Please convey my heartfelt condolences to the families of the deceased. My prayers are with all the injured persons for their speedy recovery.
K Rosaiah (Tamil Nadu Governor): I am deeply shocked and grieved to hear about the major fire accident at a temple in Paravoor, Kollam district, Kerala in which many have lost their lives and several others have been injured.
Anbumani Ramadoss (PMK leader): Though such fireworks during festivals is related to our culture, this big mishap reinforces the need for care and regulation.
Vaiko (MDMK general secretary): Everybody should realise at least now the dangers involved in bursting powerful crackers in places of public congregation.
Omar Abdullah (National Conference Working President): Thoughts & prayers with the victims of Kollam temple fire and their families. God be with them is this hour of darkness & despair.
Nawaz Sharif (Pakistan Prime Minister): The people and the government of Pakistan express their deep condolences on the loss of precious lives, resulting from a fire in the temple. Our sympathies are with the bereaved families. We wish early recovery to all injured people.
Mohan Bhagwat (RSS chief): The fireworks mishap... is highly shocking and painful. The agony of those who lost their kith and kin in the accident and those of whom are injured and their family members are beyond comprehension.
Raman Singh (Chhattisgarh Chief Minister): Saddened by news of deaths in Kollam temple tragedy. My condolences to families of bereaved. I pray for early recovery of injured.
Ashok Gehlot (Former Chief Minister of Rajasthan): Fire mishap at Kollam's Puttingal temple is very sad and unfortunate. My thoughts and prayers are with the victims and their families.
Virendra Sharma (Indian-origin British MP): I was shocked and saddened by the news. My thoughts are with the families of people who died or injured in the disaster.
Prince William (Duke of Cambridge): "Catherine (Kate) and I would like to offer our condolences to all those affected by the terrible fire at the temple in Kollam. I know all of you in this room will join us in the sentiments.
Sachin Tendulkar (Cricketer): Shaken by the tragic news of Kollam. Thoughts and prayers go out to those affected. May God give us strength and resolve to bear this loss.
Virender Sehwag (Cricketer): My salute to Indian Army , Navy, Air Force, Coast Guard, NDRF for their ongoing rescue operations in Kollam. Aap log hain, toh hum hain.
Harsha Bhogle (Commentator): When people go to a temple and do not return, it puts personal disappointments into perspective.
Many celebrations took to Twitter to show their support:
Rishi Kapoor (Actor): Sad. Heartfelt condolences to the families of the deceased.
Emraan Hashmi (Actor): My deepest condolences to families who lost their beloved ones and prayers for the injured. Strength and power to you all.
John Abraham (Actor): Devastated knowing about the innocent lives lost at the Kollam fire, my condolences to their families and prayers for all the injured.
Shekhar Kapur (Filmmaker): People go to pray and celebrate life. Come away in wake of death and tragedy. Fireworks getting dangerous and must must be controlled.
Dia Mirza (Actor): When tragedies are struck by human apathy and negligence it makes it so much more painful... so many innocent lives lost. Gutted.
Farhan Akhtar (Actor-Director): Heart goes out to all who lost a loved one in Kollam temple fire.. deepest condolences. Hope lessons will be learned re firework safety.
Rakeysh Omprakash Mehra (Filmmaker): Temples and shrines were built before the population explosion. We have failed to accommodate with time. We are all guilty.
Anupam Kher (Actor): Sad to hear about the fire in a temple in Kollam, Kerala. My heartfelt condolences to the families for d loss of their dear ones. Tragic.
Riteish Deshmukh (Actor): Sad visuals of the fire breaking out at the Kollam Temple. Heart goes out to the families of the victims of this terrible tragedy.
With inputs from PTI
India
Vivekananda's speech, which dwelt at length on Hinduism and Indian culture, had drawn all-round praise and remains resonant
Politics
All Congressmen must rise above themselves and think in the interest of the party and the country, advised the Rajasthan chief minister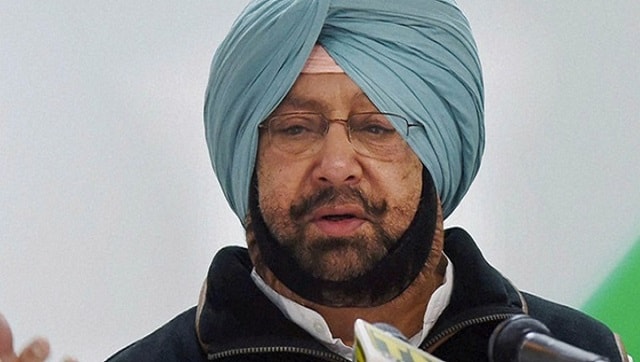 India
While the growing rift between Congress member Navjot Singh Sidhu and Singh made for interesting politics, it also marred the Congress' image as a party that could not keep its politicians in line