From ghar wapsi to PK 'protests': Hindutva mob violence is also terrorism
Mob violence is to radical Hindutva groups what guns and grenades are to the revolutionary Left. Mob is the vanguard of rightwing politics, sent to terrorise Hindu-Muslim couples, whether married or romancing each other.
The extolling of Nathuram Godse as well as the Sangh Parivar's menacing campaign on ghar wapsi and love jihad should persuade the Indian state to slot rightwing violence in the category of terrorism. Such a categorization hasn't happened due to conceptual confusion fogging the lens through which political violence is perceived.
Rightwing violence may differ in form from other types of political violence, but it is, in the final analysis, no less malevolent than terrorism, as is understood in India.
Think of the images terrorism evokes, regardless of whether perpetrated by leftwing, secessionist or Islamist groups. What we conceive is what we have been taught to imagine – shadowy groups of people who have taken to guns and grenades to strike fear in people, to demonstrate to them the inability of the state to protect them, and to harness terror for securing their avowed political objectives.
From the three types of militancy – leftwing, secessionist and Islamist –  rightwing violence differs substantially in appearance and techniques of fomenting bloodshed.
For instance, it does not usually deploy clandestine groups to spray bullets and toss grenades. However there are exceptions: the bombings of the Samjhauta Express and the Mecca Masjid in Hyderabad, for instance, were alleged to have been the handiwork of rightwing groups.
Yet the 'ism' of terror several rightwing groups do indeed pursue, differs from overtly militant outfits only in their method of fanning fear in the society. The most favoured technique of rightwing violence is to deploy mobs to terrorise people.
Often mob violence, or the threat of it, is projected as a spontaneous outburst, but is in reality planned, orchestrated and designed to further political goals.
Take the spree of conversions being carried out under the aegis of Sangh Parivar groups. Their activists swoop down on a small group of Christians or Muslims in an area, clamour that they have been either cajoled or compelled into accepting Christianity and Islam, and then stubbornly insist on their return to Hinduism.
Underlying the Sangh's insistence on the reconversion of religious minorities is the threat of unleashing mob violence. Considering that the presence of minorities is minuscule in certain areas, the threat of countenancing violence is less a terrifying than terrorism.
There is little ambiguity about the threat of violence issued by militant rightwing leaders.
For instance, in Hasayan town of Hathras district, Uttar Pradesh, Dharm Jagran Samiti leader Rajeshwar Singh organised a reconversion programme across a Protestant Church, where he reportedly thundered, "We will cleanse our Hindu society. We will not let the conspiracy of church or mosque succeed in Bharat."
Words acquire different meanings in different contexts. The word cleanse evokes images of violence, of wiping out groups which have the temerity of not acceding to the demands of Hindutva groups. Perhaps Singh's inspiration is no less than RSS chief Mohan Bhagwat, who did not dither from adopting a language justifying illegitimate force.
Last month in Kolkata, Bhagwat was quoted as saying, "We will bring back our brothers who have lost their way. They did not go on their own. They were robbed, tempted into leaving. Now the thief has been caught and the world knows my belongings are with the thief. I will retrieve my belongings, so why is this such a big issue?"
Obviously, don't we all know that when a thief is caught, he is punished and penalized? From Bhagwat's perspective, reconversion is a just punishment for those who brought into their religious pens the Hindus who had "lost their way." They are the "belongings" Bhagwat wishes to "retrieve", not only denying agency to human beings, but also reducing them to objects of possession. Whoever felt pain in smiting inanimate objects?
Mob violence is to radical Hindutva groups what guns and grenades are to the revolutionary Left. Mob is the vanguard of rightwing politics, sent to terrorise Hindu-Muslim couples, whether married or romancing each other.
Again, mobs are sent to ransack cinema theatres screening the popular and entertaining film, PK. It is the mob which goes around town enforcing their idea of propriety over teenagers cuddled up together in parks or girls wearing clothes deemed inappropriate. (These measures the mullah loves and appreciates.)
Indeed, the militant Hindu Right qualifies for the descriptor of terrorism because it rejects the idea of free choice and secures the consent of people under duress.
It is true that rightwing violence doesn't terrify the society as much as, say, Maoism. This is because of the reasons of demography. Extremist Hindutva groups principally target minority groups; this lacks the randomness inherent to the violence of Maoists, secessionists and Islamists.
Most Hindus know they won't be victims of bruising attacks of the militant Hindu Right, and consequently don't feel terrorised.
Rightwing violence isn't labelled as terrorism also because of the manner in which the discourse on it has been framed. This discourse describes terrorism as actions which question the state's monopoly over coercive power, refuses to accept it as the neutral arbitrator of competing interests, and prescribes violence as the only method of reforming it.
Indeed, votaries of terrorism consider democracy as an instrument of rivals for perpetuating their dominance. Thus, leftwing extremists feel they must capture power to render governance sensitive to the poor and the marginalized, whom the state suppresses and exploits to promote the interests of the dominant class.
The secessionist seeks to diminish the territory over which the Indian state enjoys sovereignty. The Islamist seeks retribution against the state for its discriminatory policies and injustices, imaginary or real.
By contrast, rightwing violence targets not the state, but a section of the population, often the minorities. It is on them demands are made. Should they not acquiesce, violence will be directed against them unless the state legislates on the rightwing agenda. This is why rightwing violence in India surfaces with greater ferocity, and is perpetrated with impunity, when a rightwing government comes to power at the Centre.
Mobs indulging in simulated anger prompt the government to cite popular pressure to legislate on issues which are inimical to the ethos of democracy.
Thus, for instance, the Sangh Parivar insists it has the right to reconvert Muslims and Christians, dubiously claiming that it seeks to emulate the tactics of religious minorities to win new adherents to Hinduism.
In the wake of protests against the Sangh, its leaders have now taken to arguing that they would roll back their ghar wapsi programme once Parliament enacts an anti-conversion law. Mob violence and terror are the Sangh's tools to push their political agenda.
Though Hindutva violence doesn't ostensibly challenge the state, it undercuts its most vital function – that is, of ensuring the safety and security of people. In compelling religious minorities to behave contrary to their will, through the threat of violence, Hindutva groups, ironically, too end up denying the state its monopoly over coercive power.
This is why the Hindutva brand of violence must be considered terrorism, perpetrated through means other than guns and grenades. Once in a while, though, you will have a Godse pump bullets into a political rival and justify the murder. To seek to win a battle of ideas through bullets is undeniably an act of terror.
Ajaz Ashraf's book, The Hour Before Dawn, published by HarperCollins, tackles the theme of political violence fictionally.
India
Faiz allegedly was forcing the minor to marry him, however, she declined his proposal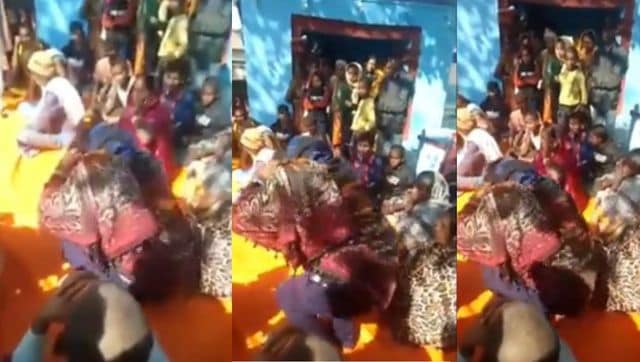 India
The accused owns a poultry farm in Kannauj village in Bihar. The family of the girl alleged that the man lured the minor to his farm on the pretext of giving her chocolates and raped her
India
RSS chief Mohan Bhagwat on Saturday said though Prime Minister Narendra Modi has been its volunteer, the Sangh does not control any person or organisation that is doing independent work.