Friday dress code? Govt to consider proposal to appeal to employees to wear khadi once a week
A proposal by the Khadi and Village Industries Commission appeals government employees to wear khadi on Fridays.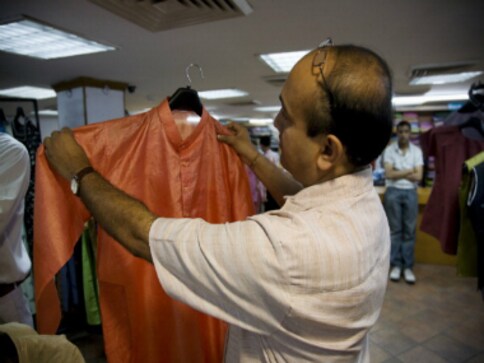 You may soon see government employees wearing Khadi on Fridays if a proposal floated by the Khadi and Village Industries Commission (KVIC) gets government's nod.
The proposal, according to the Times of India report, appeals to government employees to wear Khadi once a week in order to boost the production of the hand-spun fabric and benefit small-time weavers across the country.
"We are discussing this with the government and we will make an appeal. Employees can wear it to work on just one day," VK Saxena, chairman of the commission, told TOI.
Although the report states that the practice will not be mandatory, the employees seem to be open to the idea of wearing the fabric. A government official described it as a "good idea" as it will be a welcome addition to the wardrobe of many employees who wear Fab India shirts and kurtas.
As per the report in India Today, Air India had decided to use the natural and eco-friendly khadi products for its international flights and placed orders worth Rs 1.21 crore with the KVIC for 25,000 units of amenity kits. Also, Indian Railways are already using khadi bedsheets.
Following suit, JK Cements group recently decided to adopt Khadi alone for uniforms for its staff in its various plants and also for students studying in its schools and colleges across the country.
With Prime Minister Narendra Modi championing the use of the 'Made-in-India' fabric and Rs 340 crore being allocated to KVIC in the Union Budget, Union Minister Kalraj Mishra recently said that it would not only to boost rural economy but also create employment for 19.5 lakh people in 2016-17.
Now with 'Khadi Fridays' and several companies and schools voluntarily opting for khadi clothes and products, the country may see a new rising of 'the sun of the village solar system'.
Politics
What Narendra Modi has gone through and accomplished for India is immensely poignant and deeply transformative
Politics
No matter at which end of the spectrum one stands, it cannot be denied that Narendra Modi is a phenomenon
Politics
In a series of tweets, Tamil Nadu BJP chief K Annamalai vehemently criticised the chief minister for bringing up several issues while sharing the stage with the prime minister