Former J&K minister fears war with Pakistan if India dishonours Indus Waters Treaty
Former Jammu and Kashmir state water resource minister Taj Mohiuddin, on Friday, said that there is a possibility of a war breaking out between India and Pakistan, if India violates the 1960 Indus Waters Treaty
Former Jammu and Kashmir state water resource minister and senior Congress leader Taj Mohiuddin on Friday said that there is a possibility of a war breaking out between India and Pakistan, if India violates the 1960 Indus Waters Treaty (IWT) between the two neighbouring countries.
Earlier, Ministry of External Affairs spokesperson Vikas Swarup had said, "It cannot be a one-sided affair," when asked about a possible rethink over the treaty. He also said that it was based on "goodwill".
In an exclusive interview with Firstpost, Mohiuddin said that the treaty between India and Pakistan, which was brokered by the World Bank in 1960, is being monitored and guaranteed by the international financial institution, and stopping water to Pakistan will mean a conventional war between the two countries.
Though people in Jammu and Kashmir will benefit by such a move, if the Indian government decides to abrogate the treaty, but the question, he said is "what will we do with these rivers? If we try to divert this water, Kashmir will become a satisar (waters all around) and even in that case, the excess water will go to Pakistan-occupied Kashmir".
In 2012, the Jammu and Kashmir government had engaged the services of an international consultancy to assess the losses suffered by the state on account of the treaty. Once the report was ready, the then Omar Abdullah government, of which Mohiuddin was a minister, had decided to seek compensation from the Centre.
"No one knows the exact figures of the losses we had incurred because of the treaty. It ranges between Rs 10,000 crore and Rs 80,000 crore, which is why the state employed the services of the consultancy," Abdullah had said then.
On Friday, however, Abdullah tweeted, "Will stick my neck out & say that nothing will happen to the Indus Water Treaty. It survived 4 wars & a J&K assembly unanimous resolution."
In another tweet he said, "It was an abomination & should never have gone through. J&K has suffered long on its account but this government isn't going to scrap it."
It was an abomination & should never have gone through. J&K has suffered long on its account but this government isn't going to scrap it.

— Omar Abdullah (@abdullah_omar) September 23, 2016
"This is impossible. It is a childish statement," Mohiuddin told Firstpost. "Diverting a river would take at least 20 years. The waters of Chenab can go up to Rajasthan, but when we try to this, do you think our neighbouring country will stay silent?"
"You can't divert the waters of these rivers - Jhelum, Chenab, Neelum — and we don't have the authority to generate electricity and store waters of the rivers," he said.
"Our projects are run of the river. We could have still generated 10,000 megawatts of electricity," Mohiuddin said.
New Delhi gave up its claim on the water of three rivers — Jhelum, Chenab and Indus — (all flowing from Jammu and Kashmir) to Pakistan in lieu of three eastern rivers — Satluj, Beas and Ravi — under the treaty.
Although these rivers flow through the state, the treaty prevents the storage of water otherwise owned by the state, which is why the Jammu and Kashmir Assembly had moved a resolution seeking compensation for the losses.
India
IMD has forecast severe weather for Jammu and Kashmir, with 'widespread intermittent rain most likely to continue till 30 July'
India
The searches were carried out in connection with a probe into two cases pertaining to alleged issuance of around two lakh arms licences in erstwhile state of Jammu and Kashmir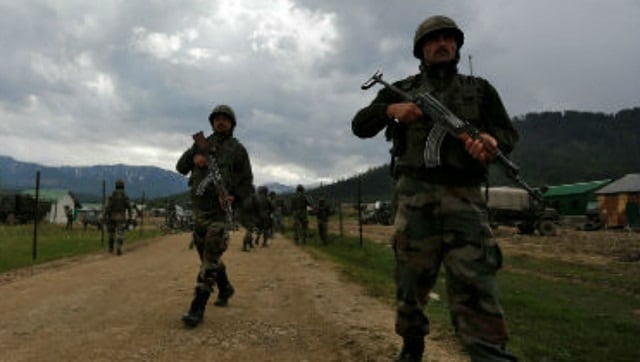 India
The police said that one of the militants, identified as Fayaz War, was involved in several attacks and killings of civilians and security personnel. He was the last perpetrator of violence in north Kashmir