Floods wreak havoc in Bihar: Death toll climbs to 153, over 34.69 lakh people affected
The death toll in Bihar floods shot-up to 153 on Saturday, while 12 more panchayat areas were inundated affecting a total population of 34.69 lakh in twelve districts.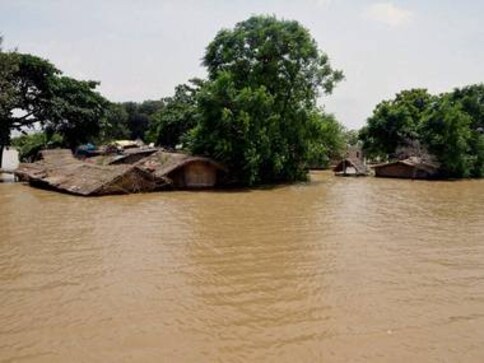 The death toll in Bihar floods shot up to 153 on Saturday, while 12 more panchayat areas were inundated, affecting a total population of 34.69 lakh in twelve districts.
On 27 July, four fresh deaths were reported from Bhojpur and Begusarai, each district accounted for two, a press release by the Disaster Management Department said.
Bihar is facing one of the worst floods in the decade despite receiving less than normal rainfall as all the major rivers flowing through the state are in a spate.
Caused by a spate in Ganga, Sone, Punpun, Burhi Gandak, Ghaghra, Kosi and other rivers, the flood affected 34.69 lakh people in 2,037 villages under 565 panchayats of 74 blocks in the state, it said.
The number of flood-hit people was 32.51 lakh in 2,018 villages under 553 panchayats of 74 blocks in the state on 26 July.
Ganga, though showing a receding trend, is flowing above the danger mark at seven places - Digha Ghat, Gandhi Ghat, Hathidah in Patna, Bhagalpur and Kahalgaon in Bhagalpur district, besides in Munger and Buxar districts.
The receding trend has been witnessed at Gandhi Ghat, Digha Ghat and Hathidah in Patna also.
A total 4.97 lakh people have been evacuated so far from the 12 flood-affected districts of Buxar, Bhojpur, Patna, Vaishali, Saran, Begusarai, Samastipur, Lakhisarai, Khagaria, Munger, Bhagalpur and Katihar, the release said.
The government is plying 2,571 boats for evacuation and national and state disaster response forces are deployed. A total of 544 relief camps are being run in the flood-hit areas in which 2.66 lakh people have taken shelter.
They are being provided medical services by 328 teams. Besides, 151 camps were being run only for animals, the statement said.
Besides, the assessment for crop damage was being made by the authorities, it said.
However, an article in The Hindu argues that capacity-building to handle catastrophic weather events is poor, and serious attention is not given to setting up relief camps, creating crisis-proof health infrastructure and stockpiling dry rations and medicines.
The situation worsened after 22 July after water was released from Nepal and adjoining states of Madhya Pradesh and Uttarakhand, leading to further rise in water levels of major rivers in the state, according to a report in The Times of India. Responding to this, the Centre had rushed 10 National Disaster Response Force (NDRF) teams to the flood-hit areas of Bihar and Uttar Pradesh in order to launch a massive relief and rescue operations to help those marooned in these states.
Bihar Chief Minister Nitish Kumar had also met Prime Minister Narendra Modi seeking the Centre's intervention to desilt the river Ganga and also demanding the removal of Farakka barrage which, he insisted was behind increasing silt in the river. Speaking to the media after his meeting with the prime minister, Kumar had said that desilting the river Ganga was the only solution to avoid the almost annual occurrence of floods in the state.
With inputs from PTI
India
In the video, the officials were seen counting the bundles of notes of all denominations between Rs 100 and Rs 2,000 piled up on the table and bed
India
Local BJP MP Pradeep Kumar Singh expressed outrage over the incident and gave a '24-hour ultimatum' to the administration for bringing the culprits to justice
First Cricket News
As we celebrate his sixth Ranji title, we take a look at some of the high points from Pandit's illustrious run as a coach over the past two decades.