The life of a rubber farmer depends on tyres. That's because tyres consume about 60 percent of the world's natural rubber. But with the downturn in economy, especially in China – the world's biggest rubber consumer – the demand for tyres has reduced, price of rubber has crashed and so has the life of a rubber farmer across the world.
India is the world's sixth largest rubber producer, with Kerala accounting for 80 percent of the country's rubber production. About 1.2 million poor farmers are fighting to make ends meet. While the state's Congress-led UDF government has come up with a half-hearted subsidy scheme, the Modi government is guilty of having left key posts in the Rubber Board vacant.
As part of the a two-part series on the Great Rubber Slump, Firstpost talked to farmers and officials to gauge the crisis and offers solutions.
Visions of rubber farmers guzzling single malt whisky or romping around in Mercedes fade away as you drive through their plantations in central Kerala. The big farmer, who hit the jackpot during the rubber boom till 2011, is counting his money and is careful with his spending. The small farmer has no money to count. There is only one problem: Most rubber farmers are small.
After six bad years till 2004, rubber farmers had a good run for the next six years. From 2005, the rubber price was as elastic as rubber itself: It stretched and shrank many times, but went up from Rs 66/kg in 2005, crossed Rs 100 in 2008 and reached an all-time high of Rs 243 on 5 April, 2011.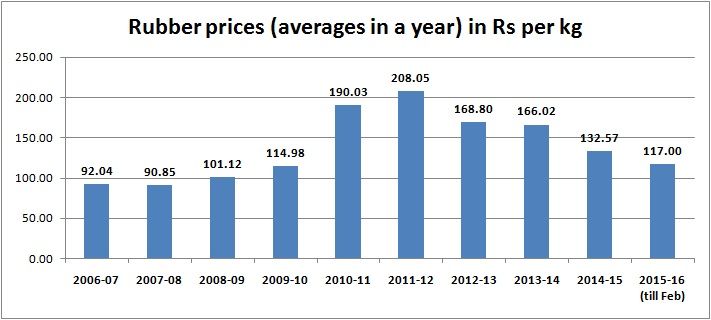 During the boom, small farmers made money, though not too much. But the big ones made big money and splurged it on swank cars, luxury flats and consumer durables. They made rubber synonymous with lazy life and easy wealth. Then from 2011, the rubber price followed the principle of what goes up must come down. It steadily fell to an eight-year low of Rs 94 on 30 January, 2016, hitting the small farmers most.
According to the Rubber Board, 12.2 lakh farmers have holdings of no more than 10 hectares and they account for about 90 percent of the 7.35 lakh hectares under rubber cultivation. The average size of a small holding is as small as 0.55 hectare (1.4 acres).
The farmers, big and small, now think rubber is too unprofitable to harvest. The plantations now look as forlorn as their owners on either side of the narrow, serpentine roads in the districts of Kottayam, Pathanamthitta and Idukki – Kerala's rubber belt. Gone are the quaint little containers, strapped to the trunks of the rubber trees to collect their latex, the "white gold". Between the trees, which grow as tall as a five-story building, are wild plants, and on the ground beneath is a rotten mess of weeds and dry leaves that make walking difficult.
"Our plantations look like mini-forests now," remarks Justin Jose, a 45-year-old farmer at Payappar in Kottayam district.
Jose's two-and-a-half acre plantation lies idle. He sees no point in hiring labour to produce rubber at a cost of about Rs 100/kg, if he can get only the same amount or even less for it in the market. "I have survived so far with a bank loan," he says, "but if the rubber price shows no sign of going up, I have no clue how I will manage." And the price shows no sign of going up.
The predicament of James Francis, 45, is worse. Besides wife and three children, he has sick and aged parents to look after. Whenever he can, he taps his 350 trees himself without employing tappers and also sells milk from two cows. But all that's barely enough to run his home, pay for his children's fees and his parents' medical expenses. "The future is bleak," he says.
What makes the farmer's problem particularly painful is that rubber's journey from the tree to the tyre is a long one. It's not a crop that you plant this year and take out the next year.
Latex, a milky-white liquid from which natural rubber is made, is collected from a tree called Hevea brasiliensis only five to seven years after it is planted. The process, called tapping, involves making a cut in the bark in a particular angle, so that the sap drips into a container. This is filtered, treated with formic acid, pressed into sheets, dried and sold. The yield rises till the tree is about 15 years old and remains at that level for 10 more years before tapering off. That's when the trees are uprooted and re-plantation is done.
Hevea brasiliensis is originally a native to Amazon and Orinoco river basins in Brazil and Bolivia in South America. But since it tends to be attacked by a fungal disease in South America, rubber is not produced in significant amounts there. About 90 percent of the world's rubber is produced in south and southeast Asia, where its commercial cultivation began a century ago. The Periyar Syndicate, a European venture, began the first rubber plantation near Aluva in Kerala in 1902 with seeds brought from Brazil. India is the sixth largest producer after Thailand, Indonesia, Vietnam, China and Malaysia. In India, Kerala alone accounts for 80 percent of the country's rubber, followed by Tripura and other states.
Many farmers who went in for rubber cultivation during the boom by clearing out other crops now wish the tree was never discovered in South America.
The rubber price plummeted as the demand went down and the demand decreased because the market for tyres crashed. Tyres consume about 60 percent of natural rubber the world over – footwear, belts, clothing, hoses and sundry other things use up the rest. The slump began in early 2011, when economic slowdown hit countries, including China and India, which together consume half of the world's natural rubber. This led to a reduction in the demand for automobiles and therefore, tyres.
This economic slowdown and other reasons led to the fall in the demand for – and the price of – oil from $115 a barrel in 2014 to around $30 now. This, in turn, led to a plunge in the price of synthetic rubber, made from naphtha, a petroleum by-product. Along with natural rubber, synthetic rubber is used in making tyres in varying proportions. The drop in synthetic rubber's price depressed the demand for and the price of natural rubber further.
"Globalisation has helped us, but it also hit us badly," says KA Mathew, who has two acres of rubber trees, which he stopped tapping last year. "All I can get now from tapping the trees is just enough to pay off tappers. It's a hopeless situation." A tapper is paid Rs 2 to Rs 3 a tree.
"In India, about 45 percent of the growers were laid off from harvesting during the first half of 2015," Jom Jacob, Deputy Director of Rubber Board, told Firstpost. But after the Kerala government introduced a subsidy scheme to guarantee a minimum price or Rs 150/kg for rubber, many might have resumed tapping, Jacob said. Under the scheme, the government pays poor farmers the difference between the market price for Rs 150/kg.
But the subsidy covers only two acres for each farmer and the price of Rs 150 is not attractive enough, points out Thomas Ouseph, noted rubber consultant and former Secretary of Rubber Board. Adds N Dharmaraj, President of the United Planters Association of Southern India (Upasi) and Chief Executive of Harrison Malayalam, India's largest rubber plantation company: "Besides, the bureaucratic process involved in getting the subsidy is too cumbersome for the small farmer."
Desperate options
Experts predict the world economy will recoup by 2020, perk up the auto industry, especially in China and Europe, and give rubber its bounce again. But poor farmers in India and other rubber-producing countries can't wait and are looking for desperate options.
In Malaysia and Indonesia, rubber farmers find oil palm cultivation a good alternative. But in Kerala, there is no alternative as lucrative as rubber, and plantations run the risk of being grabbed by real estate sharks. Some have started dairy farming, while some have switched to – or are thinking of – banana, coconut, pineapple, cocoa, nutmeg or pepper in the middle of the rubber trees or by uprooting them.
But crop-switching isn't easy for all. Says Thomas Kallacheril, 63, who has four-and-a-half acres of rubber outside Pala: "I thought of cocoa, but I have a water problem. My soil is good for rubber and nothing else."
Antony Sebastian of Kadalikkath has divided part of his rubber plantation into plots of 14 cents to build houses and sell. He has "no hope" that rubber will rise again.
Kerala's ruling United Democratic Front (UDF) and the Opposition Left Democratic Front (LDF), led by the Congress and the CPM respectively, meanwhile, blame each other for the farmers' plight. And together they accuse the Modi government for doing nothing to help the farmers.
Rubber prices will no doubt be an issue in parts of Kerala during the next month's Assembly elections. But Ousephachen Vellimoozhayal, President of Andhyalam Model Rubber Producers' Society refuses to blame any single political party for the mess. "For all of them," he explains, "farmers are just vote banks and politicians clearly support business barons who feed them funds."
Vellimoozhayal calls them business barons. He, in fact, means the tyre mafia.
Updated Date: Apr 04, 2016 15:27 PM