First squadron of Light Combat Aircraft Tejas inducted into IAF in Bengaluru
On Friday the first squadron of indigenous Light Combat Aircraft Tejas — christened 'Flying Daggers 45' — was in place in Bangalore with the handing over of two LCA by the makers Hindustan Aeronautics Limited to the Indian Air Force.
In a major milestone in the military aviation in the country, the first squadron of home- grown Light Combat Aircraft Tejas was inducted into IAF with two fighter planes joining the force here.
State-run HAL handed over the first two Tejas aircraft to IAF, which makes up the first squadron named 'Flying Daggers', at a ceremony preceded by inter-faith prayers at the Aircraft System Testing Establishment.
The light combat Aircraft Tejas inducted into the Indian Air Force. pic.twitter.com/N1W6qlO8cg

— ANI (@ANI_news) July 1, 2016
Bengaluru: Multi-religious prayer ceremonies being held at the induction ceremony of Tejas aircraft into IAF. pic.twitter.com/yojmtfohGt

— ANI (@ANI_news) July 1, 2016
A Tejas aircraft flown by Commanding Officer Group Captain Madhav Rangachari performed a sortie during the induction ceremony, attended by Air Marshal Jasbir Walia, Air Officer Commanding-in Chief, Southern Air Command and senior HAL executives.
The commissioning of the India-made fighter planes comes more than three decades after LCA went into development.
The aircraft was named "Tejas" (meaning radiance in Sanskrit) by Atal Bihari Vajpayee as Prime Minister.
The squadron will be based in Bengaluru for the first two years before it is moved to Sulur in Tamil Nadu.
Air Chief Marshal Arup Raha, who on May 17 took his  maiden flight in Tejas, had given the thumbs up to the "desi"
aircraft, terming it "good" for induction.
IAF, which plans to induct six aircraft this financial year and about eight in the next, has said Tejas will feature in its combat plan next year and would be deployed in forward bases also.
LCA will eventually replace the ageing fleet of MiG-21 planes.
Defence Minister Manohar Parrikar had earlier this month said here "next year I think two MiG-21 squadrons are being  decommissioned. This will go into initially replacing them."
"LCAs are better than MiGs which are old and parts are difficult to get," he had said.
All squadrons of Tejas will be made up of 20 planes, including four in reserve.
As per the plan, 20 would be inducted under the "Initial Operational Clearance" and another 20 later with Beyond Visual Range Missile (BVR) and certain other features.
IAF plans to induct over 80 aircraft with better specifications known as Tejas 1A.
The upgraded version of Tejas, with Active Electrically Scanned Array Radar, Unified Electronic Warfare Suite, mid-air refuelling capacity and advanced BVRs, will cost between Rs 275 crore and Rs 300 crore.
The idea to have an indigenous fighter aircraft was conceptualised in the 1970s, but actual work started on the
aircraft project only in the 1980s.
The first flight took place in January 2001 after the project often ran into rough weather and came in for criticism over delay.
The first LCA squadron will be based in Bangalore in Karnataka for two years before shifting to Sulur in Tamil Nadu, according to IAF.
Starting with two aircrafts, the squadron will get six more jets by 2017 to make it fully operational.
The LCA is far superior to Pakistan's JF-17 built jointly with China, the IAF added.
The indigenous fighter jet, which is still to get full operational clearance, is expected to get into combat role next year, officials said.
IAF's squadron number 45, 'Flying Daggers', has to its credit the shooting down of a Pakistani naval surveillance aircraft in 1999, some 300 kilometres northeast of Karachi, killing all 16 people on board.
The squadron, which was based at Nalia airbase in Gujarat, was flying MIG-21 Bis at that time.
"It is an excellent platform with proven airworthiness and superb safety record ever registered by any fighter jet in the world," a senior IAF official said.
"During its 3,000 hours of sorties in the development phase, the LCA registered more than 2,500 hours of exceptionally clean flights," he added.
The first Tejas squadron will consist of 20 aircraft, with four in reserve.
Officials said the second LCA squadron will be raised with improved capabilities, including critical necessity of missile firing to Beyond Visual Range. The IAF plans to induct over 80 aircraft with better specifications, known as Tejas 1A.
In the coming years, altogether 120 Tejas jets are to be inducted, replacing MiG-21s, which perform the role of close combat support.
"Tejas is far, far better than MiG-21s in terms of safety as its fly-by-wire system is the state-of-the-art in the world," an IAF official said.
The improved Tejas-1A will be far more superior than the first two squadrons, since these will have mid-air refueling, modern internal radar warning receiver and external self-protection jammer pod to enhance survivability and an active electronically scanned array radar, the officials added.
With inputs from agencies
First Cricket News
South Africa skipper Temba Bavuma pleaded guilty to the offence and accepted the proposed sanction, so there was no need for a formal hearing.
First Cricket News
After reviewing footage of the incident, match officials are believed to have come to the conclusion that de Kock was not in breach of the law on fielders deceiving batsmen.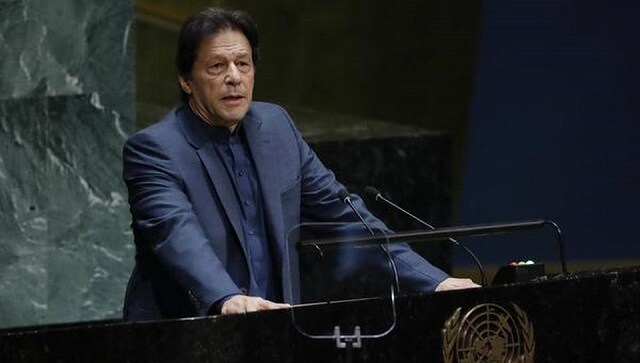 World
In a weekend interview on live television, Oxford-educated Khan said an increase in rapes indicated the "consequences in any society where vulgarity is on the rise"