This week on First Lady, host Meghna Pant interviewed gender equality activist and founder of Bhumata Brigade — Trupti Desai.
Pant talks to Desai about the range of laurels she received and ordeals she had to face while trying to fight battles against the age-old myths and traditions.
Desai mentions the importance of the Shanishignapur movement that she led and bagged victory in. Despite all the threats and harassment issues she faced, she says that the fight was important for all the women who deserved to enter the temple just as much as men did.
She further talks about her tryst with the conservatives and the mindsets she has to fight and the stereotypes she has to break in order to make her voice heard.
When our host asked her about the impact of temple worship rallies and whether it's a significant women's movement, Desai said, "Shanishignapur was a start to the women's movement. To protest against rape and sexual assault, we are going to come down to the roads with lathis and launch a separate movement."
When asked about her motivation to take such causes up, she said that throughout her school and college days, she was always inclined towards change.
Desai tells us that while the next goal for Bhumata Brigade is to keep women safe and secure, her personal goal is to remain a women activist, and keep pushing for their rights.
Watch the video of their inspirational conversation.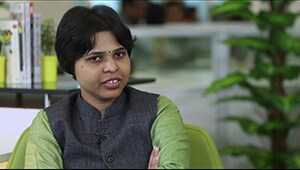 Updated Date: May 26, 2017 13:06:12 IST