Female Uttar Pradesh police officer stands up to angry BJP workers, video goes viral
The video of a female police officer silencing a group of BJP workers who tried to bully her for doing her job in Bulandshahr of Uttar Pradesh has gone viral on Sunday, media reports said.
The video of a female police officer standing up to a group of BJP workers who tried to bully her in Bulandshahr, Uttar Pradesh went viral on Sunday, according to media reports.
According to an NDTV report, the incident occurred on Friday afternoon when BJP's district-level worker Pramod Lodhi was issued a challan for not carrying documents of his vehicle. The man then reportedly misbehaved with police officers after which he was arrested. The senior police officer, Shrestha Thakur, then chided the BJP workers, who raised slogans against the police and demanded that they be placed under arrest.
In the video, Thakur can be heard admonishing the workers, saying "she will add additional sections for creating public disorder".
"You please go and get written orders from the chief minister that the police have no right to check vehicles... that we can't do our job. Hum raat mein parivar ko chhor ke duty karte hain, maze lene ke liye nahi (we leave our families at home at night not to have fun but to do our job)," she said.
According to CNN-News 18, BJP defended its workers, insisting they did nothing wrong. When Lodhi was produced in court, he alleged that he was arrested because he refused to pay a bribe. A man, who is seen arguing with Thakur, claimed that Lodhi was asked for a bribe of Rs 2,000, according to NDTV.
A few weeks ago, Uttar Pradesh police officer Charu Niga was left in tears after being shouted down by senior BJP leader and Gorakhpur lawmaker Radha Mohan Das Agarwal.
Explainers
Rahul Gandhi has joined a small 'infamous' club of politicians who have been disqualified as MPs or MLAs after being convicted in a crime. Here's a look at the other prominent names
Explainers
The Met's commissioner accepted the Casey review's findings that London's Metropolitan police force is institutionally racist, misogynistic, and homophobic, and acknowledged that more work is needed. However, he rejects the term 'institutional' to describe the Met's problems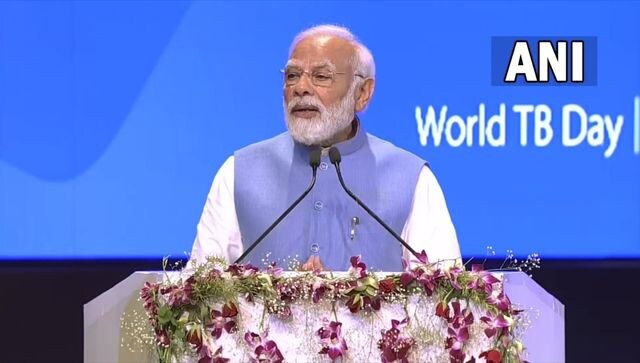 World
2030 is the global target to eradicate TB but India is now working on the target of ending TB by the year 2025: PM Narendra Modi at the 'One World TB Summit' in Varanasi, Uttar Pradesh.