Farooq Abdullah bats for autonomy to both sides of Jammu and Kashmir
The only 'realistic solution' to the Kashmir dispute is 'autonomy' to its areas administered by India as well as Pakistan, Farooq Abdullah said.
Jammu: The only "realistic solution" to the Kashmir dispute is "autonomy" to its areas administered by India as well as Pakistan, former chief minister Farooq Abdullah said on Monday.
"Autonomy to both sides of Jammu and Kashmir is the only viable and realistic solution to nearly seven decade problem that has cast dark shadows over the generations," he said while addressing National Conference workers in Budhal area of Rajouri district on Monday.
"We owe peace and a dignified life to posterity, and that can be achieved only by converting the present dividing line between the two neighbouring countries into line of peace," he said.
Abdullah said hostilities of past nearly seventy years had "retarded" the growth of people on both sides of the Line of Control and time has come when India and Pakistan should take a bold initiative by calling a spade a spade.
"Denial of autonomy has brought Jammu and Kashmir to present morass, which if ignored anymore can prove detrimental to larger interests of the state.
"The resolution passed by the Legislative Assembly over a decade and half ago, was reflective of the urges and aspirations of the regions and sub-regions of the state," he said.
He referred to the wars of the past and continued border skirmishes, saying these have only added to the miseries of people of Kashmir, who have faced the brunt of turmoil during the past two-and-half decades.
"The soft borders would open up vistas of economic opportunities besides enabling hassle free exchange of people, which in turn will be a major dividend to peace and tranquillity in the region," the National Conference President said, and hoped good sense would prevail upon all stakeholders.
Abdullah also spoke about the "fall-out of divisive policies being pursued by the present dispensation at the Centre" and said politics of hate and intolerance is against the very idea of India.
He said the country was abode of people belonging to different faiths and they cannot be brought eye-ball to eye-ball for furthering any "definite political agenda".
Referring to the implementation of National Food Security Act, the former Chief Minister said this has harmed the interest of poor rationees in the state and deprived many of much-needed food support.
He said the National Conference-led government did not implement the Act because of its "anti-poor" nature.
He sought immediate rollback of the NFSA and release of rations to consumers on previous scale.
India
This comes after army officials revealed that the new modus operandi to indoctrinate and train Kashmiri youth in militancy was to call them through proper visa channels, rather than having them take the risk of crossing the border illegally.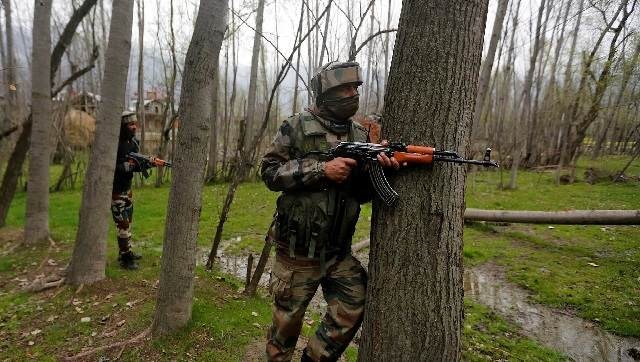 India
Security forces launched a cordon and search operation in Shokbaba forest in the Sumblar area of Bandipora in north Kashmir following inputs about the presence of terrorists, officials said
World
The men Azhar's words raised are dead; the toxic cult of blood that seduced them is not