Farmers' protests in MP, Maharashtra: The recurring factors behind India's agricultural crisis
The problems facing the Indian farmer are not just economic. They are also highly political.
Out of 1.2 billion people living in India, 90 million families — or 54.6 percent of the population — is engaged in agriculture.
But though over half the population is engaged in farming, and 2016 saw a plentiful harvest, it took the death of six farmers in police firing in Madhya Pradesh for us to focus on this problem,and realise issues have been present in agriculture for a very long time.
The protests, which started in Madhya Pradesh and Maharashtra, have spread to other states like Rajasthan and Tamil Nadu. Farmer suicides are also still rampant in the country. But the problems facing the Indian farmer are not just economic; they are also highly political. And until politicians at the Centre and states — irrespective of whether they are in the ruling party or in the Opposition — take concrete steps to tackle the problems instead of making populist promises, the condition of the farmers will only worsen.
Price slide
According to IndiaSpend, a plentiful harvest in 2016 and imports drove some prices down by 63 percent. Reuters further reported that farming accounts for a mere 14 percent of India's GDP, much lower than 47 percent of GDP just after India's independence 70 years ago.
India is still carrying a huge inventory of foodgrains from last year's record harvest, since exports were hit by an appreciating rupee, falling global prices and restrictions on overseas shipments.
This is perhaps the biggest evidence that rising production in agriculture on its own cannot lead to good prices for farmers.
Despite a substantial increase in production of tur — which saw the highest growth among all pulses — an influx of import of pulses from Myanmar, Tanzania, Mozambique and Malawi caused the price of turn to fall from Rs 11,000 per quintal (from December 2015) to Rs 3,800 to Rs 4,000 per quintal since December 2016.
What has exacerbated the problem of low prices for agricultural commodities is the fact that agricultural policies have encouraged higher production of crops previously in short supply but offered scant protection on prices.
Many farm commodities are trading below support prices set by the government. That is because the government only commits serious sums to buying wheat and rice, but not other crops.
Maban Sabnavis in this Firstpost article explained that the reason the Minimum Support Price (MSP) — the price at which government buys crops from the farmers — retains a number which does not lead to any procurement is because "the market price tends to be higher, and hence farmers may not wish to sell at this price". The government may also not have the ability or machinery required for the procurement.
Though one solution can be to provide a bonus above the MSP for specific crops, this still does not solve the problem of high input costs.
High cost of production
Sabnavis further explained that among the farmer has to take care of a lot of issues before the production is complete. "These include availability of high quality seeds, inputs such as water and fertilisers, finance at both the pre-harvest and post-harvest levels, logistics in moving the goods and finally marketing where it is sold to the consumer. The fact that agriculture is unorganised means that there are several levels of intermediaries which can stretch to 6-8 depending on the crop and location," he wrote.
Because of a high cost of these factors of production, the prices at which farmers sell their produce often falls lower than what they spend on production. According to The Times of India, paddy in Madhya Pradesh was being sold at 15 percent less than the cost of production, while wheat was fetching them just a 2 percent profit.
The report further said that for cultivating wheat in Madhya Pradesh, Rs 1,241.34 was spent on fertilisers per hectare in 2004-05, which more than doubled to Rs 2,695.27 per hectare in 2014-15. Cost of seeds increased from Rs 998 to Rs 2,653 in the same period while cose of irrigation rose from Rs 1,961.50 to Rs 2,599.55.
Loan waivers
This is probably the most politicised issue in agriculture. Farm loan waivers amounting to over Rs 36,000 crore by the Yogi Adityanath government in Uttar Pradesh created similar demands in other states like Maharashtra.
By writing off loans taken by farmers, the government creates an atmosphere where the farmers lose incentive to repay their loans in the future. However, it has been argued by several Opposition leaders like Rahul Gandhi that "Narendra Modi could waive loans worth Rs 1.50 lakh crore of the richest people of India, but can't pay heed to the plight of farmers".
In other words, if banks can forgive loans of industrialists and businessmen, why can't it do the same for the farmers?
Well, two wrongs do not make a right, as Dinesh Unnikrishnan explains in this Firstpost article.
"What has triggered a series of protests across major agrarian states like Maharashtra and Madhya Pradesh was the Uttar Pradesh loan waiver announced by the Yogi Adityanath government," he wrote.
Moreover, if basic problems like low prices and high cost of production are not addressed, loan waivers continue to be just a temporary relief rather than a long-term solution.
Seetha explains in another Firstpost article that the 2008-09 UPA-sponsored loan waiver did not improve conditions. "A Comptroller and Auditor General (CAG) report found that 13.5 percent of loan accounts were denied the waiver though they were eligible for it, while as much as Rs 20.5 crore was spent on waiving debts of non-eligible farmers. Worse, many of them had taken loans for non-agricultural purposes. Debt waiver receipts were not issued, records were tampered in over 2,000 cases with claims totalling Rs 8.6 crore," she says in the article.
Small landholdings
Indiaspend reported that the main reason farming is becoming unviable in India is because farms in the country are now among the world's smallest.
While the global average of landholding size is 5.5 hectares, the per capita availability of land in India from 1951 to 2011 declined by 70 percent, from 0.5 hectares to 0.15 hectares.
Small and marginal landholdings make up 85 percent of the number of operational farms in India. Small farms make it tough for farmers to use modern machinery, because such farmers are too poor to afford such equipment. Manual labour costs also increase. And the small size and output makes it difficult for the farmers to get loans and institutional credit.
Demonetisation
The ban on old Rs 500 and Rs 1,000 notes announced by the Modi government in November last year did not help most farmers. Tomato farmers in Karnataka and Tamil Nadu, and onion farmers in Maharashtra and Gujarat were the worst hit, as their prices fell by 60 to 85 percent.
Not a lot has improved six months after demonetisation and the move has worsened the circumstances which led to the farmers' agitations in the country today.
Climate change
Indiaspend further explained that rainfall is becoming increasingly uncertain in a country where over half of the farmers still depend on rain.
"Extreme rainfall events in central India, the core of the monsoon system, are increasing and moderate rainfall is decreasing — as a part of complex changes in local and world weather — according to a clutch of Indian and global studies," said the report.
And even though the droughts of 2014 and 2015 in rural Maharashtra were followed by plentiful rains in 2016, many parts of the state were also flooded.
Groundwater levels, which provide water for two-thirds of India's irrigated land, are also falling.
With inputs from agencies
Politics
The home minister said that Prime Minister Narendra Modi thinks about the result and this thinking has brought a big change in the country
Opinion
The idea of a Uniform Civil Code has foundered not so much because of Muslim obstinacy, though that has been a factor, but because of a lack of political will at the Centre under successive regimes of different hues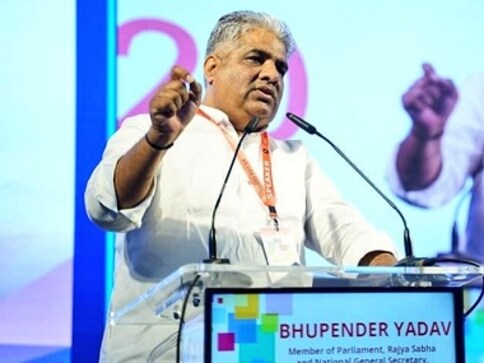 India
Environment Minister Bhupender Yadav said the Covid pandemic has compounded the challenge of fighting global warming as economic pressures have delayed or slowed climate action across the world