Farmer who attempted suicide at AAP rally declared dead, Twitter blames Kejriwal, media
A farmer's suicide was allegedly averted at the AAP's anti-land bill rally at Delhi's Ramlila Maidan on Wednesday.
The farmer who tried to hang himself from a tree in AAP's anti-land bill rally has now been declared dead.
It was first reported that the AAP volunteers noticed him trying to kill himself, and stopped him and rushed him to the hospital, where the doctors said he had already died.
Dramatic visuals, earlier, showed the distraught farmer being pulled away from the gathered media by an AAP volunteer.
According to Headlines Today, the farmer is from Dausa in Rajasthan and has three children. He attempted to kill himself because he lost all of his crops this season.
The farmer was on top of the tree for quite sometime before volunteers noticed him trying to commit suicide.
Visuals showed the farmer precariously hanging from the branch of the tree from a white cloth that he had made into a noose.
CNN-IBN reports that when the incident took place, AAP leaders said that the police should have noticed this and taken steps to have avoided the situation.
While it is commonplace for people to perch on top of trees during rallies to get a better view of the stage, this is the first time someone has actually tried to commit suicide.
Reacting to the tragic news Congress spokesperson Ajay Maken said, "The organisers could have been more sensitive, the police could have been more alert."
Another reaction came from Congress leader Sachin Pilot, who said, "I am extremely shocked and very hurt to hear about suicide. It is unfortunate that no attempt was made to go and stop the man."
"Today, farmers are trying to kill themselves from trees, what's worse is that the rally continued," he said and added, "The farmers are killing themselves by the thousands, on a weekly basis, on an hourly basis. What is driving them to it?"
Reports suggest a suicide not was also found where the farmer highlighted his plight.
And as the opposition and farmers groups build more pressure on the government over its amendments to the land bill that have been called 'anti-farmer', this sad incident is surely going to put the government in the spot.
As the visual of the farmer being rescued was telecast on news channels, social media was quick to react. While at first people on Twitter quickly dismissed the incident of attempt to suicide as an AAP gimmick to draw attention to their rally, after the farmer was declared dead people blamed the media and AAP for the death.
After the farmer was declared dead here's what people said:
Shameful as blame game unfolds after farmer commits suicide during #AAPKisanRally #AAP blames #DelhiPolice. #Congress blames #AAP & #BJP

— MaterialGirl (@taniameer) April 22, 2015
A farmer commited suicide today at #AAPKisanRally! In full public glare.Critical ques to ask:What steps were taken to contain the situation?

— Smita Barooah (@smitabarooah) April 22, 2015
Dear @narendramodi ur immediate intervention is needed wrt farmer suicides. Please carry out relief work on war-footing. Address the nation.

— Sir Casm (@_MrAlBundy) April 22, 2015
#Kejriwal should be booked for abatement of suicide ..as he was witness to farmer's death...at #AAPKissanRally

— Ashok Garekar (@DrGarekar) April 22, 2015
@ArvindKejriwal has murdered this farmer... Shame! #AAPKisanRally

— ankur kaushik (@anks1504) April 22, 2015
@aartic02 u AAPtards can go to any level to defame others,shame on u,for political gimmick kejru murdered a farmer/teacher.#shameonAAP

— Veeresh (@ProudIndian865) April 22, 2015
And here's what people said before the farmer's death:
I m sure this suicide attempt in AAP rally is a ploy 2 show a dummy farmer's plight n gather brownie points. @saffronfirst

— Explorer (@rohitindiacalls) April 22, 2015
@gauravcsawant @ArvindKejriwal going by the AAP's trend... Why can't we term it as a nautanki??? Why wud farmer come to rally 4 suicide.

— RAHUL (@brickmetal) April 22, 2015
So the poor farmer with no money came from Rajasthan and chose AAP rally to commit suicide? Hmmm

— Sin Kara (@sinkarra) April 22, 2015
@semubhatt It looks like a stunt. To highlight "farmer suicided" what better way than fake suicide attempt at rally.

— ~* (@PerennialCold) April 22, 2015
Farmer trying to commit suicide. During an #AAPKisanRally. #politics has reached a new low using farmers for their own publicity #AAP

— naitik shah (@NaitikSays) April 22, 2015
Find latest and upcoming tech gadgets online on Tech2 Gadgets. Get technology news, gadgets reviews & ratings. Popular gadgets including laptop, tablet and mobile specifications, features, prices, comparison.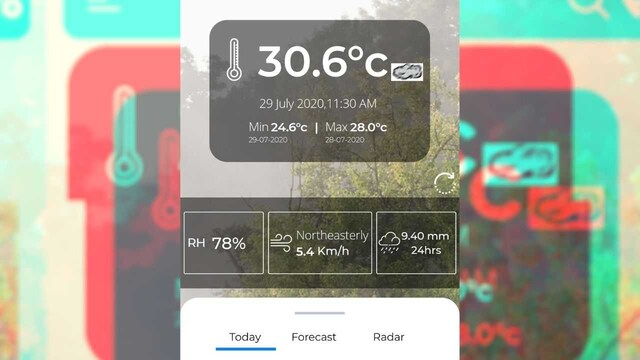 India
The data being fed to the app comes from the state- and district-wise IMD weather stations across the country.
India
Jayesh Patel said farmers from south Gujarat wanted him to join the BJP so that he can serve the people in a better way.