Farmer bodies seek commercialisation of GM mustard to increase yield
A consortium of six farmer bodies demanded for commercialisation of genetically modified Mustard as this will help in increasing yield and farmers' income
New Delhi: A consortium of six farmer bodies on Wednesday demanded for commercialisation of genetically modified Mustard crop saying this will help in increasing yield and farmers income in the country by more than Rs 1,000 crore.
The representatives of consortium also submitted a petition in this regard to Environment Minister Prakash Javadekar and Minister of State for Agriculture Mohanbhai Kundariya.
The commercialisation of genetically modified (GM) mustard crop is presently under the consideration of biotech regulator Genetic Engineering Approval Committee (GEAC).
"Through this petition we demand the government to give us the right to choose the technology we wish to put in our farms. As farmers, we are of the opinion that GM technology can successfully co-exist with conventional hybrid as well as organic farming," Consortium of Indian farmers Association Secretary General P Chengal Reddy told reporters.
Reddy further said India imports huge quantities of edible oil which can also be extracted from GM crops.
"The commercialisation of GM mustard would help in a big way reducing the import of edible oil," he added.
Kisan Coordination Committee Chairman US Mann said that hat GM mustard can easily repeat the success story of GM cotton.
"As per the initial studies, GM Mustard has the potential to increase yield between 20-30 per cent which is significant enough for the commercial cultivation of any crop. The hybrid if adopted could bring a total additional benefit to farmers between Rs 162 crore to Rs 1,118 crore during the peak cultivation season," Mann said.
The other farmer bodies which are part of the consortium are Sir Choudhary Choturam Bhartiya Kisan Samiti (BKS), Consortium of Indian Farmers Association, Kisan Coordination Committee, Shetkari Sanghatana Trust, United Farmers Empowerment Initiative (UFEI) & Confederation of NGOs of Rural India (CNRI).
Business
Pushing farmers to grow oilseeds again will mean making the crop as attractive as cotton, one of its main competitors for requiring similar agro-climatic conditions.
Politics
Union minister Harsh Vardhan on Monday took over the charge of the environment ministry that fell vacant after the death of Anil Madhav Dave.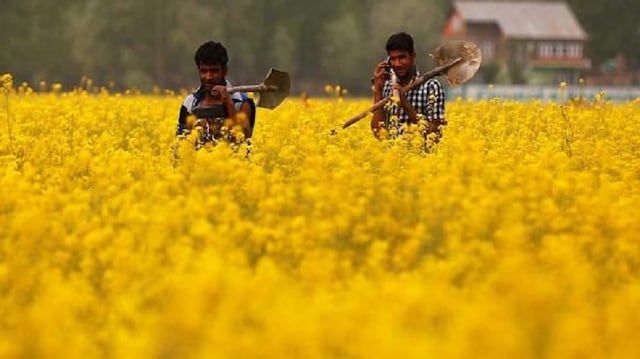 India
Centre told the Supreme Court on Friday that it has not granted any approval for commercial cultivation of Genetically Modified (GM) mustard crop