Fake news in Kashmir: How this epidemic threatens the Valley's social fabric
In January, all of Kashmir was on the streets after a false rumour on a "Facebook News" page claimed that children were dying after being administered polio vaccine gained currency in public imagination. It prompted panic-stricken people to pull their kids out of hospitals across the Valley, creating chaos in the streets.
On 30 October two years ago, friends and relatives of Mohammad Shafi Wani rushed to his home after they read 'news' on a Facebook page about his sudden demise. As a group of anguished relatives reached his house in South Kashmir's Anantnag district, they were left somewhat bewildered. Wani was not dead. Instead, he was watering plants in his lawn.
The 'news', announced on a Facebook page called 'South Kashmir News', had spread far and wide. Wani, who works as a clerk, had reportedly refused to do some favour for the brother of a 'Facebook journalist'. Angered by the refusal, the 'journalist' avenged the 'humiliation' by declaring Wani 'dead'.
"Can such an irresponsible person call himself a journalist? Worse still, a lie was spread on similar pages that children were dying because of polio vaccine," Wani, 47, told Firstpost over phone on Tuesday.
In January, all of Kashmir was on the streets after a false rumour on a "Facebook News" page claimed that children were dying after being administered polio vaccine gained currency in public imagination. It prompted panic-stricken people to pull their kids out of hospitals across the Valley, creating chaos in the streets.
In an hour, the Valley's sole paediatric hospital in summer capital Srinagar swelled with panic-stricken parents. When informed that it was a false rumour, no one believed them. Instead, scuffles were reported between staff and agitated people at many hospitals while infrastructure was also damaged at some places.
The Kashmir police registered six cases in different police stations against the rumour-mongers and arrested a youth in Pampore for posting false news on his Facebook page. What happened to those FIRs though? No one knows. At that time, Kashmir's inspector-general of police, SJM Gillani has said that the police is looking towards the 'regulation' of such pages.
Former chief minister of Jammu and Kashmir, Mufti Mohammad Sayeed, was 'killed' nine times on similar Facebook pages before he actually passed away on 7 January at Aiims. On WhatsApp groups, he was declared dead dozens of times and no one ever apologised for circulating or posting fake news.
A few days ago, when protests erupted in Handwara town after allegations of molestation by an Army solider, two people died and a women was hit by a bullet. Before Raja Begum actually died during the night at a Srinagar hospital, she was killed many times on these 'news' pages.
The very next day, a youth was killed in a village in nearby Handwara and another was critically injured. However, on WhatsApp and Facebook pages, they both were declared dead. The false news posted by such groups led to confusion with two prominent newspapers falling for the trap on two occasions, only to retract later.
These WhatsApp groups and Facebook pages started cropping up in Kashmir after the 2009 unrest over the rape and murder of two girls in Shopian. Most of these Facebook pages are 'liked' by lakhs of people. With no way to sift fact from fiction, false information often gets peddled as 'news'.
A killing here, a road accident there, an encounter in south or a firing in north, people of Kashmir want news to be delivered to them at lighting speed. So if one news organisation publishes a report, most of these pages copy and paste it without giving credit to the source, just to maintain their credibility.
Twenty pages Firstpost traced on Facebook have a subscriber count ranging from two to five lakhs. In the towns of Kashmir, people who runs these pages are loathed, but cited by district officials and even by police officers. There is no revenue generated by managing these pages and most of them have been found blackmailing and extorting money from politicians, common people and public servants, as a means of generating revenue for their ventures.
But the other side of the story is that most of these pages are promoted by government officials for the sake of 'publicity'. "The amount of influence these journalists wield is tremendous and in most of the cases, in districts of Kashmir they have become demigods who can get away with anything," said Iqbal Ahmad, a student of mass communication.
Vijdan Mohammad Kawoosa, who ran a Facebook page called 'J&K Now' says that although groups like his are not answerable to any government or administration, but they feel a sense of responsibility towards ordinary people.
"Even if publishing wrong news does not come with legal consequences, it would surely demean our good image among the people — which would be detrimental for its (the website's) future." Kawoosa, a postgraduate student whose page has more than two lakh 'likes', said in an email conversation.
But he says he had to move on from an SMS service to a Facebook page, and now to a website for revenue-generation. "But there are many people who run these pages who haven't even completed Class X and have no idea about reporting or journalism," he said.
That may be the reason the divisional commissioner of Kashmir, Dr Asgar Hassan Samoon, Monday asked his field officers to chalk out measures for curbing rumour-mongering. He also directed the operators of social media news agencies to obtain proper permission from the concerned deputy commissioners for posting news on social media news groups along with sources.
But it is unlikely anyone will follow the orders because at the end of the day, those law enforcing agencies and its officer too want 'publicly'. However, when we spoke to Dr Samoon, he said it is being done to curb "rumour-mongering", and not what happens if someone decides to deliberately exacerbate a situation.
Kawoosa however says it is a good decision to curb rumour-mongering but if the Jammu and Kashmir government is planning to regulate even the professional journalists who publish news online, then it is a step towards curbing the freedom of the press.
But a journalist in Srinagar said even the government — by registering such groups and pages — is trying to legally turn rumour-mongers into journalists. "These are thugs, blackmailers and have not an iota of idea what journalism means. They do it for promoting people, making transfers in government departments and shielding the corrupt," the journalist said under condition of anonymity.
If you search Facebook for news on Kashmir, you will find that almost every other national and international media brand has a version in Kashmir these days. For example, CNN has CNN Kashmir, NDTV has NDTV Kashmir, IBN has four groups in its name and then there are entities like Sach News, Fast Kashmir, Live Wire and hundreds of others who have subscribers between 10,000 to four lakh.
In April 2015, the Kashmir police registered a case against more than dozen groups for posting "incorrect frivolous and fake information on social networking sites particularly Facebook." But later no action was taken against these groups. Some of them include Kashmir News Agency, Loving Kashmir, Youths of Downtown-Kashmir, 24X7 Breaking News, Kashmir Banega Pakistan, Pahallan the city of Hurriyat G, Ganderbal News Agency, All (J&K) Breaking News Alert, True Muhajid, Election Boycott Bandipora, Voice of Kashmir Youth, Youths of Down Town and Voice of Unspoken Kashmir.
However nothing indicates that action was taken against anyone.
Majid Hyderi, a journalist wrote on his Facebook page after the government asked Facebook news pages to register with the government.
"Finally, the government has decided to close down the news-hatching farms on Facebook and WhatsApp, where news-telling was simpler than cracking jokes. But what about the fate of unregistered news websites?" he asked.
India
Frontline and healthcare workers were assigned additional duties to help manage the public health emergency. But while the number of tasks expected of ASHAs kept increasing, the protective gear dwindled
India
Neither did Kashmir erupt as many predicted nor did the Valley usher in a new era of economic development after it became a Union Territory, proving both the assessments wrong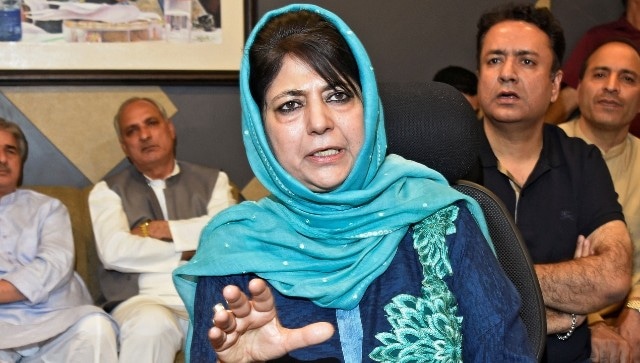 India
Her remarks came amidst growing criticism of the Congress and Digvijaya Singh over his purported comments that his party will have a 'relook' at Article 370 if it returns to power