Exclusive: Rumours of jawan Tej Bahadur Yadav's death circulated by ISI proxies, says new BSF DG KK Sharma
The newly-appointed director-general of the Border Security Force (BSF), KK Sharma has refuted the allegations made against the force on social media on 22 March that it has had its 'jawan-turned-whistleblower' Tej Bahadur Yadav killed
The newly-appointed director-general of the Border Security Force (BSF), KK Sharma has refuted allegations made against the force on social media on 22 March that it has had its 'jawan-turned-whistleblower' Tej Bahadur Yadav killed. Yadav made the headlines after airing his grievances on Facebook regarding the supply of poor rations. "He's alive and is in a protective custody in Jammu. This rumour has been spread by the cyber cell of Pakistani intelligence agency ISI to malign BSF and India's image at international level. Even, the Bangladesh government's report that large numbers of terrorists have entered India through West Bengal border is false," he said.
In an exclusive interview after taking over as DG, BSF, earlier this month, Sharma, a 1982 batch IPS officer of the Rajasthan cadre and recipient of the President's Police Medal for Distinguished Services, spoke at length to Firstpost on various issues ranging from the ISI's role as rumourmonger to infiltration, and the modernisation of India's elite force.
Edited excerpts follow:
What is the truth behind the rumour on social media that the BSF jawan Tej Bahadur Yadav has been killed by the force?
The ISI has a cyber cell that uses such incidents and creates strong rumours on social media. In Tej Bahadur's case, Pakistan aggressively acted to make that incident go viral. There are around 28 websites in Pakistan from where this video (of Tej Bahadur) was uploaded with comments and made viral. This led to tweets and retweets, and discussion on social media from across the world, whereas the fact is that they are really not concerned about the quality of food that was served to Tej Bahadur. It happened because of the ISI proxies.
This time we have countered the rumour of Tej Bahadur's death strongly. The dead body shown on social media as Tej Bahadur's is actually the photograph of a CRPF jawan who got killed in the recent Maoist ambush in Bastar; he slightly resembled Tej Bahadur. The fact is that Tej Bahadur is alive and even his family members have denied his death. We have strongly countered it both in the media and on social media. It is ISI's game to malign the BSF and India's image at the international level.
What's the truth about the recent Bangladesh government's report to our Ministry of Home Affairs that JMB and HuJI militants have entered through the borders of West Bengal, Assam and Tripura that are guarded by the BSF?
It's totally false and hasn't been verified by anyone or any source. The report apparently mentions that 2,000 terrorists have sneaked into India. Forget men, even if 2,000 cattle enter India, it'll be visible. In present times, it's virtually impossible to have such a large exodus.
There are allegations that right under the nose of the BSF, cattle and drug smuggling takes place through the borders of West Bengal and Punjab respectively. Why can't the BSF take any strong action against these smugglers? 
Cattle smuggling is a very complex issue. The Bangladesh border is 4,096 kilometres long, of which around 950 kilometres is unfenced due to the riverine belt. It's humanly not possible to cover this unfenced stretch. Smuggling takes place through this porous stretch, despite our patrolling and floodlights. The population on both sides is economically dependent on cattle trade. Local politicians are hand-in-glove with those who supply cows to Bangladesh. The BSF has lost members of its personnel in clashes with smugglers. Although we're the only agency to stop this illegal practice, it's quite difficult to do so due to limited manpower and several other constraints.
In Punjab, smugglers have been nabbed by the Punjab Police, Narcotics Control Bureau and by us, but how many of them have said that the BSF helped them in smuggling drugs? There are allegations against BSF of conniving with smugglers, but have investigations proved it? We also keep a strict vigil on our people and if we find anyone guilty, strict action is taken.
During the surgical strike, the Indian Army targeted and destroyed terrorist launch pads on the Pakistani side. Has the BSF initiated any such action against the continuous ceasefire violations along the Indian-Pakistan International Border (IB)?
The surgical strike was a turning point and has brought about a total change in perception — it's like if you do wrong, we'll strike you at a place and time of our choice, unlike in the past. Earlier, our hands were tied, but this time we were given a clear mandate to do whatever needed to be done. For the first time, Pakistan has realised that India, instead of making a hue and cry at the UN and in the media, can actually strike hard. There is a clear instruction from Union Home Minister Rajnath Singh to give a 'Moonh tod jawab' (fitting response) to Pakistan's attacks. Even our former defence minister Manohar Parikkar had said that India could make the first strike if needed, instead of acting in retaliation.
Every Diwali, Pakistan creates problems, by sniping and killing our jawans, which causes a lot of resentment within the force. This time we prepared ourselves with state-of-the-art long range sniper rifles. We adopted an aggressive approach that compelled those on other side of the IB to withdraw.
Since then, attempts of shelling, firing at our jawans have come down considerably, although infiltration attempts are ongoing.
Hasn't the BSF taken this issue up with the Pakistan Rangers?
Under normal circumstances, we have DG-level meetings (between the BSF and Rangers) twice a year. But, if we call them when the situation is volatile, they refuse to meet. Once I was told by a senior official in the Pakistan Rangers that ISI-backed terrorists come and snipe our men. ISI identifies battalion commanders with radical ideological views and sends terrorists in those areas to launch attack on our jawans.  To counter them, we are focussing on our operational preparedness, supply of ammunition and technical equipment for seamless coverage.
What was the first thing you focussed upon after taking over as BSF DG?
I have been with BSF as ADG (Operations) for the past five years. Emphasis is being given to the force's operational side, which is extremely important. Our basic job is of guarding the borders and traditionally it has been manpower intensive. I feel that the future of protecting our borders lies more in the use of technology than increasing manpower. Hence, Comprehensive Integrated Border Management System (CIBMS) has been initiated. The home ministry is positive on this project, as they want the borders to be sealed.
How effective is BSF's lesser known yet high-profile G branch?
The lesser said about it, the better (smiles). It's the intelligence wing of the BSF. It finds its genesis in the 1971 India-Pakistan war. Our personnel trained the Bangladesh Mukti Vahini (freedom fighters) in the jungles of Tripura and even fought alongside them in civilian clothes. In that war, 139 BSF jawans and officers were killed. G branch collects intelligence from foreign lands. Now, it is the multi-agency centre (MAC) from where intelligence inputs are procured, and it functions with a coordinated approach.
What is BSF's modernisation plan?
Our main thrust is to bring a sea change in guarding our borders by integrating latest technology and equipment. The CIBMS has two pilot projects in Jammu. It's unique in the world. We are integrating all highly sophisticated equipment — like handheld thermal imagers that absorb the body heat signatures of any living being that moves towards us even in the dark of night at a distance of upto three kilometres. Analytical tools will identify such movements and distinguish between man and animal from the shadow. Night vision devices, long range radars, battlefield surveillance radars that catch slightest of vibrations at shorter distances etc have been added to the inventory.
This equipment were in the hands of jawans posted on the borders and the possibility of human error can't be ruled out. So, now after integration, a common feed will be given to command outpost. This is our top priority on operations. We've indigenously developed infrared intruder alarms that are not visible to the naked eye. Anyone crossing the invisible infrared wall within the 700 metres range gets caught. CIBMS will also give some relief and rest to our men on duty. As a pilot project, motion sensors have been included in CIBMS to save power and reduce our electricity bill of Rs 90 to 100 crore (due to floodlights). It has been sent to the home ministry for approval.
Post-Tej Bahadur incident, have any steps been taken to increase intra-force communication and grievance redressal?
Taking a lesson from the Tej Bahadur incident, I focussed on a neglected side of BSF. For long, weeding out hasn't taken place. Bad hats with more than four bad entries have been identified and disciplinary action initiated. Strong disciplinary action has been initiated against Tej Bahadur and legal action will be taken as per the rules. At present, he's in protective custody in Jammu.
Simultaneously, we're finetuning our grievance redressal system. Besides an orderly room, where an individual can lodge his complaint, every Wednesday, there's an open house for senior officers and monthly Sainik Sammelan for junior officers and jawans. We have developed intranet connectivity, where every individual can lodge complaint and it has a time-bound disposal mechanism. The BSF is the only force that has a television system of its own. I can address my staff from my studio and can take calls from our jawans in faraway locations.
Besides delayed promotions and appointment of more number of IPS officers vis-à-vis the BSF cadre, there is grievance amongst the BSF staff that despite being an armed force, it's deprived of its pension on par with the army.
Those who have been appointed after 2004 will be entitled for contributory pension. It's true that a constable gets his first promotion after 20 years, but we cannot decide on policy matters. So, to compensate the delay in promotion, we give our staff three assured career progressions (10-20-30 years) through salary. One gets the salary that is due in the next promotion. Another welfare measure I have undertaken is providing financial literacy to our jawans to help them make intelligent investments for a secure future.
Through a cadre review of senior officers, a record number of posts have been created, which will ease out existing stagnation. As far as appointment of IPS officers is concerned, it's done as envisaged in the constitution due to the varied experience of IPS cadre. At DIG, IG and ADG levels, the percentage of IPS officers is 25 percent, 50 percent and 75 percent respectively.
Could you share some details about BSF's welfare measures?
As DG, I've identified four major areas. More than 20,000 in BSF have pledged for organ donation, including myself and my family. Divyang Skill Development Centre empowers disabled BSF and Central Armed Paramilitary Force jawans. We have created separate composite border outposts for women personnel. The BSF Wives' Welfare Association manages play schools at all BSF headquarters and five CBSE schools.
World
"Serious issues remain" in Turkey's controls over financial operations, FATF head Marcus Pleyer said as the body placed Turkey on its grey list of countries
World
The attacker who fatally stabbed British lawmaker David Amess was referred to an official counter-terrorism scheme for those thought to be at risk of radicalisation, according to media reports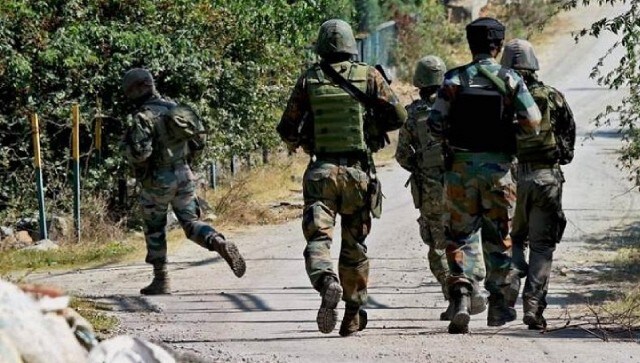 India
Candidates will be hired by the CRPF on a contract basis for a period of three years. The contract can be prolonged or extended for a maximum of two years