Drought in the Western Ghats Part 5: Cauvery suffers a slow death as tourism and urbanisation flourish
Wrong policies of successive governments have contributed in some way or the other to the destruction of this green cover, causing the Cauvery to choke
Editor's note: This is the fourth piece in a multi-part series on the nature of human excesses that have imperiled the fragile ecosystem of the Western Ghats, home to at least 325 globally threatened species of flora and fauna, by United Nations Educational, Scientific and Cultural Organisation's reckoning.
The hitherto hushed voices of the people of Karnataka's Malnad region, particularly those from Kodagu, are becoming louder and more angered of late. They want to protect their Cauvery river, which sustains a large number of people from Karnataka and Tamil Nadu.
Environmentalists say that the protection of their Kodagu region is directly linked to the survival of the Cauvery, whose water flow is already showing signs of dwindling, and faces extinction in the long run.
The Coorg Wildlife Society (CWS), a group of environmentalists from Kodagu district, has now decided to take their fight to protect Kodagu and the Cauvery to the prime minister, by making a serious effort to involve people living in the Cauvery delta — from Mysuru in Karnataka till Thanjavur in Tamil Nadu. The urban conglomerations dotting the Cauvery delta, including cities like Mysuru and Bengaluru that solely depend on the river water for their drinking needs, are also being drawn in to this battle.
The CWS' recent SOS (Save Our Souls) letter to Prime Minister Narendra Modi sought his intervention in the issue, and it highlighted how the ill-conceived encouragement of economic activities in the guise of boosting tourism and modern facilities is denuding the dense Western Ghats. The letter also highlighted how the government, timber mafia and real estate developers are slowly choking the inflow of water into the Cauvery.
The letter also highlighted how wrong policies of successive governments have contributed in some way or the other to the destruction of this green cover, causing the Cauvery to choke.
Of the total inflow into dams in the Cauvery delta, 70 percent is from Kodagu, with numerous streams and rivulets flowing from the region's forests, through coffee plantations and paddy fields, forming its arterial network. But the CWS has held that state and central governments are fast-tracking urbanisation projects to explore the hills' tourism potential and to link it to other parts of the world.
"Urbanisation's onslaught is so intense and serious that according to records built up by CWS, more than 2,800 acres of coffee plantations and paddy fields in this small district have been converted for commercial purpose and to build layouts," said KA Machaiah of CWS. "Soon, Kodagu will have two big urban habitations. One will be in South Kodagu comprising Virajpet, Gonikoppalu and Ponnampet; and one in Kushalnagar. Tourism is the main aspect in the issue, and it's taking a toll on Kodagu's environs," he said.
"Much of the degradation of forests and plantations and conversion of paddy fields for non-­agricultural purposes is due to uncontrolled and unbridled tourism activities by both government and private agencies," he claimed.
He argued that Kodagu district, which has a population of 5.5 lakhs, received 13 lakh tourists last year, which automatically puts pressure on the environment.
Machaiah feels that all resorts and homestays should be closed during the summer months, to conserve the water sources which are being exploited by them.
In addition to real estate activities, the laying of a 400 KV power line to supply power to Kerala, and the proposed construction of highways and a new rail line between Kushalanagar and Mysuru have aggravated the situation in Kodagu, placing even more pressure on the Cauvery.
Machaiah says that in addition to these anti­­-forest activities, the influx of people from neighbouring Kerala state and their business activities, further enabled by them buying properties of Kodavas (natives of Kodagu) at exorbitant prices has forced the Kodagu environment to the brink of destruction.
"All these activities by non­-­Kodavas who have come to Kodagu have the tacit support of local politicians and leaders in the present Congress government, whose leaders have also migrated here long ago," he charged, stressing on the need to broadbase their movement and struggle to protect Kodagu's environment and forest, which in turn would automatically restore the Cauvery's grandeur.
Though the state government has not brought in special laws to boost tourism, it has indiscriminately allowed people to start homestays. Local people who own homestays are felling trees on their estates to construct huts and resorts in addition to creating recreation facilities.
Laws about Jamma lands have also been diluted. Jamma lands are wetlands that were earlier used to grow paddy and its peripheries used to grow fodder for cattle. Owners of these coffee estates were not allowed to fall trees, and permission from central government's environment department was mandatory earlier, but the law was amended in 2013 to ensure that they have rights over the lands and the trees, and are free to sell the former and fell the latter with permission from the concerned district administration.
What can boost the morale of those like CWS environmentalists, who have picked up cudgels against the government and real estate mafia active in the district, is the support from MC Nanaiah, a veteran politician and senior lawyer. Speaking to Firstpost, Nanaiah said the issues raised by CWS are relevant and appropriate for the protection and survival of environment in Kodagu district and the Cauvery river.
"Governments at both the Centre and state should act in unison to bring in laws and rules to curb activities which affect forests and environment of Kodagu, which has its own contribution and history in the country's political, economic and social fields," he said vehemently.
Nanaiah demanded that the Madhav Gadgil Committee's recommendations be implemented. The Gadgil Report, as it's more commonly called, recommended stringent protection and conservation of the Western Ghats spread over 142 taluks of Kerala, Tamil Nadu, Maharashtra and Karnataka, which together encompass 13 national parks and several sanctuaries.
Nanaiah asked why are governments having second thoughts on going ahead with the implementation of the report, when it has explicitly said no activity that endangers the environment should be encouraged in the Western Ghats. "I am not against encouraging tourism activities, but there should not be creation of human habitation in the guise of encouraging tourists stay," he argued, pointing to examples like Madakeri town, which has over 1000 homestays.
"Anybody can imagine how much garbage and waste is generated from these homestays and resorts, which have mushroomed in these districts," he pointed out.
Nanaih urges the government to go ahead with implementation of the Gadgil Report rather than the subsequent report of the Kasturirangan Committee, which he feels has diluted the definition of eco­-sensitive zones.
Young environmentalist Raghav Poovaiah too is worried about Kodagu's environment and forests. He says the Malnad region, which forms a part of the Western Ghats, has permanent scars, with a mosaic of resorts and homestays defacing it. Not only do they desecrate the natural beauty of the landscape, they also cause a tremendous loss of biodiversity, he felt, adding that the destruction of natural habitats obstructs the free movement of wildlife, with 70 percent of India's tigers living in the forests of Western Ghats, particularly in the forests of Mysuru and Kodagu.
"These habitat changes will lead to intensified man-animal conflict over a period of time," said Poovaiah. "Resorts also blatantly divert streams for their water use, not only affecting wildlife, but also people living downstream."
One major concern is the flow of Cauvery water, which is obstructed when streams are diverted. Most of the resorts either block or divert the flow of fresh water streams — which flow through Cauvery — on the higher reaches of the hills, to meet their commercial needs. Thereby fresh water ecosystem is increasingly being affected, he said. Reduced water flow will alter the vegetation type downstream and reduce water availability for agriculture and basic sustenance of people's livelihood, Poovaiah pointed out.
Water pollution due to increased human activities and clearance of coffee estates and grasslands by both public and private lands to build resorts are altering the land use pattern. Bad tourism practices have already altered habitats, disturbed local wildlife, depleted water sources, and caused noise and water pollution.
Poovaiah asked why is Malnad facing a drought for the first time in recent history, forcing the river Cauvery — a perennial river — to dry up. "Drought in Malnad and Kodagu is particularly a situation never witnessed by the people here. It is the result of all these anti­­‑forest, anti‑­­environment activities," he said.
Politicians though appear to be insensitive to this "aranya rodhana" (forest cry) of the people in general and CWS in particular.
One such politician is BJP legislator Appachu Ranjan, from Kodagu's Virajpet constituency. Speaking to Firstpost, he dubbed any effort to protect Cauvery and Kodagu by various groups as "anti­­‑people" and "anti-development". He alleged that "these people" (CWS, led by Colonel Muthanna) who lead a luxurious life in cities and coffee estates, do not want the poor to develop economically.
"I want to ask these people how they felled timber trees on their estates and sold in open market?" he said, terming those demanding implementation of Gadgil and Kasturirangan reports as "pseudo‑environmentalist naturalists". "I will not allow government to implement any report which affects the villages and small human habitations where only poor labourers live," he declared and said Kasturirangan Report has faltered on many issues.
The Karnataka government last month rejected the recommendations of the Kasturirangan Report. "We have unanimously received resolutions from 1,776 villages and gram panchayats that fall under the ESZ category of Kasturirangan Report, and they don't want the recommendations to be implemented. The cabinet has hence decided to reject recommendations to add further areas into the ESZ category. We will ask the Centre to drop the panel's recommendations," state law minister TB Jayachandra told the media recently.
But the CWS wants to widen its struggle and create more awareness. "First we want to create awareness among people in the Cauvery delta and cities on the seriousness of the problem and then spread the agitation to these non‑­Kodagu areas and plain lands. Now we have made a beginning and we will not stop, as it is a life and death question for people in Kodagu and Cauvery delta," Machaiah added. "It is now or never situation for the survival of Kodagu, and the Cauvery river."
Previous articles part of our drought series:
Part 1: Urbanisation demands see hills sacrificed to whims of mining, industry lobbies
Part 2: How deforestation saved ecologically-sensitive hills in Kerala
Part 3: Ambulance service supplies water to 700 families in Kerala's Kottayam
Part 4: In Kerala's Wayanad, acute water scarcity leading to man-animal conflict
Find latest and upcoming tech gadgets online on Tech2 Gadgets. Get technology news, gadgets reviews & ratings. Popular gadgets including laptop, tablet and mobile specifications, features, prices, comparison.
India
In a video posted on YouTube, Indira Arjun said that the trap is made up of old and used tyres and it destroys the eggs of mosquitoes that transmit dengue, chikungunya, zika virus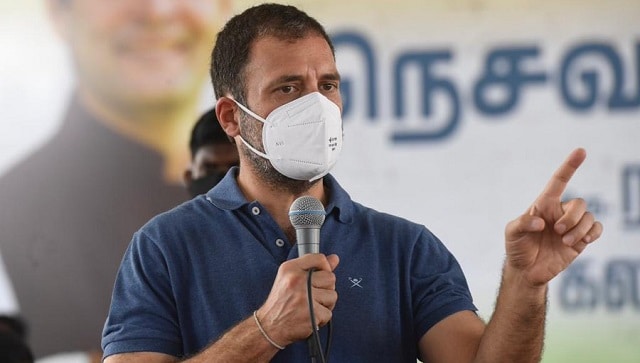 Politics
Addressing meetings in Tamil Nadu's Tirupur and Erode, Rahul also accused the BJP of trying to impose one culture and one language on people and relegate Tamil to a 'second class place'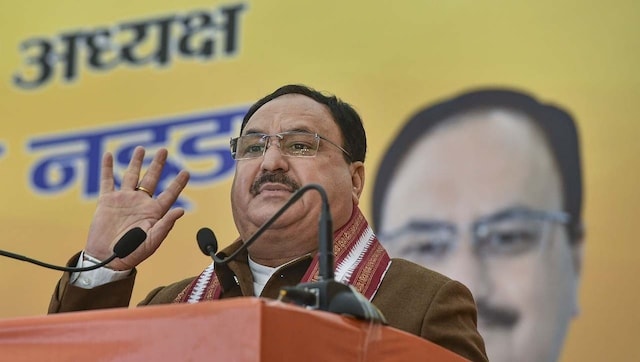 India
The BJP chief also listed the Centre's various measures for the state including sanctioning of an AIIMS in Madurai and the Chennai-Bengaluru defence corridor