Doka La border standoff: Disengagement not the end; India must not let its guard down
The Doka La withdrawal has been good, but it should not be seen as a military or political triumph for India.
Where the Chinese are concerned, there is nothing to gloat about. The way the mutual withdrawal in Doka La is being played out in India – which is being hailed as a victory by many – is hugely short-sighted and smacks of a misplaced sense of entitlement. India made the same mistake in 1962 and rued it for decades after.
There is no cause for such excitement and nothing really has happened to warrant these whoops. If there has been a withdrawal that is good, but it should not be seen as a military or political triumph. To lower our guard and start thumbing a snoot at a neighbour who has never really been a traditional enemy is quite unnecessary.
Our chauvinism should not encourage us to take the Chinese threat off the table because we are interpreting the current end of the Doka La impasse as a heroic success for us. In fact, some of our reckless media have even shown the Chinese as the vanquished. In one such TV news broadcast, there was even a shot of the Indian queen on a chessboard knocking off the Chinese king with the face of President Xi Jingpin. Checkmate, game and match.
We need to wake up to reality. Beijing did not spend three months upping the ante in Doka La and spending all that money to maintain its troop upsurge for fun. It had a specific purpose and whatever that was it has not gone away. It could have been a move to establish a fifth column in Bhutan and Sikkim for exploitation at a later stage. Perhaps to test India's resolve or even assess the mindset of the 44 million people residing in the North East. By that token, it was an opportunity to check out India's military strength and get a close look at the terrain.
It would be incredibly naïve of us if we saw the present situation as a sign of Chinese surrender. All this 'Hindi Chini bhai-bhai' stuff we are seeing could well be exceedingly temporary and being done to generate an amenable atmosphere for the BRICS summit at Fujian four days from now.
Prime Minister Narendra Modi will be participating and the Chinese are canny enough to keep it all 'hail fellow well met' because their rhetoric in the run up is still mildly threatening.
Their Foreign Office spokesperson Hua Chunying went on record on Tuesday, saying, "We hope that India will respect China's sovereignty and rightful concerns and work towards a peaceful settlement."
These are still fighting words and indicate a certain ongoing ambiguity in the Chinese decision to build a road in Doka La. Dressing itself up as a peacenik for the world to see prior to BRICS is not comforting.
Rather, India kept its guard up even more and went by the statement made a day earlier by a PLO Colonel Wu Quian, who said: "China's military will remain vigilant and firmly defend its national territory."
All this, while the media in India is talking about how we won the war. What war, it hasn't even begun yet.
Sports
Bhavani Devi began her campaign with a confident 15-3 win against Tunisia's Nadia Ben Azizi but bumped into Rio Olympics semi-finalist Frenchwoman Brunet in the next round, which she lost 7-15.
India
The leaders voiced their support towards spreading awareness about the ongoing vaccination drive and provided their ideas and suggestions for preventing the third wave, as per the PMO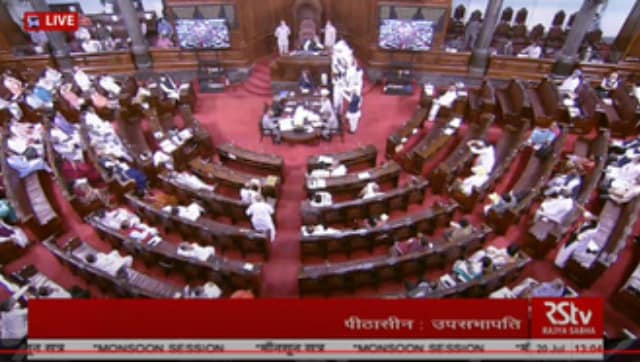 Politics
Sen was suspended from the Rajya Sabha for the remaining period of the Monsoon Session after a motion moved by the government was passed by the House