Digvijaya Singh's 'victimhood' narrative is exactly the excuse Islamic State is looking for
Apart from needless confusion created within India's security establishment on Islamic State's role in India, Digvijaya Singh is now justifying terrorism.
In the battle against a highly evolved terror outfit like the Islamic State (IS), we cannot afford to make the kind of mistakes that followed a blast in a Bhopal-Ujjain passenger train on Wednesday, carried out by an alleged IS-influenced home-grown terror group.
Apart from the needless confusion created by contradicting voices within India's security establishment, over whether the radicalised youths were "really" linked with IS, we now have a seasoned politician like Digvijaya Singh justifying terrorism, by floating obscurantist theories about the 'causes' of radicalisation.
If the first reaction reveals stunning ignorance about IS and how its infectious ideology proliferates across the globe, the second is a cynical attempt to fish in the troubled waters of Indian politics.
In an interview with Times Now, the senior Congress leader "requested" the BJP-led government not to 'alienate Muslims in the country' and put forth a problematic causal relationship between victimhood and radicalisation – a narrative that IS has exploited to the hilt while furthering its hateful ideology.
To say that "Indians will get attracted to Pakistan and Islamic State if equal opportunity is not given to Muslim youth" is a strikingly derisive remark to make, as it hands on a platter to IS exactly the kind of justification it needs to spread its agenda.
But that's not all. A report in Times of India quoted Singh as saying that "injustice to Muslims" was making IS "attractive". Blaming the BJP government at the Centre for IS's rise in India, the senior Congress leader said: "Continuous persecution and injustice to Muslims will make Pakistan's wish to create unrest in India attractive. They have to be given a sense of belonging and confidence that everyone is equal."
Singh is a former chief minister of Madhya Pradesh. As the once holder of a high Constitutional office, one expects a little more circumspection from him. There is a space and time for politics. This is not it. By using IS as a political motif, Singh is playing with fire, forcing upon a multi-cultural, multi-faith, heterogeneous nation like India a risk it cannot afford to take.
His comments forced author Taslima Nasreen, who has been a victim of intolerance that is the sine qua non of IS ideology, to post on social media:
An Indian politician said 'injustice to Muslims making Islamic State attractive'!  Why is it necessary for politicians to justify terrorism?

— taslima nasreen (@taslimanasreen) March 9, 2017
The very day that Singh made his ridiculous remark, IS operatives disguised as medical staff entered a military hospital in Kabul and blew themselves up in a suicide attack, killing at least 38 and injuring dozens others.
This IS strike follows a November attack at Lal Shahbaz Qalandar shrine in Pakistan's Sehwan, when more than 80 were butchered and another ambush on a relief convoy in Afghanistan that immediately killed six Red Cross employees.
The question to Singh is, were these IS operatives in Afghanistan and Pakistan, too, victims of 'discrimination against Muslims'?
Despite a global, multi-nation pushback against IS, that involves on-the-ground military action, anti-propaganda measures, cyber warfare, excommunication and other ideological countermeasures, its ideology has proven to be extremely resilient and hard to invalidate.
As a report in The Economist points out, since last September, a US-led coalition killed around 15,000 IS fighters and nearly pushed them out of their territorial strongholds, and yet "estimates of the group's force have grown in the same period from around 20,000-30,000 soldiers to as many as 70,000, including 15,000-20,000 foreigners."
These 'foreigners' would be a motley crew of youth driven towards Islamic State ideology from all across the globe, including developed European nations. Were Singh's 'theory' true, we would have to say that Muslims all around the globe are being 'victimised'. This is exactly the message that IS wishes to disseminate.
The above-mentioned report also quotes Charlie Winter of the Quilliam Foundation (a London-based think tank at the forefront of anti-Islamist propaganda, founded by ex-extremist Maajid Nawaz) as saying that apart from violence, IS feeds on a range of tropes including "mercy, victimhood, belonging and Utopianism in addition to war and murder."
Islamic State uses themes like victimhood narrative as a cover to justify its actions and simultaneously extends its appeal. Columnist Ben Shapiro writes in Counter Jihad Report, "If they (IS operatives) weren't victims, why would they kill innocents? This cyclical thought process works this way: claim Islamophobia as a rationale for terrorist backlash, then use every sign of backlash against terrorism to reinforce the Islamophobia narrative."
At the other end of the spectrum, the contradicting statements of various Indian security agencies on whether the radicalised youths had "real" links with IS is a red herring that will lead us nowhere.
As many recent studies have shown, as more and more nations increase their border vigil and scrutinise harder their ports of entry to keep out radicalised youths, Islamic State has started discouraging its followers to travel to their 'Caliphate'.
Instead, it disseminates literature through encrypted social media channels, produces sleek propaganda videos and induces the kind of 'self-radicalisation' that has been witnessed in Saifullah. 'Self-radicalisation' itself is a problematic concept in this context.
Based on documentary evidence, a report in Indian Express points clearly to the fact that Saifullah was "was appointed military head of a terror group inspired by the organisation (IS) over a year ago".
The alleged member of the so-called Khorasan module was found dead with an Islamic State flag and bomb-making manuals and raw materials around him. This clearly points to IS-induced radicalisation. Whether he was actively wooed by an IS operative (NIA claims he was) or became 'self-radicalised' is of academic interest.
The point is that he became infected by the IS ideology to the extent that he launched a terror strike and chose to commit suicide instead of surrendering to security forces. Instead of fruitless debates, we should recognise the danger and look for ways to counter it.
World
Worried about the threat Ahamed Aathil Samsudeen posed, police had been trying to deport him for years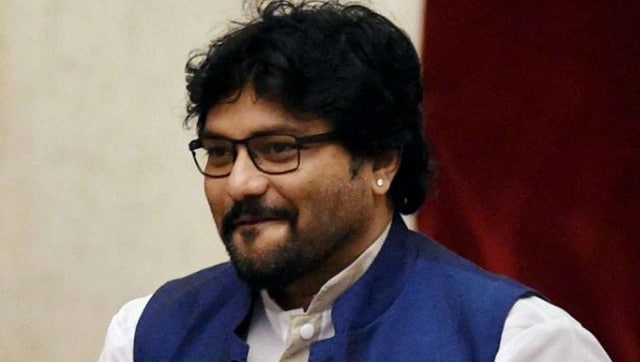 India
Supriyo, who joined the Trinamool Congress last week, said that his view on the matter may not have been liked by the BJP's top brass.
World
al-Sahrawi's group has been blamed for killing US and French troops in the troubled Sahel region