Demonetisation impact: Vegetables, fruits trade halves in Mumbai
Business at the market has gone down to 30-40 percent on a conservative estimate; traders feel it will take at least six months for normalcy to return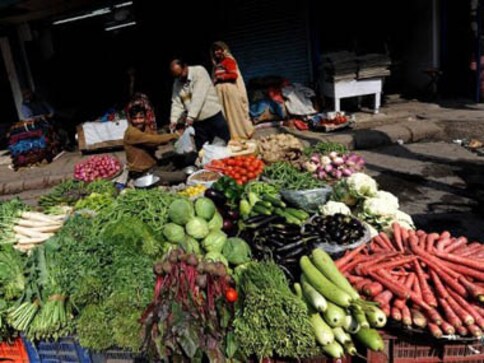 It is a market that at the best of days sees flurry of business activity with no time for even a small talk with anyone. Now that rush has slowed down considerably. The vegetable market in Vashi (formerly the APMC market) is slowly picking up though losses have mounted due to demonetisation of Rs 500 and Rs 1,000 notes and traders left with no small notes to give in place of the annulled notes.
Riaz Mohammad Hussain, who has been an onion and potato wholesaler and running his family business for around 50 years, is hoping that the market turns around the corner soon and the hustle and bustle returns. "We have given credit to people but mostly the buyers are giving us old notes. We don't take any of these annulled notes," he says.
To get a clear picture of the business, consider this: Hussain normally sells 500 bags of potatoes and onion daily which has now come down to just 50 bags daily due to the unavailability of new currency notes from banks. Onions are being sold at Rs 8 a kg in the wholesale market and are not finding buyers at the price due to lack of currency denominations that will be accepted by the dealers.
The Modi government's decision, announced on 8 November, to replace Rs 500 and Rs 1,000 denomination currency with new ones post midnight took people by surprise. The government has said the move is aimed at tackling black money, fake currencies and corruption. In his address on television, the PM said the notes of Rs 500 and Rs 1,000 "will not be legal tender from midnight tonight" and these will be "just worthless piece of paper." The Rs 500 and Rs 1,000 notes constituted 86 percent of the value of the total currency in circulation.
Though everyone welcomed the move, the subsequent cash drought in ATMs and bank branches, has caused panic among the public at large.
Shortage of new currency notes
From a daily run of 1500 trucks carrying fruits and vegetable, the number has come down to 1000 at the Vashi market. There are around 4000 traders – license holders and unlicensed – at Vashi. Each trader would need at least 1 truck-load of either fruits or vegetables. Each truck carries around 10 tons of fruits or vegetables at an estimated price of Rs 2 lakhs.
"The traders don't have new currency notes to give the farmers in exchange for goods. We cannot sell the produce to dealers on the annulled notes as that would mean a huge problem for us," says Ashok Hande, chairman, fruits and traders association, Vashi.
Some fruits like apples can be stored for some days but the issue is now the store rooms in the market are full. "We have told farmers not to send their produce to the market anymore. Of the 1000 trucks that come daily, 100 trucks with produce goes waste – either the fruits and vegetables rot because there are no takers on account of the cash crisis due to demonetisation," he says.
Hande estimates that each vegetable and fruit market in the city would be suffering around Rs 8-10 crore loss daily. "This would go up to Rs 3-4 crore in Pune and around Rs 5-7 core in Nagpur and much higher at around Rs 20 crore in Delhi. This is a national waste," he says.
The traders say that the restricted money available from the banks are not helping them either. PM Modi had said people holding notes of Rs 500 and Rs 1,000 can deposit the same in their bank and in post office accounts from 10 November until 30 December. The government had initially said customers can exchange up to Rs 4,000 of their old currency notes at the banks. This later increased to Rs 4,500 only to be cut to Rs 2,000 on Thursday. Similarly, ATM withdrawal limit was first set at Rs 2,000, which was later increased to Rs 2,500.
Even after 10 days post-demonetisation, the ATMs and bank branches are struggling to meet the panic-driven cash demand from regular customers. Part of the reason for the cash drought is that people are hoarding money anticipating difficult days ahead. To understand the picture, one needs to look at only State Bank of India alone, the country's largest lender by assets, which saw withdrawals to the tune of Rs 18,665 crore, Rs 5,776 crore in exchange of old currency notes and deposits of Rs 1.14 lakh crore up to 16 November.
The farmers who send their produce through middle men to the Vashi market have been most hit, says Ashok Walunj, a trader of onions and potatoes and former director, APMC. "The dealers have the annulled notes which we cannot accept and hence the produce that is now coming to the market is in far lesser quantities," he said, adding that even if a trader wants to change Rs 2,000 denomination notes, there are no takers. "No one has the time or space to run around looking for change," he says exasperation seeping through his voice.
Lack of planning
The government's move to flush out black money is ambitious, the traders said. Their complaints against the government is like the rest of India that points to 'lack of planning' on the part of the government. "India is not Canada or the US where online transactions are a way of life," said Tajli, a wholesale vegetable vendor. "People here will use the latest Android phone but be wary of using the computer," he said.
Balkrishna Shinde, fruit trader at Vashi would have a daily turnover of Rs 8-10 lakhs before the demonetisation was announced. Now, he says, he is struggling to make Rs 1,000 daily. "No one has the new currency notes to trade in for goods and the old notes cannot be accepted either," he says.
Businesses trade in lakhs at the market and the Modi government issuing restricted amount of Rs 2000 notes and Rs 100 notes in short supply has hit them hard. Business in the market has gone down to 30-40 percent on a conservative estimate but traders are furious at the lack of business only because of the lack of currency notes in the denominations that can be used as legal tender. "When the government can have an entire machinery in place for voting – schools, municipal schools, etc – to conduct elections or make Adhaar cards, could they not have done the same by deploying bank managers and staff to dispense the money that is rightfully theirs?" asks Hussain. It is not the traders at APMC or the dealers who are suffering but the farmers whose produce is not being sold and are rotting due to lack of buyers because of lack of legal tender, he pointed out.
Tajli points out that the traders have to pay interest to the banks. "We still have to pay it. But there are no mathadi workers to be found here to load and unload the sacks of vegetables from trucks. No one has new currency to pay daily wages. He says that the situation is slowly limping back to normalcy with new currency notes. "However it will be at least six months before the business can go back to the pre-monetisation phase," he said.
While hoping that the government may step up efforts to bring in normalcy on the currency front in the coming days, other trader community at APMC are keeping their fingers crossed, although deep inside they know it will take at least four to six months before business gets back to normalcy.
Data support from Kishor Kadam
India
Thangavel, a former agriculture union organiser for the party, demonstrated in front of their office in Thalaiyur, close to Mettur on Saturday morning
World
Once a secure messaging app prized by underworld drug barons, Sky ECC has now brought many to their downfall. From torture to murders, the Sky ECC investigation has pushed some of Europe's darkest corners into the limelight