Demonetisation: Chaos near banks leads to law and order problems in parts of country
Chaos in the country because of the demonetisation has led to law and order problems in parts of the nation.
The ongoing chaos because of the demonetisation drive has led to law and order problems in parts of the country.
Over a hundred people were booked for pelting stones and clashing with the employees of a bank in Sujru village in Uttar Pradesh over exchanging of old currency notes, police said on Sunday.
Three persons sustained injuries in the clash that broke out after cash-strapped people gathered outside the bank, to exchange the now defunct Rs 500 and Rs 1,000 notes after the Centre's demonetisation move, turned violent, they said.
Police reached the spot and dispersed the angry mob. A case has been registered against more than a hundred people in this connection, a police official said.
Home Minister Rajnath Singh also called the chief ministers of at least ten states to review the law and order situation, according to The Hindu.
Two elderly men standing in seemingly unending queues at banks suffered heart attack and died in a tragic fallout of demonetisation of high-value currency notes as hassled people continued to descend on ATMs and banks in droves leading to arguments and scuffles.
A 69-year-old man died in Madhya Pradesh's Sagar town after suffering a heart attack while standing in a queue to exchange demonetised currency notes outside a bank, police said.
Another report of such death was received from Limdi town of Surendranagar district in Gujarat where a 69-year-old man died after heart attack. Mansukh Darji was standing in a queue outside a Bank of India branch in Limbdi when he suddenly collapsed.
Over 12,000 Delhi police, Rapid Action Force and paramilitary personnel were deployed on Sunday to maintain law and order as a large number of people queued up to withdraw money or get their notes exchanged at various banks and ATMs.
Owing to a Sunday, there was more crowd outside banks and ATMs, and personnel of Delhi police, RAF and paramilitary forces were ensuring that people stay in queues and maintain law and order, a Delhi police official said.
"More than 12,000 personnel of Delhi police were manning banks and ATMs across the city. They were ensuring that people stay in queues. We are committed to maintain law and order in the city," Delhi police spokesperson Rajan Bhagat said.
Police control room received several calls from people complaining about they being jostled in the queue, ATMs running out of cash and overcrowding in the banks. Police also issued an advisory on its Twitter handle, asking people not to believe on rumours, related to withdrawal of money and demonetised notes, spreading thick and fast.
It kept an eye on social media to identify the rumour mills.
With inputs from PTI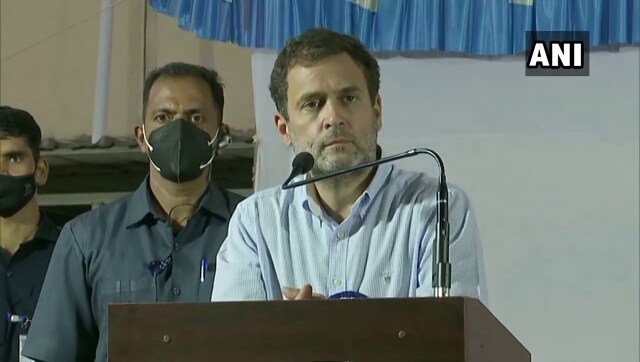 India
Earlier, taking to Twitter, Gandhi posted, "Jo nafrat kare, woh yogi kaisa! (What kind of a Yogi propagates hate)."
India
Prime Minister Narendra Modi on Tuesday laid the foundation stone of Raja Mahendra Pratap Singh State University in Aligarh
India
States are being asked to maintain a buffer stock for drugs used in management of COVID-19, mucormycosis, MIS-C at the district level