Delhi's toxic smog may be back: Experts say merely staying indoors may not protect people from pollution
Many residents have decided to stay indoors to avoid the toxic air outside. But experts say that this might not help as India's homes are not insulated to prevent outdoor air.
Weather analysts warn that there could be a return of a smog-like situation in Delhi towards 25 November. Many residents have decided to stay indoors to avoid the toxic air outside. But experts say that this might not help as India's homes are not insulated to prevent outdoor air from causing air pollution indoors.
Analysts have been quoted as saying that stubble burning has almost doubled in the last two days in Punjab and Haryana, according to satellite images. Due to low-speed northwesterly winds entering the national capital from these states, the national capital and the surrounding regions are likely to become more polluted.
Soon after the warning ,the Delhi government is reported to have came up with a health advisory suggesting parents to restrict outdoor activities of the children.
Many in Delhi plan to follow the health advisory.
"The government has advised people to stay indoors to avoid pollution in the air outside. My family followed a similar advisory issued by the government two weeks back when the city was covered with smog. We have decided to follow it again and have collected all the necessary items for a few days, so that we do not have to venture out," said Shruti Singh, a resident of Karol Bagh.
But experts have a different take about the pollution level indoors, which according to them is no less toxic.
According to Dharmendra Pandey, an environmental activist and a former scientist with the Central Pollution Control Board, indoor pollution is more dangerous than the outdoors.
"Though there is no study conducted by the Government of India, it is believed that presence of particulate matter is higher indoors than outdoors," he said.
Noted medical journal Lancet published a survey, the results of which showed that indoor air pollution was linked to over 1.24 lakh deaths across India in 2015, reported Hindustan Times.
The reason for household pollution is attributed to the use of polluting fuels used in households.
Household pollution in India (especially rural areas) is caused by the use of polluting fuel sources such as wood, charcoal and animal dung.
Experts say that although the majority of households in Delhi do not use these fuels, indoor pollution is quite high, because of outdoor pollution which affects the indoor air quality.
Rajat Rai Handa, a member of Chintan, an environmental NGO based in Delhi, said to Firstpost that in many cases, it is found that the difference in outdoor and indoor air quality is very low in Delhi.
"The air quality index indoors is merely 50 to 150 lower than the outdoor one. The reason of high air pollution indoors is that our homes are not built like European homes where one can shut oneself down," he said.
Most of the Indian homes are not insulated and hence people cannot prevent themselves from being affected by the air quality level outside merely by shutting the doors and windows.
Contrary to the government's advice to citizens to stay inside, experts believe that shutting oneself inside may be harmful as indoor sources of pollution add to the toxicity in the air which is already affected by the air quality level outside.
Polash Chatterjee an expert in Centre for Science and Environment said to Firstpost that the indoor air quality is likely to go down if the house is shut down. "If the doors are closed, it may more carbon dioxide and carbon monoxide in the air, which may cause suffocation and lethargy," he said.
No wonder citizens who tried to shut themselves in during smoggy days in Delhi complained of breathlessness.
"I tried to shut down myself in my home, but I was compelled to open the doors as I felt suffocated," said Ashok Agarwal, a resident in Delhi-NCR.
Dharmendra Pandey said that though the use of polluting fuels is limited in Delhi, kitchens still produce gases which pollute the air. "Even though we use LPG or microwave for cooking purposes, we still produce gases which push the level of air pollution indoor up," he said.
He further added that use of leaded paints in household is another factor that causes pollution.
Experts say that apart from particulate matter, what aggravates pollution in households is the presence of toxic gaseous substances.
Amul S Bahl an official in a company named 'God's own store' that has recently launched a spray christened as 'Whiff' to bring down the air pollution level, said that Formaldehyde and Volatile Organic Compound are two kinds of such gases.
"We understand air quality in terms of the particulate matter present in the atmosphere. We have been taught that if the amount of particulate matter is high in the air than the air is foul. But the presence of Formaldehyde and volatile organic compounds (VOCs) also equally affect our health," he said. He also added that VOCs are important in the creation of smog. Their health effects include eye, nose, and throat irritation; headaches, loss of coordination, nausea; and damage to the liver, kidney, and the central nervous system.
"Some organics can cause cancer in animals; some are suspected or known to cause cancer in humans. (VOCs) are emitted as gases from certain solids or liquids. VOCs include a variety of chemicals, some of which may have short and long-term adverse health affects," he said.
Concentrations of many VOCs are consistently higher indoors (up to ten times higher) than outdoors. VOCs are emitted by a wide array of products, which number in the thousands.
Formaldehyde may cause occupational asthma, Bahl says. People with pre-existing respiratory problems or other chronic illness are more sensitive to formaldehyde exposure.
Experts say that though it is considered safe to stay indoors during smog, it is subject to a few conditions.
"It is safer indoors only if there is an air purifier installed. But the cost of installing an air purifier is high and many cannot afford it," said Rajat Rai Handa.
Many experts consider keeping some plants indoors as a solution. "Aloe-vera and money plant are two such types of plants," says Dharmendra Pandey. He adds that though these plants do not decrease pollution, they maintain the level of oxygen indoors which should not be less than 21%.
"Apart from it, the dust particles that settle on the leaves of these plants stick to them, which helps keep the air cleaner," he adds. He further advises that households must ensure that air pollution in kitchens is ventilated out of the home and does not mix with the air in the other rooms. He also said that unleaded paints only should be used to avoid indoor pollution.
India
No respite for Delhi as moderate rains are expected to lash the city later in the day. The IMD has already issued a yellow and an orange alert for 1 and 2 August respectively.
India
The DMRC, till Sunday, was running trains with 50 percent seating capacity since 7 June when the services had resumed after a long hiatus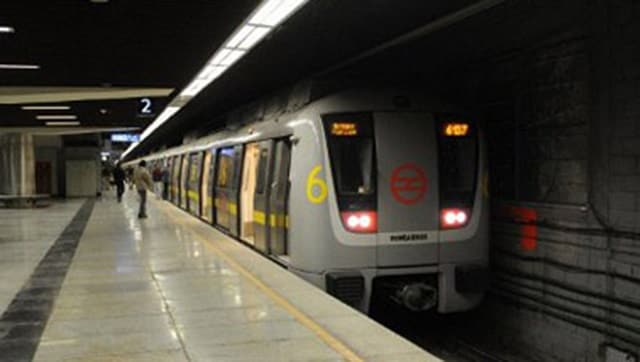 India
With improvement in COVID-19 situation, the Delhi government has allowed multiplexes, restaurants and bars to function with 50% capacity. Weddings can be attended by a maximum of 100 people