Delhi stung by chikungunya, dengue: Cases shoot up to 423 and 487 in August
Pointing to a massive surge in vector-borne diseases in Delhi, chikungunya and dengue cases in the national capital have shot up to 423 and 487 respectively.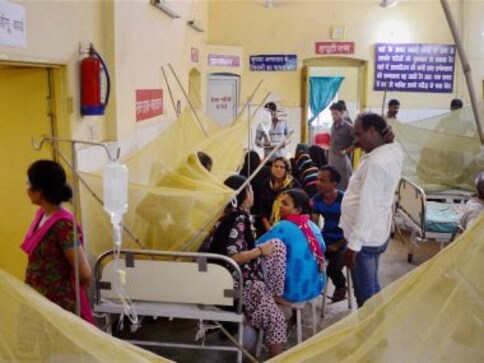 New Delhi: Pointing to a massive surge in vector-borne diseases in the national capital, chikungunya and dengue cases in the city have shot up to 423 and 487 respectively. According to report released by the civic authorities 423 chikungunya cases were diagnosed in Delhi till 27 August, while 368 out of the 487 dengue cases were recorded in August.
Safdarjung Hospital has reported nearly 250 chikungunya cases till 29 August.
"chikungunya cases have spiked in the city. We are getting more and more patients with its symptoms. Till 29 August, our hospital has reported 246 cases," Medical Superintendent of Safdarjung Hospital A K Rai told PTI.
Three hundred and eleven dengue cases have been reported till 20 August, while 176 cases came to light in last week alone, marking a rise of nearly 57 per cent, said a senior official of the South Delhi Municipal Corporation, which compiles dengue report on behalf of all the civic bodies in Delhi.
An 18-year-old boy died on Sunday of dengue at Apollo Hospital in south Delhi, taking to five the number of fatalities from the disease.
"He was brought to the hospital in a critical state on 26 August. He was earlier admitted to some private hospital in south Delhi area and later referred to Apollo Hospital. He died of dengue shock syndrome," a hospital source said.
At the AIIMS laboratories, which get blood samples from Delhi and other parts of the country, 362 samples were tested positive for chikungunya during July to 20 August.
"Out of 133 samples sent to our labs, 83 were tested positive in July and this month till 20 August, out of 502 samples, 279 tested positive for chikungunya," Department of Microbiology at AIIMS, Lalit Dar, had earlier said.
The South Delhi Municipal Corporation (SDMC) which compiles the vector-borne disease cases report on behalf of all civic bodies, had pegged the total number of cases till 20 August at 20.
chikungunya is a viral illness and its symptoms are similar to those of dengue, which include high-grade fever, severe joint pain, muscle pain and headache and joint swelling.
It also causes rashes in patients but is not a threat like dengue in which there is a risk of bleeding due to abrupt fall in platelet count.
The sudden spike in chikungunya cases in Delhi and several other parts of north India, has come nearly 10 years after a big outbreak of the mosquito-borne disease across the country.
In 2006, over 13 lakh suspected chikungunya fever cases were reported across the country, according to National Vector Borne Disease Control Programme (NVBDCP).
In 2016, till 28 July, 9,990 suspected chikungunya cases have been recorded, with Karnataka reporting 7,591 cases. dengue cases were reported rather early in 2016. The disease had claimed its first victim on 21 July when a girl from Jafrabad in northeast Delhi died at Lok Nayak Jai Prakash (LNJP) Hospital.
Doctors have advised people to keep themselves adequately hydrated and not resort to self-medication, and also to go for blood test before rushing to get admitted in hospital.
"Only in severe cases should they go for hospitalisation. Also, it is extremely important to note that platelet transfusion is only needed in dengue cases where the platelet count is less than 10,000 and there is active bleeding.
"Unnecessary platelet count can cause more harm than good. Adequate hydration is the best management approach to dengue while monitoring crucial signs," said Dr K K Aggarwal, Secretary General, Indian Medical Association.
Last year, the city saw a staggering 15,867 dengue cases— the worst in 20 years— with the disease claiming 60 lives, as per municipal reports.
Politics
Addressing a rally in Rajkot city, Arvind Kejriwal accused the BJP of "failing" on education, health and employment fronts in Gujarat during its long rule in the state
Politics
This comes a month after Bagga had been booked for his statements against Chief Minister Arvind Kejriwal over the latter's views on the movie 'The Kashmir Files'
India
There has been widespread anger in Delhi over the recent anti-encroachment drive carried out by the three BJP-led municipal corporations in several parts of the capital