Delhi pollution: In Beijing vs Delhi, national capital beats China at poorer air quality
Delhi and Beijing remains neck and neck as data says it's an equally bad place to breathe. Here is a comparison of pollution levels in the two Asian capitals.
Which is the world's most polluted capital? Do we finally beat China at it, or Beijing takes the lead and leaves New Delhi behind? As the Indian capital gasps under thick blanket of smog, the debate around air pollution inadvertently and unfortunately almost always wavers off into an Delhi versus Beijing race.
Smog-ridden Beijing, often dubbed 'Greyjing' for its sickly air quality and thick blanket of smog, is arguably one of the world's most polluted city. However Delhi and Beijing remains neck and neck as data says it's an equally bad place to breathe. As toxic fog smothers the Indian capital since past few days, India may have finally managed to beat China at it as the two Asian capitals catch-up to be every bit as chocking as the other.
What does the data say?
According to the real time coverage data given out by aqicn.org, a website that tracks air quality in major cities across the world, New Delhi far precedes Beijing when it comes to poor air quality. On Monday, while aqicn.org ranked Beijing at 25 (Good) in its Air Quality Index, Delhi's map was awash in deep red, and purple flags. The Indian capital was ranked at 552 (Hazardous) in deep red letters. The level of Particulate matter 2.5 (PM 2.5) was especially alarming as it soared up to 999 during the day.
Another data driven website, numbeo.com, draws a parallel between the air pollution levels in two Asian capital, and finds them neck and neck. While Beijing is ranked 95.28, Delhi trails close behind at 93.16. However, Delhi easily overtakes Beijing with alarmingly high level of PM 2.5 and PM 10. According to WHO (World Health Organisation) PM10 level in New Delhi is 229 while in Beijing it is 108. Similarly, PM 2.5 also remains high in Delhi at 122 while Beijing fares slightly well at 85.
According to Reuters, The US embassy in New Delhi also said that the city's its air pollution index had late on Sunday breached the "hazardous" level upper limit of 500, at which it stops measuring levels of PM2.5. The index had rocketed to 1,126 by 2 am.
What makes matters worse is the fact that particulate matter is considered one of the most dangerous pollutants as it lodges deep inside the lungs — much further than larger pollution particles — seriously increasing the prevalence of respiratory diseases and the risk of lung cancer.
However, this is not the first time, that Delhi and Beijing have been neck and neck, where air pollution is concerned. According to this report in Hindustan Times from December, 2015, reported that Delhi's air quality was one-and-a-half time worse than Beijing. "The WHO data reveal that Delhi has the world's worst air pollution with the highest PM 2.5 concentration levels among cities. Beijing, by comparison, is not even in the top 50 cities by air pollution," the report reads.
Another article published in The Wall Street Journal, also reports that all 122 Indian cities covered in a WHO survey on world air pollution levels breached at least one of the WHO safety levels with, Raipur and Gwalior topping the list with almost 15 times higher particulate matter levels than is considered safe. Delhi too was well above Beijing in the list. But the Indian government, faced with alarming reports was quick to point out that the study didn't offer a fair comparison between the two cities as both report data differently. Although this article in The Wall Street Journal allows that pollution reporting can vary widely depending on where and when it is done, it points out that the Indian government's attempt to find fault with WHO report hardly sounded as the best strategy towards clearer skies and healthier lungs.
China's tackling better than India
An article titled Why does Beijing value its citizens more than Delhi? published in Down to Earth reports that while China issues various levels of alert to its citizens as soon as PM 2.5 level crosses the mark of 390, there have been instances in Delhi when levels have rocketed to above 1000 while a public marathon was being held.  The report states that while for most countries such high levels of particulate matter would mean shutting down schools and industrial units and issuing a health warning, in December last year only when PM2.5 spiked up there was no warning issued by the Indian government.
Beijing in general have been more efficient in creating awareness and taking effective measure against the crisis. Another report in Hindustan Times reports that this year Beijing has successfully removed  3.4 lakh vehicles older than 10 years, cutting down on 40,000 tonnes of pollutants. India, on the other hand is still struggling to enforce a ban on diesel vehicles as the supreme court lifted the ban and instead directed to levy an environmental compensation cost. The Hindustan Times report states that a similar policy to take old vehicles off the road in India is still awaiting Centre's nod.
Also, China frequently uses cloud seeding technology to induce artificial rainfall, which helps clear up the air. Beijing has also offered the technology to India in June this year to help the drought hit Marthawada region in Maharashtra.
The current crisis
Delhi's air quality generally worsens with the onset of autumn, particularly after Diwali when millions of revellers let off heavily polluting firecrackers. But this year's change has been particularly dramatic, with the American embassy reporting hazardous pollution levels for several days running.
The city saw an unprecedented decline it's air quality in the past few days, as Delhiites awoke on Monday to a thick veil of smog enshrouding the city and the situation has remained as such for the last few days. Levels of particulate matter - PM 2.5 and PM 10 - breached the maximum level of 500 across the national capital post Diwali. The safe limits of these microscopic particles are 60 and 100 micrograms per cubic metre respectively.
Drivers crawled through a thick fog as experts warned people to avoid outdoor exertion as levels of PM 2.5, more than doubled within a few hours to 750 micrograms per cubic meter in the city's worst affected parts, according to India's Central Pollution Control Board.
Meanwhile, a rise in the number of cases of allergic and breathing ailments was recorded in the city as experts and doctors said that besides spike in fresh cases, health complications have aggravated in people having a history of asthma, allergy or other related ailments.
"We are seeing a rise of 60-70 percent in ailment cases related to pollution. Breathlessness, asthma, eye and skin allergies case have jumped. We are getting patients as young as a two-month-old baby who had bronchiolitis," says Dr Rahul Nagpal, Director and Head, Pediatrics, at Fortis Hospital in Vasant Kunj. Cases of asthma and allergy have also doubled at various hospitals, with doctors saying cases of coughing, sneezing, and eye and skin allergy, prompting the government to adopt a slew of emergency measures, which includes sprinkling of water and large scale vaccum cleaning on the city roads.
Find latest and upcoming tech gadgets online on Tech2 Gadgets. Get technology news, gadgets reviews & ratings. Popular gadgets including laptop, tablet and mobile specifications, features, prices, comparison.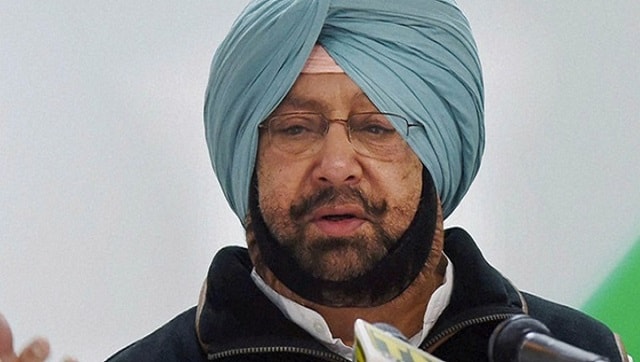 India
The Punjab CM said his Delhi counterpart's demand was nothing but a 'political gimmick' aimed at regaining AAP's lost foothold in the state
India
Chief Minister Arvind Kejriwal said the move will help the National Capital's economy recover from the pressures of the coronavirus pandemic
India
Hussain alleged that the Delhi Police didn't furnish information on a sixth FIR filed against him, and only gave details of 5 cases