Delhi braveheart's friend speaks: I am shunned by politicians
He is broke, traumatised and still in great pain. But the politicians who were 'outraged' by the Delhi gang rape refuse to meet him, return his calls, or offer any moral or financial support.
The lonely struggle of the 28-year-old engineer who witnessed the brutal gang-rape of his friend and was violently assaulted in the headline-grabbing tragedy is a cruel reminder of the shocking insensitivity of our leaders and their hollow promises of change.
The young professional has spent all his savings on his medical treatment for injuries, and has had to go on leave without pay. Not only have the ministers and political leaders — who were so outraged about the crime — offered little moral or financial support, he is shunned and ignored when he tries to meet them. "They don't even receive my calls anymore," he says.
Focused on getting justice for his friend, who succumbed to her injuries, he feels betrayed by the system all over again. From being victim of a horrifying crime, he's now become just another witness in an ongoing case, with protestors off the streets and politicians back to playing politics.
Firstpost spoke to the friend about his current state of mind, his continuing struggle for justice, and his disappointment over how little has changed on the ground. Here are some excerpts from the interview:
Firstpost: It has been more two months since the incident. How are you coping?
Everyone knows about the case by now. The incident that happened with us was beyond imagination. No one could have imagined that one human being was capable doing such things to another. But we lived through it. We faced it.
We were presumed dead when we were thrown off the bus. And my friend is no longer with us because of that incident. But what is happening since is even more painful.
On that day that we were attacked, everything failed us, right from the autowallahs. Even now when I go to the market, the situation is the same. The other day, it was 8.30 pm, and the autos refused to take me. So I approached a policeman. I don't know if he recognised me but he hailed an auto for me. But then the driver refused to go by the meter and kept abusing the policeman throughout. He was not happy. What if it was a girl in the same situation? Anything can still happen.
What I'm most sad about is the lack of accessibility to our ministers and politicians. When journalists go to them, they say a lot of things. But when you go to them as an aam admi, there is no response. The soles of my shoes are worn out from the number of trips I have made to the government offices.
It has been two months since the incident happened. I have faced a lot of problems as a result of this incident. My finances are badly affected. I have received no help. No one has come to meet me, not even ask me how I am. So I tried to reach out to them, but they don't even respond to my calls.
Luckily, I am educated. I have a good education, thanks to my parents. I'm aware. I've lived in Delhi for some years now. Someone who is not as capable as I am, imagine how many difficulties he would have had to face.
How would one feel if a politician keeps making appointments and doesn't meet. So much time and money gets wasted in the process. These are things that sadden me the most.
I was waiting for the Parliament to start, hoping that there will be a discussion on the anti-rape ordinance. I read a statement recently by Krishna Tirath where she talked about the percentage of crimes by committed juveniles and how it was very small. Our leaders are still not thinking about the issues, they are only talking about numbers.
Politicians don't listen, they don't want to meet us. How would you feel if a politician used you for his own political benefit, if he said he would help you but that you'd have to make certain statements to the media first.
Right now, my first priority is to get justice for my friend. The case is going on. And I don't want to jeapordise that at any cost. Whatever I say nowadays gets noticed. I don't want to get sucked into a political blame game, with politicians asking me to say things in return for favours. I don't want to be used. They tell me, say this and we will help you. But I'm focused. This case is very important to me. Whether I get support or not, I will not say anything that will go against the case.
The aam admi's grief is that our leader and politicians don't meet us, don't understand or work for us. Take my own example, no one is listening. I have only my own support and that of my family.
Firstpost: Who are some of the ministers and leaders that you have approached?
I've written to Chief Minister of Delhi and Uttar Pradesh, the Prime Minister, to the President, the Home Ministry, to Sonia Gandhi, to Rahul Gandhi. I have sent applications with press clippings. No one has replied.
The Personal Assistants of the ministers promise me meetings. But nothing comes of it. When I call them, they say the minister is in a meeting and that I should fax them the letter.
I first wrote to Delhi CM. My parents went to meet her. They told her that I was the eldest and I have siblings who depend on me. I've spent more than Rs 10 lakh on the medical treatment so far. I've spent all my savings. I've taken loans. But I didn't get any response from the CM. I also wrote to Akhilesh Yadav, since my hometown is in Gorakhpur is in Uttar Pradesh.
And it is not once that I've written to them. I've written to them multiple times.
I have all their numbers. They either don't answer the phone and if they do, they say they will call back. They give me an appointment and then they won't meet me. Or they say, give this statement to the media.
If I, who is a victim in a case that has become so high-profile, is facing this kind of indifference, what will be the plight of someone less privileged than I am.
And private hospitals are just out to loot you.
Firstpost: Didn't any of the private hospitals, like Medanta, for example offer to help you?
(Laughs). A lot of things are written about in the media. But in reality these things don't happen. Because I'm bound with my case, I cannot say a lot of things.
Firstpost: Are you still employed with your company?
In a private company, it is no work, no pay. I cannot walk or sit for too long. My body aches. My company knows my case. I didn't know that it would take so much time to heal. The implications of my injuries are only now becoming more pronounced. I thought the injuries would heal. But the problems are only increasing. It will take a few more months.
There are rules for employees. You can apply for leave till you have it. Then you have to go on leave without pay. I am on leave without pay now.
Firstpost: What are the health problems that you are facing?
Physically, I'm unable to walk properly. My right leg is injured. Sitting is a problem because I have an injury in the backbone. And due to the heavy medication I'm on, my digestion has been affected.
Mentally, after such an incident it is not easy to move on. I don't sleep well. I have to take pills. I haven't been able to be with my family because I am in Delhi for the case. My uncle is here with me.
Firstpost: What do you make of the role of the media in all this?
I don't regret giving the interview to Zee. At that time, there were a lot of rumours. My friend had just died. I was in trauma. After her death, I saw that the news stopped. New stories started to come up. I felt people were forgetting. Then I decided to come to Delhi and give the interview. What was known about the case was that a boy and girl went to a mall, watched Life of Pi, sat in a bus, were trapped, raped, assaulted and then thrown off the bus. And the police came and took them to the hospital.
But the complete story nobody knew – the problems with autos, illegal buses, police response, response by doctors. That system hasn't changed. We need to change that. I wanted to highlight this.
Before this incident, I was regular guy who went to work, came home, watched movies. I was happy. Unfortunately, this incident happened to me. I am from this society and I lived through it. It is my duty to say what happened. Whenever there is a rape or a murder, the government announces compensation. They want to compensate you and shut you up.
I wanted to share my experience with the public. It was for the public who were lathi-charged for protesting against the gangrape that I spoke out.
When everything is over, I will speak again.
Firstpost: Are you in touch with your friend's family?
No. As a friend, I will do whatever is in my capacity to bring her justice. I don't know what they think of me. I have no expectations. Her loss cannot be compensated by anything the government gives her family.
She was precious to me. As a friend, as a human being, the responsibility I have towards her I am doing.
Firstpost: Are you slowly beginning to recover from happened to you?
When I'm alone, I keep going back to the incident. It is difficult to forget her. I miss everything about her. On that day, I don't why she said it, but she said to me, "I am very happy." Ten minutes before the incident, she said to me she was happy. And one hour later it all changed.
Sports
Top seed Djokovic, the champion in Paris in 2016, is attempting to become the first man in more than 50 years to win all four Slams multiple times.
Entertainment
The actor talks about the foibles of Srikant Tiwari, and why there are no villains (but only heroes) in The Family Man.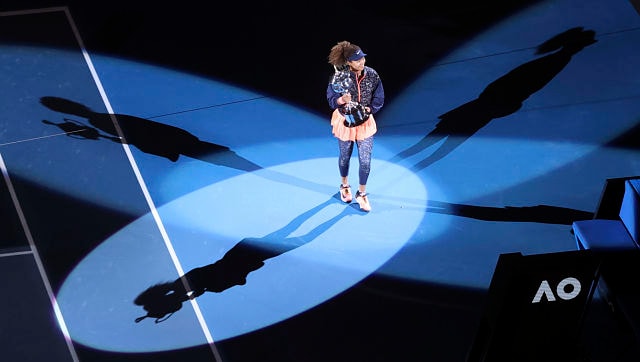 Sports
French Open organisers insisted they tried to engage with Naomi Osaka several times before she decided to withdraw from the clay-court Grand Slam.