Delhi Assembly passes resolution condemning 'mob violence' in name of 'religion'
Delhi Assembly passed a resolution condemning 'mob violence' in the name of 'religion' following dramatic exchanges between AAP MLAs and BJP legislator Manjinder Singh Sirsa
New Delhi: The Delhi Assembly on Thursday passed a resolution condemning "mob violence" in the name of "religion" following dramatic exchanges between AAP MLAs and BJP legislator Manjinder Singh Sirsa over Kashmir.
During the course of the discussion, deputy chief minister Manish Sisodia attacked prime minister Narendra Modi over the issue of lynchings, the recent being of a man in Jharkhand on suspicion that he was carrying beef in his vehicle.
"You go around the world hugging people who consume beef but people are being lynched in the country over mere rumours of beef consumption. A climate of fear has shrouded the country due to mob lynchings," he said.
Sirsa lost his cool on being informed that instead of him, his party colleague Jagdish Pradhan has been allotted time to speak on the issue and raked up the Kashmir issue, which was not in the list of matters to be discussed.
Without any apparent provocation, he dared the AAP MLAs to pass a resolution stating that Jammu and Kashmir is an integral part of India, even as they accused him of trying to divert attention from the issue of lynchings.
Unable to rein him in, Speaker Ram Niwas Goel stood up and dramatically asserted that Kashmir is indeed an integral part of India but he was "pained" by the fact that the BJP-led Centre was keeping mum on beheadings of jawans or China's transgressions at the border.
He also ordered that Sirsa be marshalled out of the House. In his speech, Pradhan spoke about the virtues of cow and its importance in the Indian culture.
"I have also served the RSS for 40 years. But today (Thursday) I am pained. Even Dr Hedgewar or Guru Golwalker would not have thought of what is happening today (Thursday), they did not let these things happen during their time. Mansarovar yatra has been stopped, China is staring down at us and we talk of patriotism," Goel said.
Later, Sisodia, who attended the 'Not In My Name' protest at Jantar Mantar on Thursday, said diverging from real issues was the BJP's "old trick".
"The question is not whether Kashmir is part of India. Of course, it is. Kashmir and Kashmiri people are in our hearts. The questions is of equality, security. We have reached a point where investigators come knocking to check what is stored inside out refrigerators. Is this New India?" Sisodia asked.
Other AAP MLAs who spoke on the issue include Chandni Chowk MLA Alka Lamba and Malviya Nagar legislator Somnath Bharti.
Lamba claimed that during her recent trip to China she saw "certain BJP MLAs enjoying beef".
India
At least three others, including a policeman, were injured in the attack. Security forces have cordoned off the area and further details are awaited, officials said.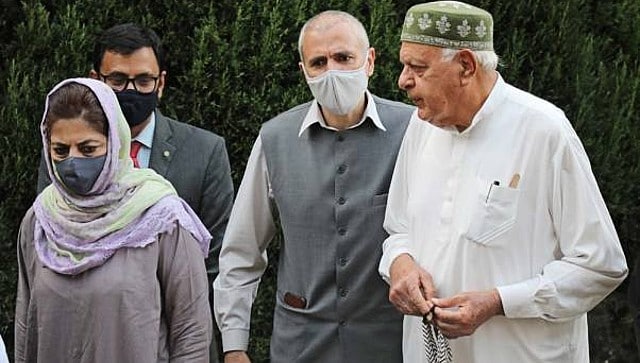 India
The meeting, which is the first such exercise since abrogation of Article 370 in August 2019, is likely to be chaired by Prime Minister Narendra Modi
Politics
News18 quoted sources privy to the developments as saying that the region will be granted statehood soon as promised in the past by the Centre, however, there will be no talks on restoring its special constitutional position