Dear Priyanka, your Dad Rajiv was no angel. He let India down
Priyanka Gandhi is right to have fond memories of Dad, but India will probably remember Rajiv Gandhi as someone who squandered a historic mandate.
It is not unusual for daughters to think of their fathers as heroes. It is, if anything, downright normal. So one can understand why Priyanka Vadra Gandhi was miffed when she was told (wrongly, one must note) that Narendra Modi may have referred to her as a daughter, and she replied with some degree of acerbity: "Main Rajiv Gandhi ki beti hoon." She added, for good measure: "I don't appreciate this comparison at all. My father was a martyr. He sacrificed his life for the country. And in my heart he can never be compared to any other person."
This is not a sentiment anyone would deny a doting daughter, but it is important to set the record straight. It is true that Rajiv Gandhi was martyred and assassinated by the LTTE's hit squad in the run-up to the 1991 elections. He may have been a great dad to Rahul and Priyanka, and the scars of losing a dad so horribly will never go away for them.
But the record will show that Rajiv Gandhi was not a great Prime Minister by any yardstick. He had his high points and his low points. He did try hard in some ways, but history will judge him not as a man who left behind a great legacy, but as someone who squandered the greatest opportunity India provided to any Prime Minister in living memory to take the country to new heights. He left the country in chaos and in self-doubt, and the economy in the dust. Almost exactly as his widow is going to leave it.
Now that Priyanka has brought up his martyrdom, it is worth saying that his death at the hands of an LTTE suicide bomber in Tamil Nadu brought the Congress back to power in 1991 under Narasimha Rao. Rao and Manmohan Singh undid the economic damage left behind by Rajiv Gandhi and his successor, VP Singh.
However, it is Rajiv Gandhi's political legacies we should talk about.
Let's start at the beginning. There are nice stories to tell of Rajiv, who became India's youngest PM in 1984 (read here), bringing hope and energy even against the dismal backdrop of his mother's gory assassination at the hands of her own bodyguards. He came in like a whiff of fresh air. Unfortunately, he did not use his tenure to get rid of the stench of old politics.
It was, no doubt, a time of great personal stress, but if tough times bring out the toughness in people, Rajiv wasn't its standout example. He was unable to rise above his personal sense of grief and do right by the country.
First, he more or less justified the Congress party's anti-Sikh pogrom when he said that "when a big tree falls, the earth shakes." The record will show that under Rajiv – and even later – very little was done to punish the guilty, even though a record number of 10 committees and commissions were set up to unravel the cause of the slaughter and punish the guilty (Read this report by Harinder Baweja on this travesty). If 2002 was a Hindu-Muslim killing spree where Muslim deaths were thrice as high as Hindu ones, in 1984 the number of Hindus killed was zero. In fact, it was a Congress pogrom, and not quite a Hindu-Sikh clash. It was entirely one-sided. Rajiv Gandhi may not have caused it, but he chose to ignore it altogether and thus became complicit in the denial of justice.
Second, and this is what makes Rajiv's failure more blatant. In the general elections of 1984, Rajiv's campaign was focused on playing to Hindu fears of Sikh terrorism – exactly the kind of campaign used by Narendra Modi to polarise the Gujarat vote in 2002.
During his 1984 campaign, Rajiv aggressively raised the Anandpur Sahib resolution of 1973 of the Akali Dal, which talked of stronger federalism and Sikh autonomy – even though the Dal had long since forgotten about it. Rajiv made it appear as though this was a resolution for complete secession – which the Akalis denied.
Not only that, the Congress campaign was based on creating a fear psychosis among Hindus. Sample a few of its ads from that time: "Will Your Grocery List, in the Future, include Acid Bulbs, Iron Rods, Daggers?" Then again, "Will the Country's Border Finally Move to Your Doorstep?"
One could argue that in the post-Indira assassination phase, these were legitimate fears to address in an election. But here's the interesting thing: this ad campaign, according to Ajit Balakrishnan, head of Rediffusion, the ad agency that created this campaign, was developed before Indira Gandhi's assassination. Balakrishnan wrote in his blog (read here) that this communication was developed in the context of those times, when Tamil separatism in Sri Lanka and Sikh separatism in India were top of the mind. He says, "We correctly guessed that, in this era of uncertainty and turmoil, what the newspaper-reading swing voter wanted was the peace and quiet that only a strong and impartial government could provide."
Both Indira and Rajiv were thus planning to fear-monger to herd in the swing voter. Neither was too innocent of the need to polarise the vote; the assassination just provided the extreme setting for it.
Third, on the plus side, it is equally true that once Rajiv got his massive mandate – 404 seats, a record unequalled in Independent India – he did try to douse some fires - in Punjab, Assam and Sri Lanka. He signed peace accords with Sant Longowal of the Akali Dal in 1985 (but the Sant was gunned down for doing so), with the All Assam Students' Union (the Assam Accord, also in 1985), and with Sri Lanka (to end the Tamil Tigers' militancy by sending in the Indian army) in 1987.
None of it worked. In the end, the Punjab militancy was put down by KPS Gill, who used unconventional methods to eliminate the Khalistani terrorists through a tough policy of encounters. Rajiv Gandhi started it all – though he had plausible deniability on the actions of the Punjab Police and its DGP, Gill.
Rajiv failed to get the Assam accord implemented and foreigners deported. His Sri Lanka foray failed to end the LTTE's murderous behaviour and policy of assassinations. (Rajiv himself was to fall victim to it in 1991.) The Indian Army was called back after failing to rein in the LTTE.
Fourth, another significant Rajiv Gandhi let-down, was his decision to let Union Carbide off the hook for the Bhopal gas disaster. No one from Union Carbide, barring its Indian directors, was prosecuted, and Rajiv Gandhi finally settled the case for $470 million in 1989 – as against the initially claimed $3.3 billion compensation – for three thousand dead and several thousand maimed or damaged for life in the gas leak. Rajiv presided over the most shameful sellout – driven possibly by the country's need for foreign exchange, then woefully short due to his economic mismanagement.
Fifth, and this is probably Rajiv's worst legacy, he reignited the fires of communalism towards the end of his tenure. To court the Muslim vote, he used legislation to overturn a Supreme Court verdict in the Shah Bano case, where a divorced Muslim woman was allowed to get some pittance as maintenance. A young modern Congress Muslim MP, Arif Mohammed Khan, defended the Supreme Court judgment in parliament, but Rajiv Gandhi embarrassed him by finally signing up with the reactionary elements in Muslim society and overturned the verdict by legislation.
This stoked the fires of Hindutva, as wild-eyed Hindu extremists in the Sangh Parivar used this "appeasement" of Muslims to demand their own right to such "appeasement". They got one when Rajiv Gandhi allowed them to perform a "Shilanyas" ceremony near the Babri structure. After that, the time bomb started ticking for a final confrontation on the Masjid till it was brought down during Narasimha Rao's regime by determined and well-trained kar sevaks.
The seeds of fresh communalism were watered by Rajiv Gandhi.
The big question is: why did a young man, who came in as a bit of fresh air in 1984 with his modern visage and youthful energy, fall back on the same formula of pandering to caste and communal politics by the time it was time to go in 1989?
The answer is Bofors. In 1987, Swedish Radio alleged that bribes were paid in the Bofors gun deal signed by Rajiv Gandhi's government. While there was a lot of suspicion that Rajiv was involved in some way, what is undeniable is that he was definitely willing to have it covered up, since it involved Ottavio Quattrocchi, a close friend of Rajiv and Sonia Gandhi.
This is what Sten Lindstrom, former chief of Swedish police, who handled the Bofors investigation at their end, had to say in an interview in 2012: "There was no evidence that (Rajiv Gandhi) had received any bribe. But he watched the massive cover-up in India and Sweden and did nothing….The evidence against Ottavio Quattrocchi was conclusive. Through a front company called AE Services, bribes paid by Bofors landed in Quattrocchi's account which he subsequently cleaned out because India said there was no evidence linking him to the Bofors deal. Nobody in Sweden or Switzerland was allowed to interrogate him."
And guess who allowed Quattrochi to clean out the account? The UPA government, under Law Minister HR Bhardwaj, allowed Barclays to unfreeze Quattrochi's account and take his money. Quattrochi is now dead, and the Bofors scam probably well and truly buried.
Rajiv played a vital part in the scandal's burial ceremony. In the process, he lost his closest political colleagues (VP Singh, among others), and his friends (Arun Singh, among others). He was no saint.
Rajiv's government was one of India's biggest failures for the simple reason that the mandate he got was unprecedented. With almost no opposition worth the name, he could have cleaned up the system and become India's most achievement-oriented PM. Instead, he blew it all after Bofors. He squandered his mandate.
Priyanka is entitled to fond memories of her dad – but India will judge him differently.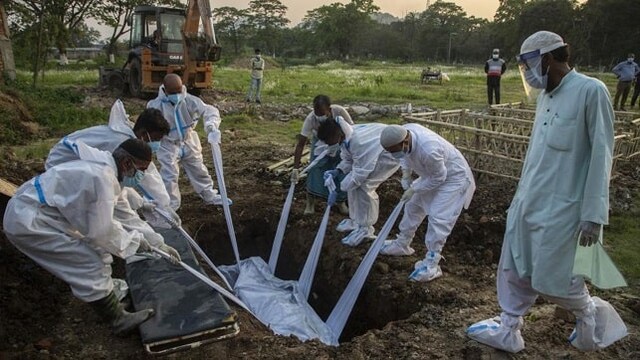 India
We are facing our worst moment in modern history, struggling to stay afloat. If we do not show courage and honesty to speak for justice now, we may never be able to recover compassion.
Politics
The ECI failed most notably in issuing detailed guidelines for campaigning activities and making sure they were followed
Entertainment
"It was impossible to tell if the 2021 Oscars was meant to signal an acknowledgement of pandemic circumstances or a guarded return to normal," say NYT critics